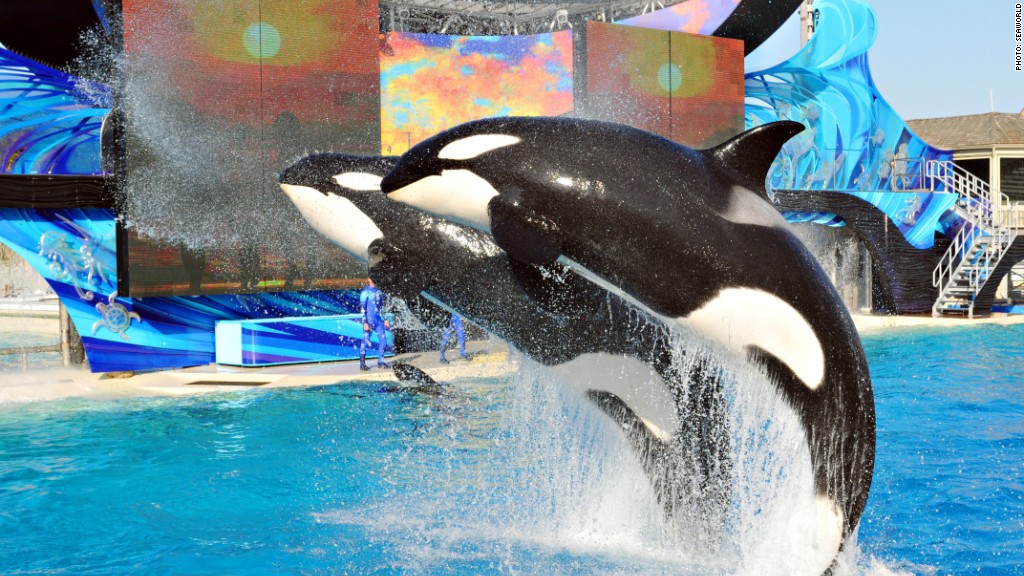 SeaWorld attendance plunged 15% in the first quarter, but it blamed the timing of Easter -- not controversies about its attractions -- for the sharp drop.
Easter came in April this year. Last year, it was in March. So many schools' spring breaks were pushed back into the second quarter this year.
That made for a rough first-quarter comparison. Yet SeaWorld said year-to-date attendance through the end of April is roughly unchanged compared to a year ago. The company said it expects to hit the profit and revenue numbers for the full year that it had earlier promised investors.
"Given the improving attendance trends we saw in April, and the incredibly robust lineup of new attractions we are launching in the coming weeks, we are well-positioned going into our seasonally important second and third quarters," said CEO Joel Manby.
Still SeaWorld (SEAS) has been struggling with falling attendance in the wake of protests over its treatment of its killer whales, as highlighted in the 2013 documentary Blackfish. Attendance in 2016 was down nearly 10% from 2012, and SeaWorld announced layoffs last year and in 2014 in response.
Related: Whale of a deal - SeaWorld investor sells stake
The company has suspended its dividend to use the cash to repurchase is shares at depressed prices. It also responded by moving away from using killer whales, dropping their shows at its San Diego theme park.
The private investment firm Blackstone, which had been one of SeaWorld's largest shareholders, sold its 21% stake in the company to a Chinese company Zhonghong Group in a deal that closed Monday.
But while shares of SeaWorld briefly jumped on the news of Chinese interest in the company in March, its shares are still down 7% for the year.