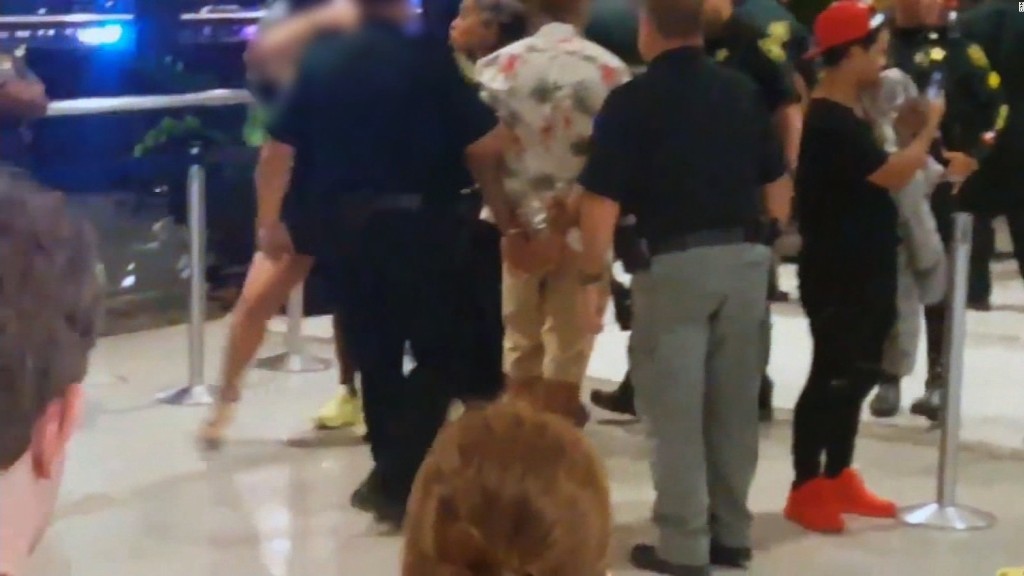 A lot of Spirit Airlines' passengers don't like the airline. Neither do its pilots.
The low-cost airline, which regularly scores at the bottom of customer satisfaction among passengers, has been locked in bitter contract negotiations with the Air Line Pilots Association for two years.
The issue is salary, and the two sides are wide apart.
Spirit accuses the union of staging a slowdown that has forced the cancellation of hundreds of flights and stranded 20,000 passengers. Things got so bad this week at the Fort Lauderdale airport that police had to be called to arrest angry passengers.
The airline won a federal court order on Tuesday ordering the union to have its members again start flying their normal allotment of flights.
Airline customers have long been vulnerable to bad labor relations at airlines.
Pilots may refuse to take the extra flights an airline needs to operate smoothly. That's what Spirit says its pilots are doing, although the union denies it is urging members not to accept assignments.
A low-cost carrier like Spirit is even more vulnerable to that kind of pressure tactic because of its more limited schedule, said Mike Boyd, an airline consultant.
"If United cancels, they have eight more flights to get passengers on. If Spirit cancels, they've got a flight next Tuesday and it's full," said Boyd.
Related: Spirit cancels flight, passenger brawl breaks out
The history of labor relations between Spirit and the union is bad.
The pilots went on strike for five days in 2010, the most recent strike at a U.S. airline. And they have been holding pickets to protests recently the lack of progress on a contract.
"While pilots at comparable airlines have seen substantial improvements in compensation, our pilots continue to work under a seven-year old agreement that puts us well below the industry-standard," said Stuart Morrison, a Spirit captain and union officer. He said Spirit has made more than $642 million in net profits since the two sides started negotiations in 2015.
Spirit (SAVE) pays about $39,000 a year to starting co-pilots and up to $189,000 for an experienced captain, according to Kit Darby, an pilot compensation expert.
The $39,000 salary is about half of what large carriers such as United (UAL), American (AAL) and Delta (DAL) pay. And an experienced Spirit pilot would make 50% more at a large carrier.
The company says it can't afford what the pilots want.
Spirit estimates the union's most recent demand would raise its labor costs by $1.9 billion over the course of five years. The company says its offer would increase pilot pay by 30% immediately, but it would increase costs by only $440 million over the same five years.
Related: The new age of airline rage
And the company says it can only afford that 30% wage offer if it gets changes in work rules to use pilots more efficiently.
"We expect the pilots to get a substantial increase and we expect to get an improvement in work rules that are necessary and are typical across the industry," said CEO Robert Fornaro when speaking to investors in February. The airline did not respond to a request for comment on negotiations.
Spirit has been growing fast. Its revenue was up 8% last year, while the number of passengers was up 20%. But profits were down about 17%.
To sustain that growth, it needs to keep hiring pilots -- it added 430 in the last two years, an increase of more 40%. So there is an incentive for the airline to reach a deal with pilots that makes the union, and new hires, happy.