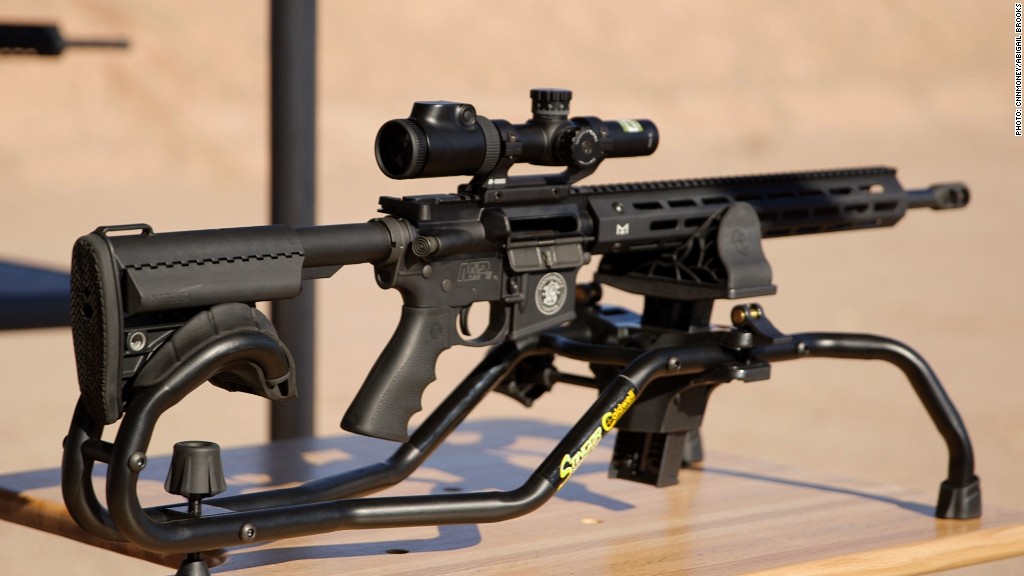 Sales of Sturm Ruger's assault rifles declined recently, and the company says it's because of an inventory backlog at stores that stocked up ahead of last fall's election.
Ruger (RGR) said Tuesday that its sales and profits slipped 3% in the first quarter, compared to a year ago, as demand from retailers weakened.
"Coming out of the election, we saw a lot of inventory, so we had to be aggressive on our promotions," CEO Christopher Killoy said.
Assault rifles are the military-style guns the industry calls modern sporting rifles.
According to Ruger, which makes the AR-556 and other AR-15s, retailers were stockpiling ahead of Election Day.
Assault rifles sold briskly during President Obama's eight years in office, because he tried to have them restricted, causing a surge in sales. Hillary Clinton, during her presidential campaign, spurred sales even further because gun control was part of her platform.
Ruger said in a statement that "decreased overall consumer demand" in the first quarter followed "stronger-than-normal demand during most of 2016, likely bolstered by the political campaigns for the November 2016 elections."
Stores now have a glut of assault rifles because they overbought, and now demand has eased.
Ruger sells to retailers, instead of selling directly to the consumer.
Related: Why President Trump is bad for the gun industry
Background checks conducted by the FBI spiked to record levels after some mass shootings, in Newtown, Connecticut, in December 2012, and San Bernardino, California, in December 2015. This caused a run on AR-15s.
But gun sales took a dive when Donald Trump, who was endorsed by the National Rifle Association, was elected president because gun enthusiasts were no longer worried about gun control.
Despite its slip in sales and profit, Ruger stock surged 15% on Tuesday because the company exceeded Wall Street's expectations.
Rommel Dionisio, a gun industry analyst for Wunderlich Securities, said 33% of the company's outstanding shares were sold short, which is why the stock price increase was so huge after Ruger reported earnings.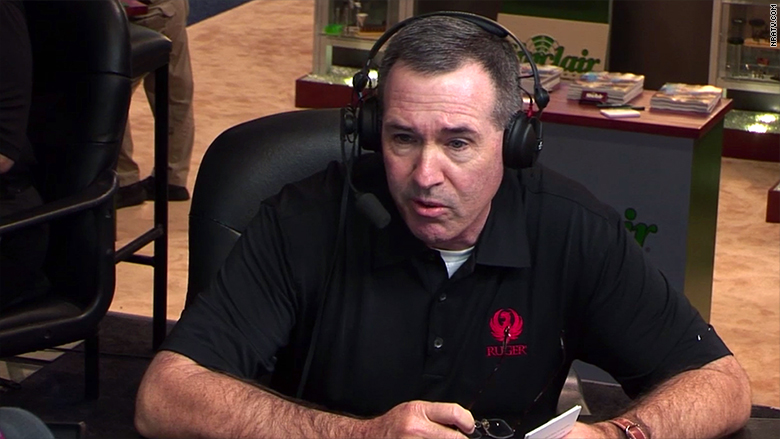 Ruger CEO Killoy, a West Point grad and Army vet with 28 years in the gun business including more than 10 with Ruger, told investors on Tuesday that "the firearms industry is strong."
Killoy described the industry as "volatile," with dramatic ebbs and flows, but said sales have grown over the years. He said that during the past decade, FBI background checks -- which are not the same as sales but serve as a nationwide proxy -- increased nearly 200%. In that same time, he said, Ruger sales to distributors grew 415%.
Related: Gun silencer bills could mean big business
In addition to the assault rifle inventory glut, Killoy said the company is also having a difficult time selling its SR brand of silencers, because customers are waiting to see if Congress will pass the Hearing Protection Act, a bill to reduce restrictions on them and eliminate the extra taxes.
"Right now that market is a little depressed because a lot of people are waiting on the sidelines ... waiting to see if the bill goes through so they can save $200 on the tax stamp," he said.