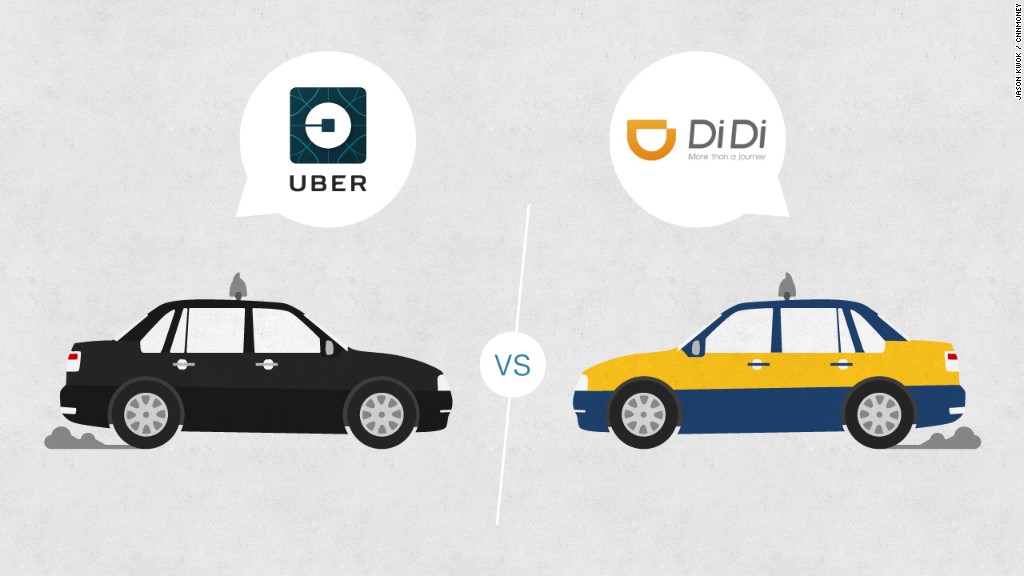 China's Uber slayer is getting ready to compete on the global stage.
Didi Chuxing, the ride-hailing company that dominates the Chinese market and is backed by Apple (AAPL), has launched an English version of its app.
The new service is in beta mode at the moment and only available in three cities. Users in Beijing, Shanghai and Guangzhou will have access to the English interface after they upgrade or install the latest version of the app.
Didi customers who don't read or speak Chinese will also benefit from another new feature: the ability to exchange messages with drivers through a real-time translation function.
Good news for foreigners visiting or living in China, bad news for Uber.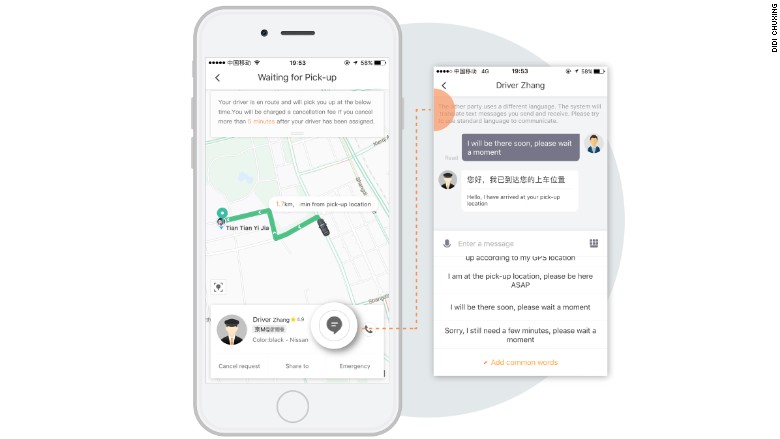 Didi phased out Uber's global app late last year in China, forcing people to download the Uber China app if they wanted to continue using the service.
The Uber China app isn't available in English, hasn't had any significant updates in the past few months and doesn't support international credit cards.
Related: The Uber app you use won't work in China anymore
The new Didi app will support credit cards from nine countries, including the U.S., the U.K. and Brazil.
Didi isn't shy about its global ambitions. The company launched an artificial intelligence research lab in Silicon Valley in March, secured funding to become the world's second most valuable startup last month and signaled earlier this year it's ready to challenge Uber in Latin America.
Related: China's Uber worth $50 billion after raising more cash
But the twists and turns in the global ride-hailing industry has resulted in some strange bedfellows. When Didi took over Uber's China operations, Uber became Didi's largest shareholder as part of the deal, and Didi took a minority stake in Uber.
That means Uber has a significant stake in a company that appears keen to eventually kill off its brand in China and compete with it in international markets.
Besides Apple, Didi is backed by more than 100 investors, including Chinese internet giant Alibaba (BABA), and Japanese tech company SoftBank (SFTBF). With Didi valued around $50 billion, only one other startup is worth more: Uber.
Correction: An earlier version of this story misstated when Didi launched an artificial intelligence lab in Silicon Valley.