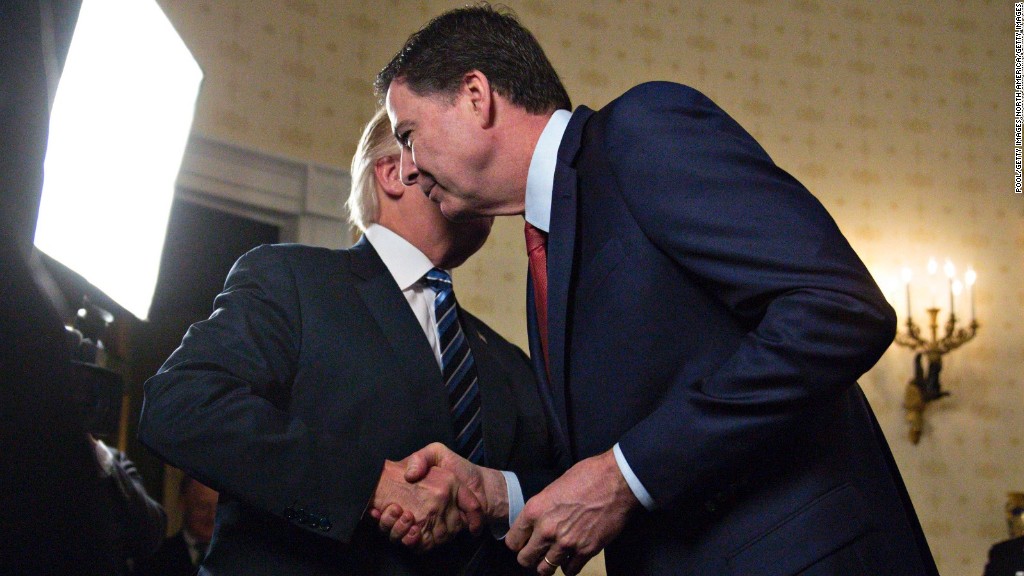 More than any time in recent memory Wall Street's fortunes are linked to the ability of the White House to push through sweeping legislative change.
The historic Trump rally is essentially a massive bet by investors that President Trump will enact dramatic tax cuts and unleash other pro-growth policies in Congress.
But it's difficult to imagine how the firestorm over the White House firing of FBI director James Comey in the midst of its investigation of the Trump campaign can help the Trump agenda.
If anything, the Comey firing threatens to provide a new distraction and another obstacle to getting the tax reform that investors want done.
"Any momentum from the House health care passage last week just went up in smoke," Chris Krueger, an analyst at Cowen & Co., wrote in a report on Wednesday.
Krueger said it's "hard to see any political and policy upside" from the Comey firing, while the downside risk is limitless.
Wall Street's knee-jerk response so far has been calm, but slightly negative, with the Dow falling about 50 points on Wednesday morning.
Many reacted with the same chorus: The Comey controversy can't help the Trump rally.
"Comey's firing is igniting a storm that will be yet another distraction to the public policy driven thesis for economic growth and higher stocks," according to Michael Block, chief market strategist at Rhino Trading Partners. "I don't see how that helps us."
Block warned that the "Trump trade is sputtering," pointing to how bank stocks have recently cooled off.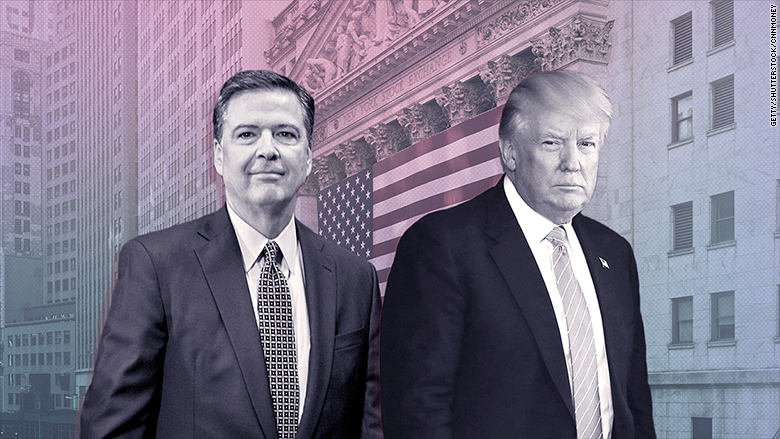 Related: Extreme calm rolls over Wall Street
The Comey controversy comes at a time when the stock market is hovering near its highs.
The Dow remains just 250 points away from all-time highs and the closely-watched VIX volatility index is sitting at the lowest level in 23 years. CNNMoney's Fear & Greed Index is in neutral territory, and edging closer to "greed."
"If the market viewed this to be Watergate all over again, markets would be down a lot," said Chris Zaccarelli, chief investment officer at Cornerstone Financial Partners. Still, he conceded that the Comey stuff is not "helpful in any way for the stock market."
Wall Street will watch for signs to see if the Comey firing intensifies ongoing investigations into the Trump campaign or even forces leading Republicans to endorse calls for a special prosecutor.
Some market veterans are waving off the Comey news as a mere political sideshow, at least for now.
"The circus never sleeps in Washington, DC," Peter Boockvar, chief market analyst at The Lindsey Group, told clients in a report.
While the markets are extremely calm now, Eric Aanes, president and founder of Titus Wealth Management, said he's bracing for volatility ahead by shifting money into cash.
"The market still seems bulletproof. Nothing fazes it," said Aanes, adding that eventually there could be a "real tipping point."
Related: Why stocks aren't going anywhere lately
For Wall Street to really react, the political news would have to turn so dark for the Trump administration that tax reform is doomed, not just delayed. That does not appear to be the case right now.
"The market is so jaded about Washington that it would almost have to come up with some impeachable issues to really unnerve it," said Ed Yardeni, president of investment advisory Yardeni Research.
Cornerstone's Zaccarelli agreed that Wall Street has a high bar before reacting.
"For new political news to be a market negative, it needs to be something that either leads to the impeachment of the president or enough erosion within his party that it's impossible to get his agenda done," he said.
Speaking of impeachment, some observers have drawn historical parallels between Trump's firing of Comey and President Nixon's infamous Saturday Night Massacre in 1973.
It's harder to make a market comparison because the environment was the polar opposite of now. Back then, the US economy was stuck in an inflationary spiral and stocks were in the midst of a bear market. The S&P 500 fell 1% the Monday after the Saturday Night Massacre, far more dramatic than Wednesday morning's 0.2% dip.
For now, investors will be forced to reluctantly tune into the latest drama in Washington.
"It all depends on how the House of Cards script here plays out," Yardeni said.
-- Paul R. La Monica contributed to this story.