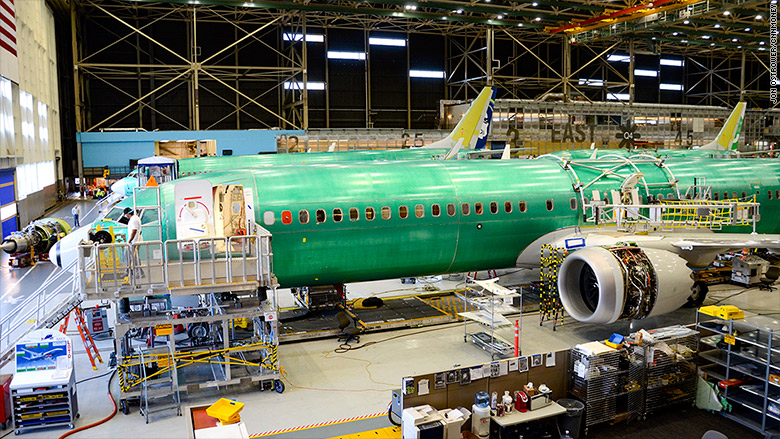 Boeing on Wednesday announced it is grounding all flights of its new single-aisle 737 Max.
The plane maker has concerns about a manufacturing quality issue inside the jet's new engines.
"Out of an abundance of caution, we decided to temporarily suspend MAX flights. The step is consistent with our priority focus on safety for all who use and fly our products," the plane maker said in a statement.
The jet has not yet been delivered to airlines. The first delivery was expected to be this month. Boeing said it plans to stick to that schedule.
Boeing (BA) said in a statement it is inspecting the core of each advanced Leap-1B engine. The engines are made by CFM International, which is a joint venture between General Electric (GE) and France's Safran.
The affected multi-million dollar engines will be sent from Washington state back to manufacturing sites in Indiana and France for inspection, said Jamie Jewell, spokeswoman for CFM.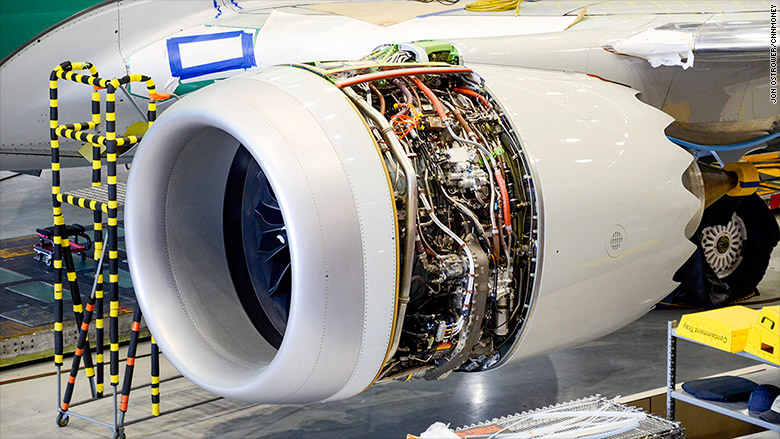 Since the suspected components have two different suppliers, the issue doesn't affect all of these engines. CFM said it will conduct inspections to determine how many jets are impacted.
That means that Boeing should be able to make its first 737 Max delivery, which is slated to go to a Malaysian low-cost carrier later this month, but puts the schedule of future deliveries at risk.
Related: What Boeing's new 737 Max 9 has under the hood
Norwegian Air Shuttle is slated to be one of the first airlines to fly passengers on the 737 Max -- and the low-cost carrier has bet its future on flying across the Atlantic with it. "We know that [the grounding] will result in a few days delay of the first Max delivery to Norwegian," said a spokesman, but the airline still plans to debut the jet on June 15.
Boeing said the grounding has also halted aerial tests of the 737 Max 9, the second of four currently planned models. That jet made its maiden test flight in April.
Shares of Boeing and GE fell sharply on news of the grounding, but recovered and closed only slightly lower. The updated 737 Max jet is expected to become Boeing's biggest cash cow as it ramps up production to record levels in the coming years.
Related: It's a golden age for affordable flying. No, really
This is the fourth generation of Boeing's popular single-aisle jet, which has been a workhorse on short and medium haul flights for decades. The jet is 14% more fuel efficient than its predecessor, primarily due to its new engines.
Jewell said that CFM's inspections last week found "some anomalies in the process" of manufacturing disks for the jet's turbine.
Jewell stressed that there have been no problems related to the part in the more than 2,000 hours of test flights for the 737 Max.
Boeing has more than 3,700 orders for the 737 Max, which has a sticker price of between $112.4 million and $119.2 million. Buyers typically get significant discounts.