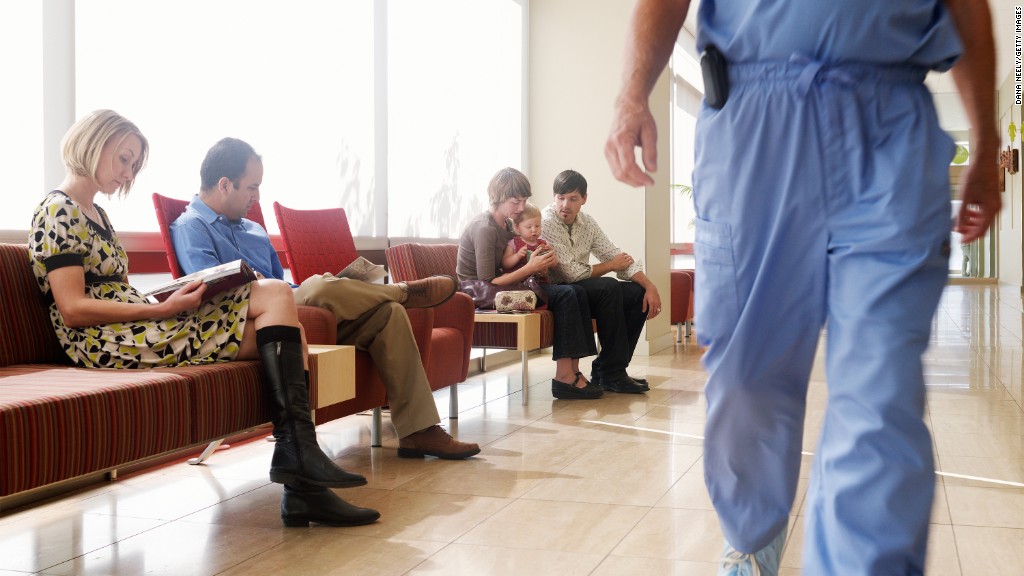 Aetna is saying goodbye to Obamacare.
The insurance giant announced Wednesday that it would not offer policies in Nebraska or Delaware next year, completing its exit from the exchanges. Earlier this year, Aetna (AET) said it would pull out of Iowa and Virginia in 2018.
The company said it expects to lose more than $200 million in its individual business line this year, on top of nearly $700 million in losses between 2014 and 2016. Aetna withdrew from 11 of its 15 markets for 2017. It has 255,000 Obamacare policyholders this year, down from 964,000 at the end of last year.
These customers, however, continue to be costlier than the company expected, Aetna said during its earnings call earlier this month. It had to set aside an additional $110 million to cover larger-than-projected losses for this year.
Aetna's exit leaves Medica as the only insurer on the Nebraska exchange and Highmark Blue Cross Blue Shield as the sole carrier on the Delaware exchange.
Aetna has also pulled out of the individual market outside of the Obamacare exchanges in several states and is still deciding whether to participate in the remainder, a spokesman said.
Related: Aetna pulls out of Virginia's individual market, citing big Obamacare losses
Aetna's withdrawal is the latest in a series of insurers leaving Obamacare. The exodus began last year, when several carriers announced they were exiting or downsizing in 2017 after suffering large losses. Humana (HUM) already announced it is completely abandoning the individual market in 2018. UnitedHealthcare (UNH) pulled out of Virginia, and Wellmark Blue Cross Blue Shield said it would stop selling individual policies in Iowa in 2018.
Several insurers remaining in Obamacare are requesting big rate hikes for next year. CareFirst BlueCross BlueShield is looking for an average rate increase of 52% for its individual market plans in Maryland. It also requested hikes of 35% in Virginia and 29% in Washington D.C.
In Virginia, Cigna wants to raise rates by an average of 45%, while HealthKeepers, an affiliate of Anthem Blue Cross and Blue Shield, is looking for an 38% increase.
Related: Trump vows premiums will fall, but these insurers want big hikes for 2018
Insurers are generally citing two reasons for the exits or rate hikes. Policyholders are continuing to rack up bigger bills than their premiums cover, and insurers remain concerned about the uncertainty emanating from Washington D.C. Carriers are particularly worried about whether they'll continue to receive the cost-sharing subsidies that reduce premiums for lower-income consumers and whether the Trump administration will keep enforcing the individual mandate, which helps entice healthier people into the market.
"It's hard to say whether Aetna would have stayed in the market under different circumstances, but we are seeing a number of insurers expressing concern over the political and regulatory uncertainty they face next year," said Cynthia Cox, associate director at the Kaiser Family Foundation.
Related: Obamacare no longer on death's door in Tennessee
There has been some better news for Obamacare in recent weeks. BlueCross BlueShield of Tennessee said this week that it would re-enter the Knoxville area, which looked like it might not have any carriers for 2018 after Humana announced it would leave.
Also, Anthem (ANTX), a major player on the exchanges, said last month that its Obamacare business was doing "significantly better" this year.