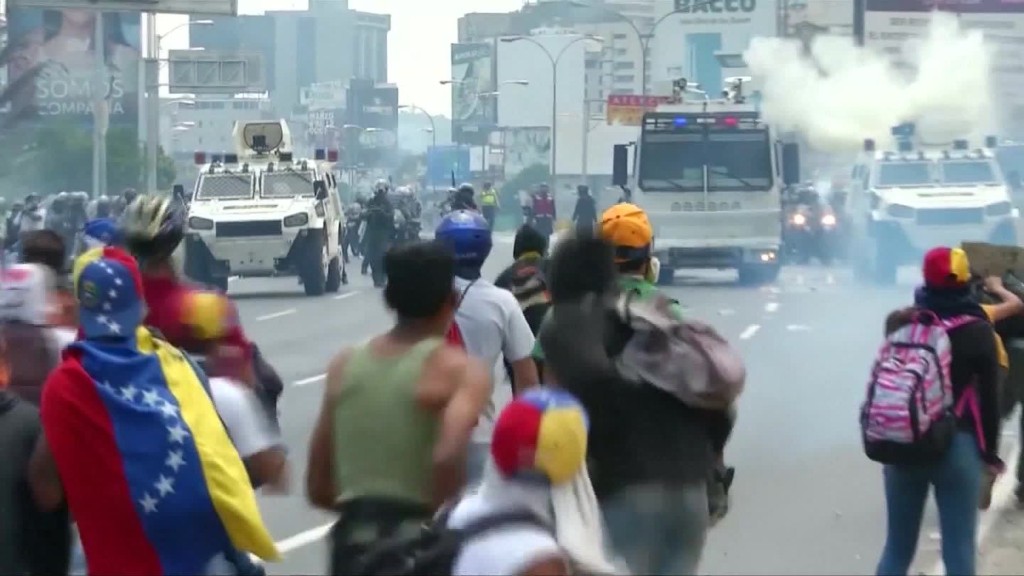 As Venezuela's crisis deepens, President Nicolas Maduro's stepsons spent last week skydiving with top international athletes.
The family's indulgence -- first mentioned by the nonprofit Human Rights Foundation -- comes at a time when Venezuelans suffer through food and medical shortages and the country is going through a major political upheaval with protests springing up across the nation. Over 30 protesters have died.
The Human Rights Foundation says the family's actions contradict the president's message of a government empowered by working class Venezuelans.
"This situation perfectly illustrates the hypocrisy of Venezuela's socialist regime," says Javier El-Hage, chief legal officer of the Human Rights Foundation.
Related: Venezuelans lose weight as food shortages worsen
The athletes, along with their sponsor Red Bull, also found themselves in the center of a maelstrom. They were the subject of sharp backlash on social media this week after Human Rights Foundation lambasted them for skydiving with Maduro's stepsons.
Red Bull said it played no role in the event whatsoever. It did confirm to CNNMoney that the trip took place.
"Red Bull did not finance these athletes in Venezuela or have any involvement in this event," a Red Bull spokesperson told CNNMoney in a statement.
Red Bull said the athletes "were simply following the invitation of an old friend at SkyDive Caribbean," referring to the Venezuelan company that organized the event and invited the athletes.
The athletes -- Amy Chmelecki, Mike Swanson, Jon DeVore and Noah Bahnson -- didn't respond to requests for comment. They skydived with Maduro's three stepsons in Venezuela for four days last week, according to a person with knowledge of the skydives who requested anonymity for fear of retribution from the Maduro family.
Related: Venezuela asks UN for help as medical shortages become severe
Red Bull said the athletes personally paid for their entire trip and received no compensation or reimbursement from anyone. The skydivers were not aware who they would be jumping with until they arrived in Venezuela.
SkyDive Caribbean had initially agreed to pay each Red Bull athlete $350 a day, along with free food, accommodation and transportation, according to the source in Venezuela.
But once Human Rights Foundation published its article on Saturday, the athletes refused to accept any compensation and quickly left Venezuela. The athletes still got the free food, accommodation and transportation while in Venezuela, according to the source.
Maduro's stepsons -- Yosser Gavidia Flores, Walter Gavidia Flores and Yoswal Gavidia Flores -- were to pay SkyDive Caribbean for the world class instructors, according to the source.
SkyDive Caribbean charges $20 per jump. That's equal to half the monthly minimum wage in Venezuela, currently valued at $39. The source said Maduro's stepsons skydive two to three times a month.
Venezuelan government officials did not respond to a request for comment.