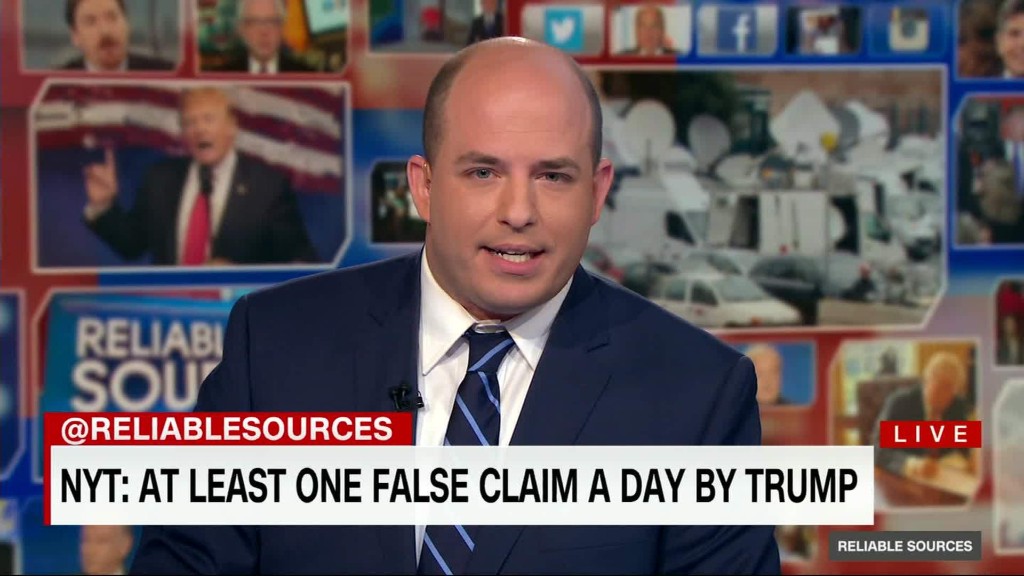 CNN says President Trump's latest anti-media attacks "are beneath the dignity of the office of the President."
In an interview with Time magazine, Trump insulted CNN's Chris Cuomo and Don Lemon and criticized MSNBC's Joe Scarborough. He also called CBS late-night host Stephen Colbert a "no-talent guy."
CNN responded in a statement Thursday afternoon: "His comments are beneath the dignity of the office of the President."
The interview reaffirmed Trump's fixation on TV coverage and his fascination with ratings. He repeatedly misconstrued the ratings for specific shows.
Trump told Time's Michael Scherer and Zeke Miller that "I don't watch CNN" and "I don't watch MSNBC." But then he went on to criticize the programming on both channels.
First, Scarborough: The Republican congressman turned MSNBC morning host "used to treat me great. But because I don't do interviews and stuff and want to ... He went the other way. Which is fine. He's got some problems."
Trump then claimed that "I don't watch the show anymore."
Related: Trump's tweets and the TV news shows that inspired them
He denigrated CNN's "New Day" co-host Chris Cuomo, comparing Cuomo to a "chained lunatic" and a "boiler ready to explode."
Cuomo displays a "level of hatred," Trump said, and so does "the entire CNN platform."
Then Trump attacked "CNN Tonight" host Don Lemon, calling him "perhaps the dumbest person in broadcasting."
Trump repeated several of his past complaints about news coverage -- including his view that pro-Trump guests on CNN are not treated fairly and that newspapers like the New York Times and the Washington Post are "dishonest."
Sign up for the Reliable Sources newsletter
According to Time, Trump "also brought up" Colbert, specifically the comedian's controversial May 1 monologue, which included a vulgar joke about Trump and Russian president Vladimir Putin.
"You see a no-talent guy like Colbert. There's nothing funny about what he says. And what he says is filthy. And you have kids watching," Trump said. "And it only builds up my base. It only helps me, people like him."