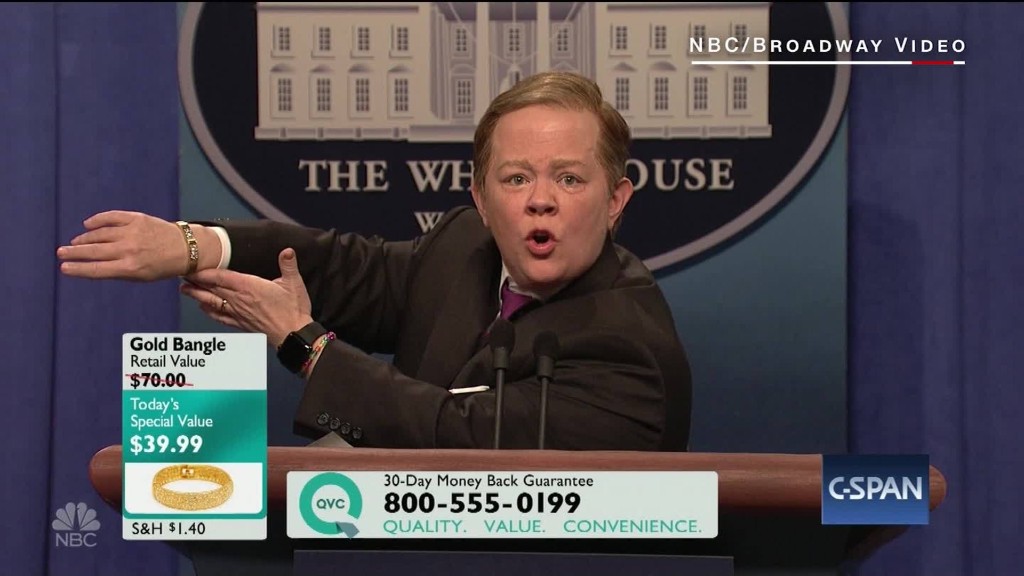 Even made up to look like Sean Spicer, Melissa McCarthy feels pretty.
That's the gag in the promo for her "Saturday Night Live" hosting gig this week.
In a one-minute teaser, McCarthy lip-syncs to "I Feel Pretty," from the musical "West Side Story."
She sings and dances her way to the makeup room, where she is transformed into the White House press secretary.
This week's "SNL" will air live across the country and feature musical guest Haim.
Related: 'SNL' to go live coast-to-coast with hosts Melissa McCarthy, Jimmy Fallon
McCarthy's impression of Spicer as a high-strung, gum-chomping, belligerent White House spokesman debuted in Feburary and immediately went viral.
In March, she said on "The Ellen DeGeneres Show" that when "SNL" suggested she play the press secretary, she doubted she could pull it off. But with the help of prosthetics, including eye bags, McCarthy said, she was able to become "Spicey."
"The weird thing is I feel I look so much like my dad," she said. "I feel like my dad and Sean Spicer had a baby and it's me."