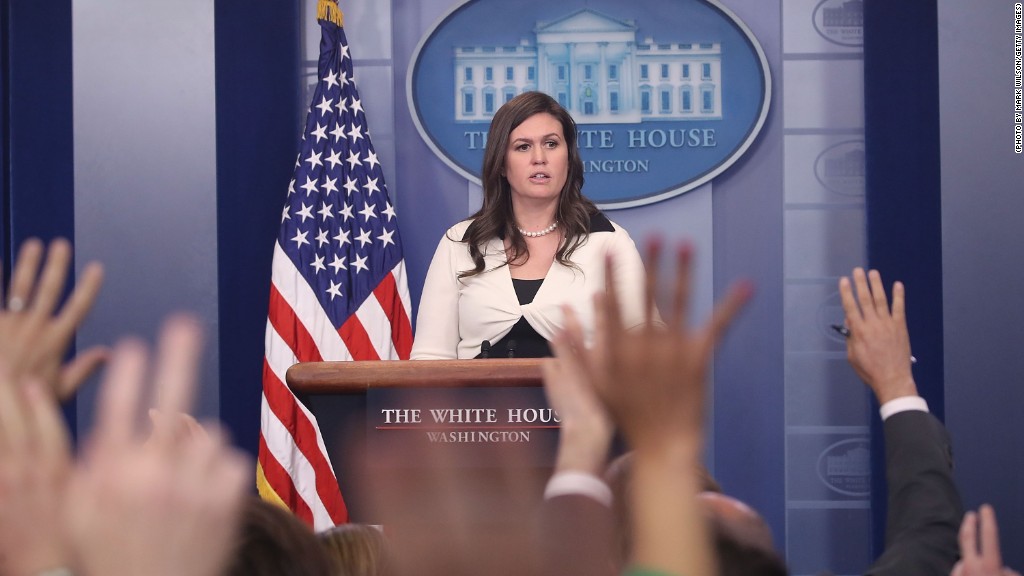 When White House deputy press secretary Sarah Huckabee Sanders held her first press conference last week, journalists in attendance or watching back in the office gave her relatively good reviews. She was calmer and more collected than her boss Sean Spicer, they said, and certainly less condescending.
But on Thursday, as she became the face of the White House's bungled, contradictory account of President Trump's firing of FBI Director James Comey, Sanders proved to be just as unreliable and obfuscatory in the briefing room as Spicer.
Sanders' missteps highlight the immense challenges of serving as press secretary to a president like Trump, who appears to leave his own communications staff in the dark while making claims that seem to contradict theirs.
Related: Sean Spicer under fire during crucial week for Trump
Nearly four months into his tenure, Trump's White House is suffering from a credibility crisis that has only grown worse in light of the bungled Comey firing.
On Wednesday, during a briefing for which she once again received relatively high marks from observers, Sanders was asked if the president had decided to fire Comey before receiving a recommendation from Deputy Attorney General Rod Rosenstein that she do so. "No," she replied.
On Thursday, Trump gave an interview to NBC News in which he said he would have fired Comey regardless of Rosenstein's recommendation.
Yet during Thursday's White House press briefing, after the relevant parts of the interview had been released, Sanders repeatedly dismissed the idea that there were inconsistencies in the White House's timeline leading up to Comey's termination. "Our story is consistent," she told reporters.
Sanders also said Wednesday and Thursday that she had personally spoken to "countless" FBI officials who were frustrated with Comey's leadership. But acting FBI Director Andrew McCabe said at a Senate committee hearing Thursday that statement "is not accurate. I can tell you also that Director Comey enjoyed broad support within the FBI and still does to this day."
When asked Thursday if she had really spoken to countless FBI officials, Sanders said she had but declined to elaborate.
"We're not going to get into a numbers game," she said.
Sanders is filling in for Spicer this week as he attends to his duties with the Navy Reserve, which the White House said were "previously scheduled." Already, there is speculation that Sanders may replace Spicer permanently.
The fact that such speculation exists is due at least in part to the perception that Spicer has sacrificed his credibility by making incongruous or indefensible claims.
But on her third day leading the briefing, Sanders is already showing a similar penchant for such missteps, suggesting that they may simply come with the territory of trying to defend this White House.