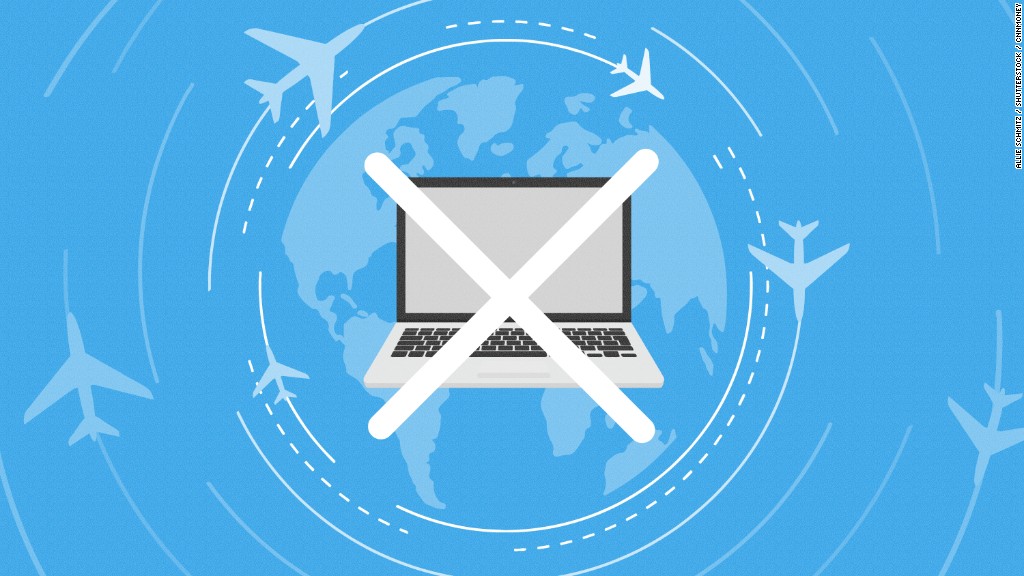 Even airlines are confused by the electronics ban on flights to America.
Delta Air Lines (DAL) briefly posted a sign in its Cincinnati terminal Friday warning international travelers that they would have to check any electronics, other than a cell phone, when flying back to the United States: "Effective May 12 passengers will only be permitted to carry a cell phone onboard flights returning to the United States. All other personal electronics devices will be required to be checked."
But although the Trump administration is considering whether to ban laptops and other large devices from cabins on flights from Europe to the United States, no such ban is in effect yet. U.S. and European officials have been discussing an expansion this week, but for now, the ban still only applies to flights from 10 airports in the Middle East and Africa. That rule went into effect in March.
Related: U.S. laptop ban could hit 350 flights a day from Europe
Delta has direct flights from Cincinnati to three foreign airports -- Paris, Toronto and Cancun. Mexico and Canada are not part of the ban discussions as of now. A Delta spokesman apologized for the confusion that the sign caused and said it's been removed. It only appeared in Cincinnati, but it lives on social media.
It was another indication of the difficulty that the Department of Homeland Security has had as it rolls new travel policies.
That original electronics ban was first disclosed in a tweet from Royal Jordanian Airlines, rather than in an official statement from the U.S. government.
Related: Europe warns U.S. of safety risk from laptop ban
In January, there was mass confusion at U.S. airports after President Trump signed an executive order banning travelers from seven predominantly Muslim countries. That measure was revised several times and then put on hold by federal courts.