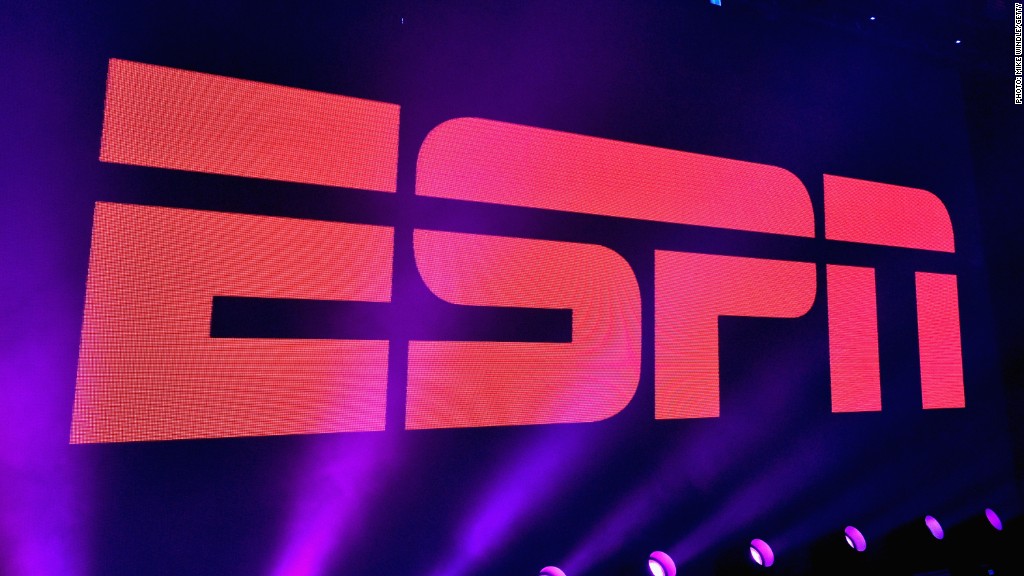 ESPN president John Skipper didn't take questions from reporters on Tuesday when the network delivered its upfront, an annual presentation to advertisers. But he couldn't avoid what was on everyone's minds.
The media landscape is changing, and ESPN has to change with it. That includes changes to "SportsCenter," its flagship broadcast since the network went on the air in 1979.
"Let me be up front at this upfront," Skipper said at the Minskoff Theatre in New York. "ESPN is responding to change, and we are making changes from the most dramatic position of strength."
That may be how the network sees it, but those words came weeks after ESPN announced major layoffs, including 100 on-air personalities and writers.
ESPN also faces the question of how to remain relevant when younger viewers are ditching cable, and when any fan can get scores and highlights instantly on a phone.
So when the network released its lineup for 2018, it featured new shows like a New York-based morning show anchored by Mike Greenberg and a midday show starring Bomani Jones and Pablo Torre, two sportswriters turned TV hosts.
But no version of "SportsCenter" will air on ESPN during the day until "SC6" with Jemele Hill and Michael Smith at 6 p.m. ET.
That will be followed by the 11 p.m. "SportsCenter" with Kenny Mayne and Steve Levy, the late-night broadcast anchored by Scott Van Pelt, and an overnight "SportsCenter" with Neil Everett and Stan Verrett.
During the day, "SportsCenter" will be anchored by Sage Steele and will air on ESPN2. It's a striking change from recent years, when ESPN aired "SportsCenter" wall-to-wall, all morning and into early afternoon.
Skipper, who seemed more stoic than in previous upfront addresses, said that, like sports fans themselves, "we at ESPN are optimists," but he said the network must be "realists as well as optimists."
Related: 'The truest reality television show there is': What makes the NFL Draft a TV event
Rob King, the senior vice president in charge of "SportsCenter" and news, told CNNMoney that the network is focusing on its new morning programming.
"We do think that Mike Greenberg offers an excellent opportunity in the morning because he's been doing morning for 18 years and he's got a great sense of it," King said.
Greenberg was the co-host, with Mike Golic, of "Mike & Mike," a popular radio show that was simulcast on ESPN television networks.
The network also announced that it reached multi-year contract deals with hosts John Buccigross, Kenny Mayne and Hannah Storm.
Related: ESPN cuts familiar faces in major layoff
As for "SportsCenter," ESPN announced a series of "enhancements," including "SportsCenter Right Now," shorter updates that will air on television and ESPN's digital platforms during studio shows and at halftime of prime-time games.
The initiative aims to give fans scores and highlights as soon as they happen and keep the network's marquee show thriving in a new media age.
"'SportsCenter' isn't just a show. It's literally a promise we try to keep across all platforms," King said. "We know that not only do people care about highlights, but where they get them, especially from us, can vary."
Skipper told the audience that ESPN is still the "primary source for sports fans for sports and information, and 'SportsCenter' is central to that."
"Fans understand the distinction between just getting the score, just getting a highlight, and getting it on ESPN with personality and authority," he said.