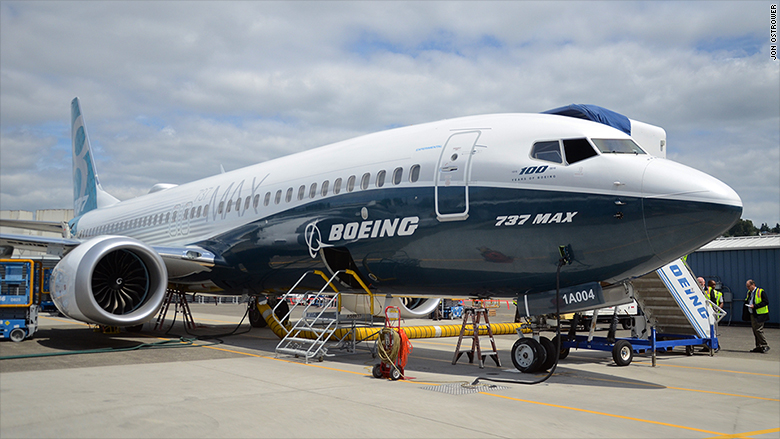 Boeing got the "all clear" Tuesday from the Federal Aviation Administration to resume flying its new 737 Max.
That came after Boeing's 737 fleet was briefly grounded starting on May 10 due to engine concerns.
Both CFM International, which manufactures the engine, and Boeing (BA) were concerned that an issue inside the turbine might eventually cause cracks.
CFM, a joint venture between General Electric (GE) and France's Safran, said that about 30 engines are being sent back to the company for inspections. The remaining engines with Boeing are cleared to fly.
Also on Tuesday, Boeing made its first 737 Max delivery to Malindo Air of Malaysia. That kicked off the start of more than 3,700 Max deliveries that are slated to stretch well into the next decade.
The company last Friday was permitted to fly a test flight ahead of Tuesday's handover to Malindo, but its remaining fleet stayed on the ground.
Related: Boeing grounds 737 Max flights for engine inspections
Malindo's first Max is part of a record order for 201 jets that was placed by Lion Air, the airline's Indonesian parent company, during a 2011 state visit that country by President Barack Obama. Lion Air is the largest single buyer of the 737 Max.
Boeing now faces a big challenge. It plans to build 57 of its single-aisle airliners each month by 2019 as the 737 Max becomes the company's biggest single source of profit.
Malindo won't be the only airline with the Max for long. Low-cost airline Norwegian Air Shuttle will get its first jet in the coming weeks before it starts transatlantic flights in June.
And U.S. carriers aren't far behind. Southwest Airlines (LUV) and American Airlines (AAL) will start taking their first batch later in the year.
This is the fourth generation of Boeing's popular single-aisle jet, which has been a workhorse for the company for decades. The jet is 14% more fuel efficient than its predecessor, primarily due to its new engines.