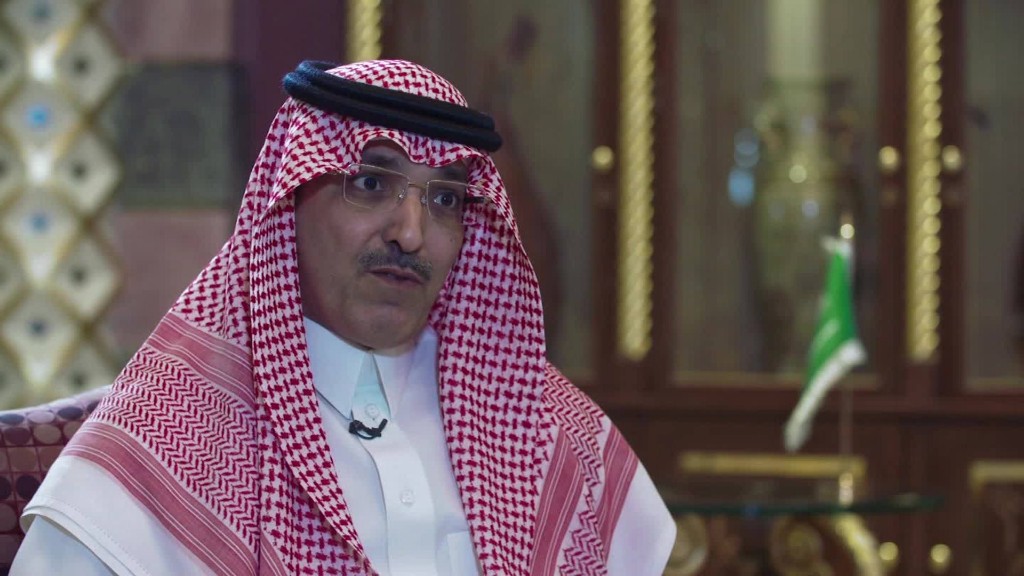 Saudi Arabia still loses sleep over the price of oil. Not for much longer.
The kingdom says it is making good progress on a plan to break its oil dependency and won't be bothered if the price drops to $40 a barrel by 2020.
"We will not really care much whether the price is 40, 45, 50, 55 at that time because we have gone significantly out of our way to be independent of the oil price," Saudi finance minister Mohammed Al Jadaan told CNNMoney's Emerging Markets Editor John Defterios.
"We are planning to totally [end] that dependency that we have been living for the last 40, 50 years. Hopefully by 2030, I wouldn't care if the oil price is zero," he said in an interview in Jeddah.
Related: Saudi Arabia is giving women more freedom as it looks beyond oil
Saudi Arabia set out an ambitious plan last year to wean the economy off oil after prices dropped to $26 a barrel, blasting a huge hole in the country's budget.
Since then, Saudi Arabia has stabilized its economy. It has cut government subsidies, announced new taxes and borrowed billions to balance its books.
It also cut wages for top ministers and public workers. That policy was reversed six months later, a move Al Jadaan said was designed to boost growth.
"It was done at a time [when] we were really worried about oil prices, worried about other stresses in the economy," he said. "Now that we have seen how the plan is unfolding... maybe it's time to inject more funding into the people's hand."
Related: Saudi Arabia pushes through pain of breaking oil habit
The International Monetary Fund said Wednesday that the kingdom could ease up a little on the pace of austerity to "reduce the effects on growth in the near term."
Higher oil prices now hovering around $50 have helped. OPEC, led by Saudi Arabia, and Russia have curtailed output for the first half of 2017 to reduce a supply glut. They may extend those production cuts until March 2018.
But the U.S. continues to ramp up production, keeping a lid on prices. The number of rigs in operation there has doubled over the past year.
Analysts at UBS estimate that U.S. producers can now make money as long as prices remain above $40 per barrel. That's down from $65 in early 2014.
Related: OPEC to U.S.: Please don't pump so much oil
Saudi Arabia expects to run a budget deficit of 7.7% of GDP in 2017, down from 11.5% last year.
The IMF estimates the kingdom would need oil prices of $84 a barrel to run a balanced budget in 2017. That budget breakeven price falls to $74 next year.