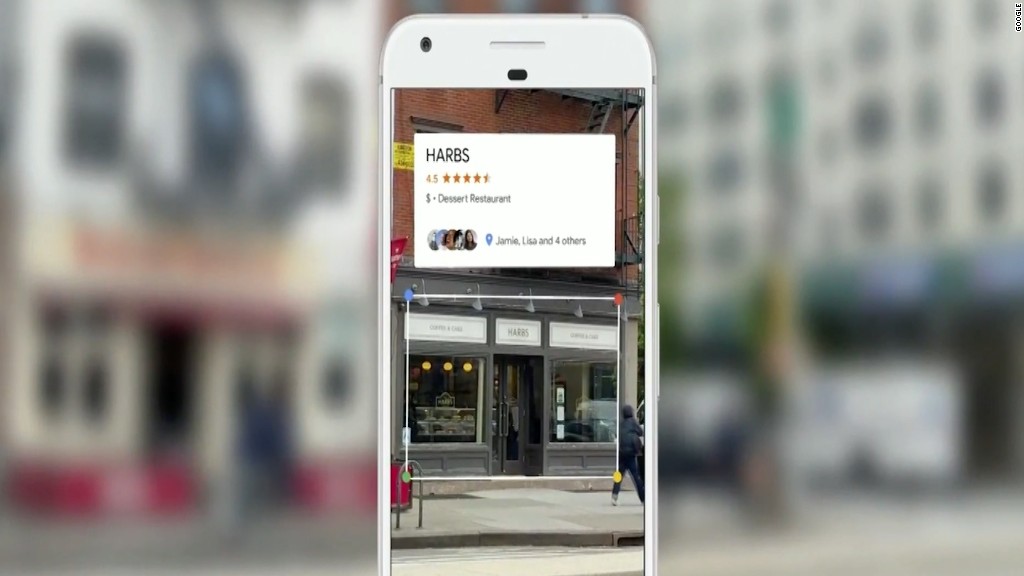 Google is desperately trying to catch up with the Amazon Echo. The company announced new features for its Google Home speaker, it's Siri-like Assistant and photos tools at its annual developers conference on Wednesday.
Google (GOOG) CEO Sundar Pichai and other executives took the stage at the Shoreline Amphitheater in Mountain View, California, to announce the company's latest hardware and software news. Pichai came out to a roar of developer applause and someone screaming "I love you," like a tech rock star.
He started with a big of bragging. There are more than 2 billion active devices running Android, 1 billion kilometers navigated on Google Maps every day, 800 million people using Google Drive every day and 1.2 billion files uploaded to Google Photos daily.
"This is all because of the growth of mobile and the smartphone, but computing is evolving again," said Pichai.
The future, said Pichai, is AI first. That means Google tools will use machine learning to predict and automate features, and get smarter over time.
Google Assistant
Google's still nameless voice assistant is competing against Amazon's (AMZN) Alexa, Apple's Siri and Microsoft's (MSFT) Cortana for the next generation of voice-controlled devices. It's currently on 100 million devices and now it's taking the fight to Apple's home turf.
Google Assistant is coming to Apple's (AAPL) iPhone and will be accessible inside Google's mail iOS app. That still requires one more step to get to than Siri. It's also coming to regular Android devices -- it was only on the Pixel previously. Google is adding a way to type questions with a new keyboard option on all its apps. To further spread the Assistant's reach, Google announced a software development kit which will let third parties like Sony and LG integrate the tool into their own gadgets. The assistant can now speak French, German, Japanese and Portuguese.
Google Lens
Google introduced Lens, so your smartphone camera can recognize objects and provide additional information. For instance, if you point your phone at a restaurant, Google will give you the rating for it. It can also recognize objects like flowers.
It uses Google's computer vision technology, taking the the artificial intelligence capabilities of Google Assistant, and puts it into visual search. Google demonstrated how Assistant becomes more powerful with visual capabilities -- if you point your phone at a marquee with a concert date, Assistant will ask if you want to add it to your calendar or listen to the band.
Lens features are rolling out to Android in the coming months.
Auto replies in Gmail
Last year Google announced auto replies in it's Allo messaging app. Now its bringing the time saver to Gmail. It will scan your email threads and suggest appropriate replies based on your conversations. It saves time, but also the emotional energy needed to email your mom.
Google Home
Google's Echo imitator added hands-free calling, just weeks after Amazon added the same feature. It's adding Spotify and Soundcloud integration, and all existing Homes will get Bluetooth powers so you can stream from a smartphone. It's also adding TV partnerships including support for HBONow so you can ask the Home to play "Game of Thrones" over your Chromecast.
It's also bringing over "proactive" suggestions from Google Now. That means your Home can nag you with notifications about what's on your schedule or traffic alerts. Instead of just talking to you, it will flash its lights to let you know there's a message. Ask it "What's up?" to hear the messages.
It's not adding a screen to the Home like Amazon is doing with the Echo Show, but it's doing something similar. The Home will be able to show responses on a TV or smartphone screen.
Android O
Google's latest mobile operating system is available in beta starting Wednesday. Android O will include a number of new features, like autofill, redesigned settings and downloadable fonts.
One of Android's biggest problems is fragmentation. To help get older and slower devices on the newer version Android, Google is releasing Android Go, a new configuration just for entry-level phones. It uses scaled down versions of popular Google apps like the lightweight YouTube Go that includes offline viewing. Go tracks data costs, which is key for people not on unlimited plans. And it uses a Chrome tool to minimize data usage.
Android Go will be available on all devices with 1 GB of memory or less, but in the future, all Android devices will be able to use the Go configuration.
Virtual Reality
Google is working with partners on a new type of virtual reality headset. The devices don't exist just yet, but there should be examples from HTC and Lenovo later this year. Unlike the current Google Daydream headset, these will include everything you need to use VR. There's no phone, cord or PC required.
Augmented Reality
Google is working on a visual positioning service, which is like Google Maps for the indoors. It mixes very precise locations with the smartphone camera to map out places like a museum or store. If you're wandering around a Home Depot and can't find the lug nuts, this tool could guide you with live overlays on the camera. Google said the technology was coming later this year but did not say in what app.
It's also adding an augmented reality mode to Google Expeditions, the educational VR program that uses Cardboard in classrooms. The new app uses the smartphone camera and overlays graphics.
Selena Larson contributed to this story.