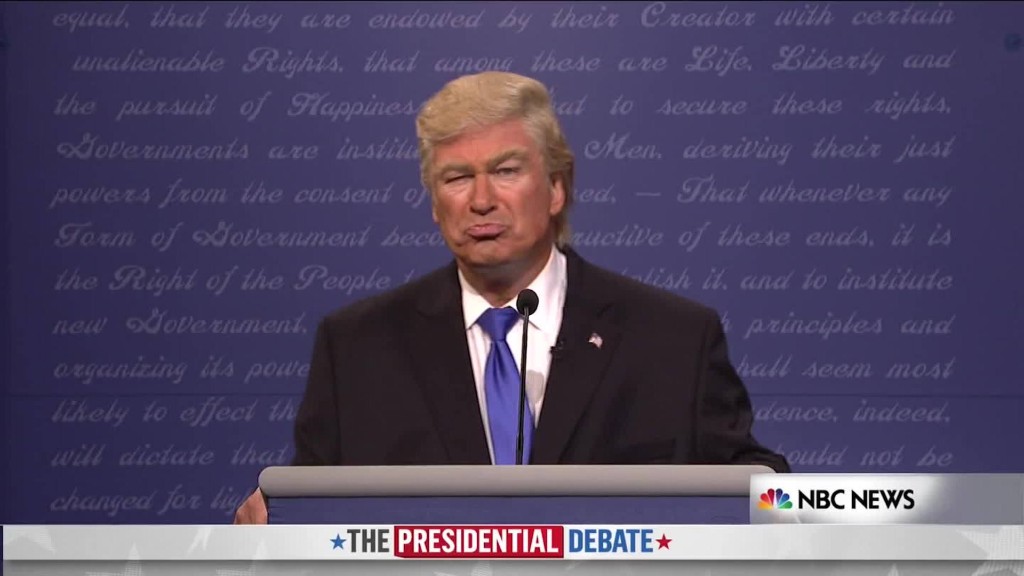 "Saturday Night Live" seized on a turbulent presidential campaign and an even more tumultuous presidency to bring about what is now their most-viewed season in 23 years. It was a season marked by sketches that made its audience laugh and the new President angry, thanks in part to spot on impersonations from Alec Baldwin and Melissa McCarthy.
Now, after one of its most successful seasons, the question that remains is, how will "SNL" top itself next season?
Baldwin's mockery of Donald Trump and McCarthy's take on Sean Spicer contributed to the some of the Internet's most viral moments this season. But can the show keep up its ratings boom if Baldwin retires his Trump wig and puckered lips?
For his part, Baldwin would love to continue his Trump role, but that all depends on his schedule.
"I'd love to keep doing this per my availability, but I have other things I'm going to do, so I guess we'll figure it out," Baldwin told the Hollywood Reporter. "I have a lot of things I'm supposed to do. I'm sure ['SNL' creator Lorne Michaels] will find ways to kill them."
Season 42's success was arguably carried by one of its biggest cast members Kate McKinnon, whose White House impersonations include Kellyanne Conway and Jeff Sessions. She also lampooned candidate Hillary Clinton during the campaign season.
The rest of the season's success, however, came from outsiders Baldwin and McCarthy, who ranked No. 1 and No. 2 respectively in ratings when they hosted. And with all due respect to Tom Hanks' David S. Pumpkins, the show also didn't have many popular sketches aside from the ones based on the antics of Trump and his administration.
This season averaged 7.5 million viewers for its live shows on Saturday nights, which balloons to 10.8 million viewers when you account for those who watch within a week of the original airing. That number is up 32% from last year and gives the series its most watched season since 1993-94.
The show did this by not just going after the President, but by doing so with pointed political satire utilizing big names like Baldwin and its star, McKinnon.
This strategy was used by "SNL" right out of the gate with its very first sketch of the season, a presidential debate that pitted Baldwin's Trump vs. McKinnon's Hillary Clinton.
Related: 'SNL' asks 'Where in the World is Kellyanne Conway?'
Baldwin's take on Trump received positive reviews and some joked that it was hard to figure out where Trump ended and Baldwin began.
"Was Mr. Baldwin's Trump good? Mimetically, it was worthy of a biopic," wrote James Poniewozik, New York Times' TV critic, in November.
Baldwin's Trump also garnered a review, albeit a negative one, from the President himself who tweeted that Baldwin's portrayal "stinks" and that it was "time to retire the boring and unfunny show."
Trump's tweets added a new experience to the show each Saturday. Viewers tuned in to see how "SNL" would treat Trump's gaffes that week, and then wait to see how he would react.
Following the introduction of Baldwin's Trump, he and McKinnon sparred back and forth leading up to November's election, a point where many thought "SNL" would retire Baldwin's Trump impression.
But Trump won the presidential election.
"SNL" quickly adjusted to a Trump presidency and embraced its role of providing commentary with funny sketches. The first episode after Trump's victory, "SNL" opened with McKinnon dressed as Clinton playing a somber rendition of "Hallelujah."
After Trump took office, Baldwin returned as the President and eventually hosted his own episode in February, but "SNL" expanded its lampooning to include Conway, Sessions, and others.
Beck Bennett played a shirtless Vladimir Putin, Steve Bannon was depicted as the Grim Reaper, and Jimmy Fallon impersonated Jared Kushner when he returned to "SNL" as host.
"SNL" turned to McCarthy to play White House Press Secretary Sean Spicer for its most surprising and arguably best sketch of the season.
Related: 'Spicy's back!': 'SNL' has McCarthy's Spicer meet with Baldwin's Trump
"SNL" concludes its 42nd season this Saturday with Dwayne "The Rock" Johnson as host with musical guest, Katy Perry.
Baldwin's return may be up in the air, but with Trump making headlines every day, "SNL" writers will have plenty of political fodder to make next season great again.