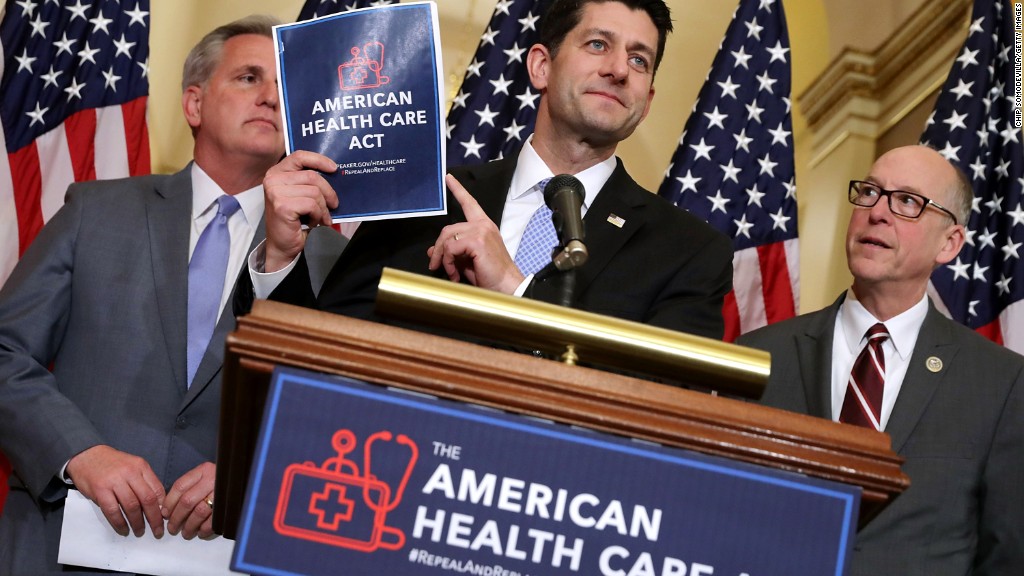 We'll all learn next week how the Republican health care bill that passed the House in early May will affect the number of uninsured and the deficit.
The Congressional Budget Office says it will release an updated estimate of the American Health Care Act on Wednesday.
The legislation was changed several times after it was introduced, and House lawmakers took the unusual step of voting on it without a fresh CBO score.
The Senate is eagerly awaiting the revised report as it works to repeal and replace Obamacare. The chamber is expected to make major changes to the House bill, but needs the CBO score to know how much it will cost.
Related: Would the House really need to vote again on health care?
Also, the House is waiting until it receives the new score to send the bill to the Senate to make sure it conforms to Congressional rules -- in particular, that the legislation meets its savings target of $2 billion over 10 years.
The most recent agency review of the House bill found that it would reduce federal deficits by $150 billion between 2017 and 2026. (An earlier CBO score found that the legislation would reduce deficits by $337 billion, but lawmakers then changed several tax and Medicaid provisions that eliminated some of the savings.)
Related: Who gets hurt and who gets helped if Obamacare is repealed
The most damning finding of the initial CBO report was that 24 million more people would be uninsured in 2026 under the GOP bill than under Obamacare. An estimated 52 million people under age 65 would be uninsured, compared with 28 million if Obamacare remained in place.
Since the last CBO report, House Republicans made several changes. Among them: they added more money to help states and insurers cover high-cost patients and gave states the option to weaken some of the provisions protecting those with pre-existing conditions.