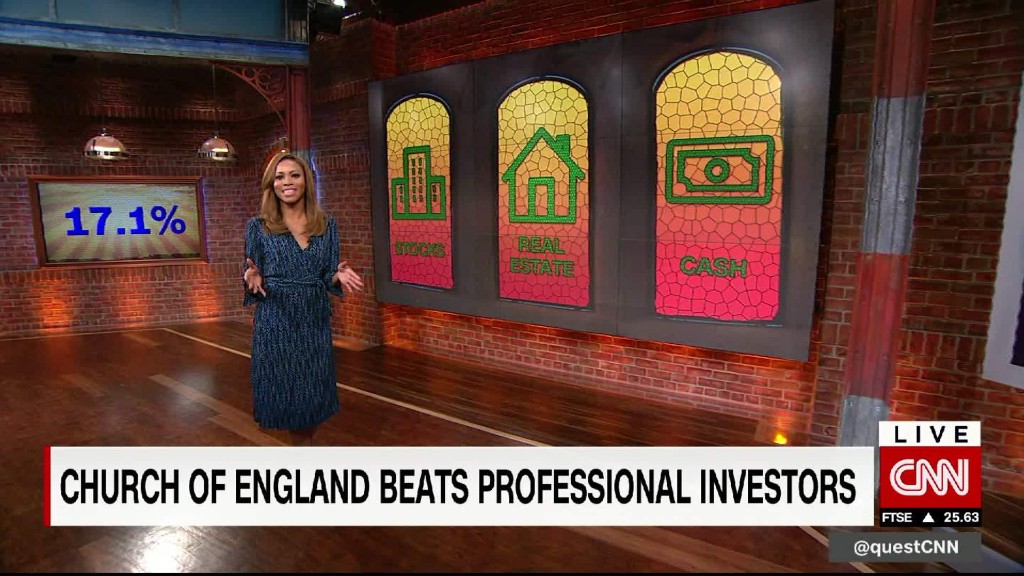 The market gods have been very kind to the Church of England.
Its endowment generated a return of 17.1% in 2016, far outstripping most similar funds as well as the Dow Jones and S&P 500 indexes.
The Church Commissioners, the group that oversees the fund, described the returns as "stellar." The overall value of the fund rose by nearly £1 billion ($1.3 billion) to £7.9 billion ($10.3 billion).
Here's how it beat the market. More than a third of the endowment is invested in stocks, while another 30% is in real estate. The church keeps 10% of its portfolio in cash and similarly liquid assets.
The banner year was fueled by strong returns from emerging markets, smaller U.S. companies, private equity, timberland and forestry.
Endowments are often used by churches, universities and other nonprofit organizations to generate income to support their work.
Last year's performance by the Church of England fund has left much bigger endowments -- including those belonging to Ivy League institutions such as Harvard University and Yale University -- in the shade.
Harvard's $36 billion endowment posted a 2% loss in the fiscal year ending June 2016. The Harvard Management Company, which invests in more than 13,000 funds on behalf of the university, pinned the blame on market volatility, low interest rates and poor execution.
The story was similar at Yale, which grew its $25 billion endowment by only 3.4% in 2016.
8% a year for a decade
Over a longer period, the gap between the three institutions is narrower. The Church of England endowment produced annual returns of 8.3% over the past decade, while Harvard posted 5.7% and Yale earned 8.1%.
Related: 5 things to do with $200
All three are constrained by ethical investing guidelines. The Church of England, for example, does not invest in weaponry, pornography, tobacco, gambling, high interest rate lending, embryonic cloning, coal extraction or oil sands extraction. It also limits investments in alcohol.
The fund paid out a total of £230 million ($300 million) in 2016 to help fund church activities, pension payments for clergy and other operating expenses.
Related: Philadelphia accuses Wells Fargo of targeting minorities
So would a weaker performance be a major problem for the church?
Justin Welby, the Archbishop of Canterbury and the church's most senior vicar, last year published a book on the dangers of an unbridled pursuit of money.
"It seems that in many eyes, and often in mine, personal finances that are in good shape, or a national or global economy doing well, are not merely a means to improve people's lives, but are seen as the goal in pursuit of a good life," the former oil executive wrote. "That approach is incompatible with serving Christ."