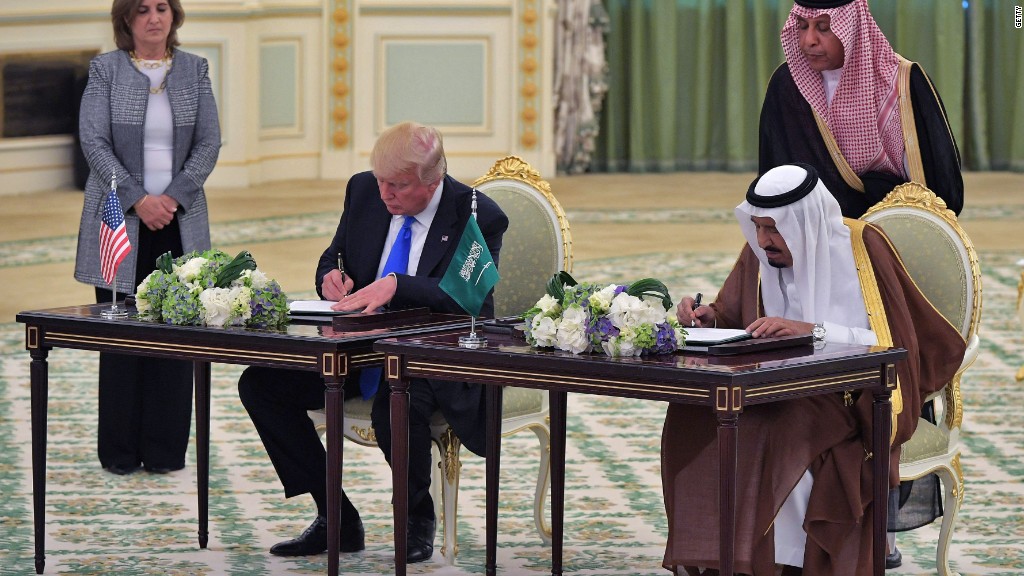 Comeygate? Impeach President Trump? So long tax reform? That's so last week's news. All of the controversy and chaos in Washington seems like a distant memory to Wall Street now.
Stocks opened slightly higher Tuesday, setting the stage for a fourth straight rally day, despite the horror in Manchester. The Dow has now erased almost all of its nearly 373 point loss from May 17.
Of course, it's premature to say that the president is out of the woods following last week's reports that Trump wanted former FBI chief James Comey to halt an investigation into possible ties that his former NSA adviser Michael Flynn had with Russia.
Comey is expected to eventually appear before Congress to testify about the matter. And another former FBI director, Robert Mueller, has been appointed by the Justice Department as special counsel to look into the Russia-Flynn-Trump allegations.
But for now, at least, investors have shifted their focus to what they still like about the Trump administration: his penchant for deals and plans to boost the economy with a budget that calls for big cuts in spending -- particularly on domestic programs.
Trump, currently on a trip to the Middle East, has reminded Wall Street that his top priority is job creation.
Related: Trump's first budget proposes trillions in cuts
The administration has touted several deals the Saudi government announced with US oil and defense companies during Trump's visit as ones that will put more Americans to work.
Whether that will actually be the case remains to be seen. But it's a big PR win for Trump if nothing else -- and a much needed distraction from the Comey narrative.
At the end of the day, investors are still hopeful that Trump will continue to make deals. Many seem willing to hold their nose and try to ignore the more chaotic aspects of this administration.
Federated Investors referred to last week's big market drop and subsequent rebound as "a short-lived Trump thump" in a report to clients Monday.
Linda Duessel, senior equity strategist at Federated, added that during a recent trip she took to see clients in Western New York, one came up to her and said he still believed Trump would boost the economy even though "it's too bad about his personality."
Other market experts also think investors will continue to keep the faith in Trump -- warts and all.
"Notwithstanding last week's turbulence, stocks have managed to tread water since early March while events in Washington have unfolded. That is certainly a positive," said David Joy, chief market strategist with Ameriprise, in a report.
Related: Defense stocks at record highs after Trump-Saudi deal
Fortunately, market stability has returned. Strong corporate earnings for the first quarter have clearly helped boost confidence.
Companies in the S&P 500 posted their best profit increases since late 2011 in the first quarter. And some big, blue chip companies posted solid results last week too, including Walmart (WMT), Gap (GPS) and Deere (DE).
"Stocks are influenced more by earnings and economic data than politics and that proved to be the case again last week," said William Lynch, director of investments for Hinsdale Associates.
And even though the initial reading on economic growth for the first quarter was disappointing, many believe the economy will gain steam throughout the year as consumers and businesses continue to express confidence and show a willingness to spend.
Tracie McMillion, head of global asset allocation strategy for the Wells Fargo Investment Institute, said "volatility is likely" as investors keep an eye on Washington, but she doesn't think "political events will change the U.S. economy's upward trajectory."
There are still some signs of investor skittishness about the economy though. CNNMoney's Fear & Greed Index is indicating that some investors remain on edge. The index briefly dipped into Fear mode last week but has rebounded to Neutral territory. But it was showing signs of Greed the day before the reports on Comey surfaced.
Treasury bond yields also remain low. Gold prices have been on the rise. The US dollar is weakening.
Related: Bitcoin prices are soaring under Trump
And one key component of the Fear & Greed Index, a measure of volatility known as the VIX, spiked nearly 50% on the day of the big market selloff. But the VIX (VIX) has steadily pulled back the past few days as the market has rebounded.
So for now, stock market investors are ignoring some of the warnings. But the bullish sentiment may not last.
The Federal Reserve is now in the process of raising interest rates and is unlikely to want to reverse course and cut them in order to once again save the economy. That means there needs to be stimulus from Trump and Congress.
"If the Washington policy machine grinds to a halt, it is less clear that economic growth and expected earnings are likely to be strong enough to push stocks higher on their own," Ameriprise's Joy said.