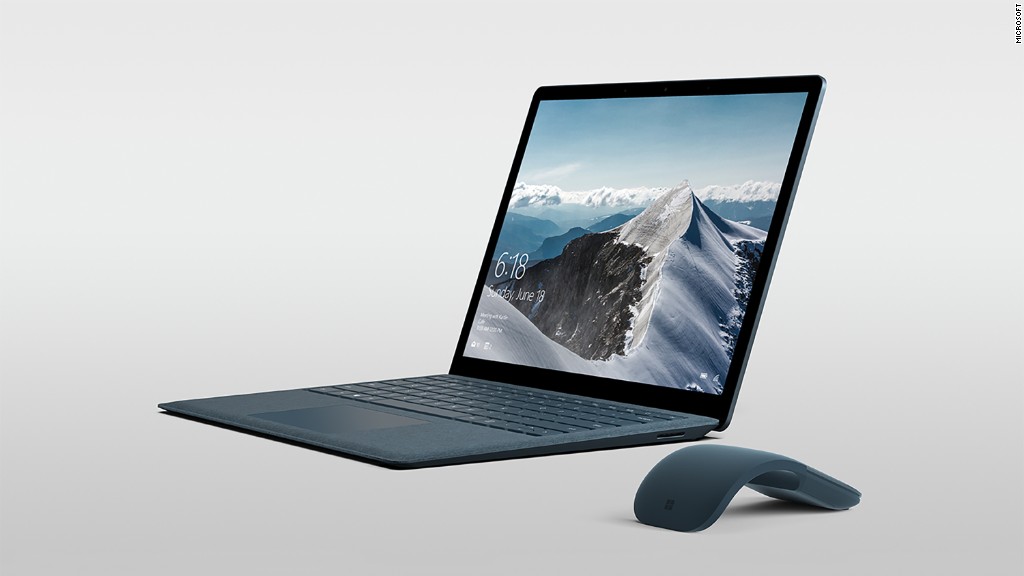 Microsoft wants you to think of its new Surface Pro as a laptop with a touchscreen -- not a tablet with a keyboard.
Announced on Tuesday at a press event in Shanghai, the 2-in-1 laptop is a faster and quieter version of the Surface Pro 4, but without the bulky extra number in its name.
The new Surface Pro looks like an improvement without being radically different in any way. Its design is similar to the previous version, but with slightly rounded edges and new colorful keyboard options. Microsoft (MSFT) claims it's 3.5 times faster than its predecessor, with upgraded specs including a seventh-generation Intel (INTC) processor without a noisy fan. It also touts more battery life, and can last up to 13.5 hours on a single charge, according to Microsoft.
The Surface Pro starts at $799, but a fully tricked-out model with all the bells and whistles can cost up to $2,500. It will be available June 15 in 27 markets, including China.
There are other small changes that could appeal to mobile workers, like a 4G LTE option and improved stylus sensitivity. It will run the latest Microsoft 10 Creators Update, and the Surface Pen will now work in Microsoft Office. Later this year, it will get the new Whiteboard app for "two-way inking," which is just drawing back and forth.
There is no USB-C port on the device. Yusuf Mehdi, Microsoft's VP of Windows and Devices, told CNNTech the company is sticking with the standard USB port because of the faster charging capability. While the company does think USB-C's time is coming, Mehdi said it's not mainstream enough yet.
Related: LinkedIn brings in nearly $1 billion for Microsoft
When it was announced in 2012, the original Surface was marketed as a tablet. It was a beefed-up iPad imitation with the clever addition of a keyboard cover. As both Apple and Microsoft have chased the mobile workforce, their approaches have changed.
Apple (AAPL) adopted a stylus and soft keyboard cover for its iPad Pro line. Then Microsoft backtracked and added a harder full keyboard option with a trackpad, noticing that mobile professionals wanted to be able to type on various surfaces, including their laps.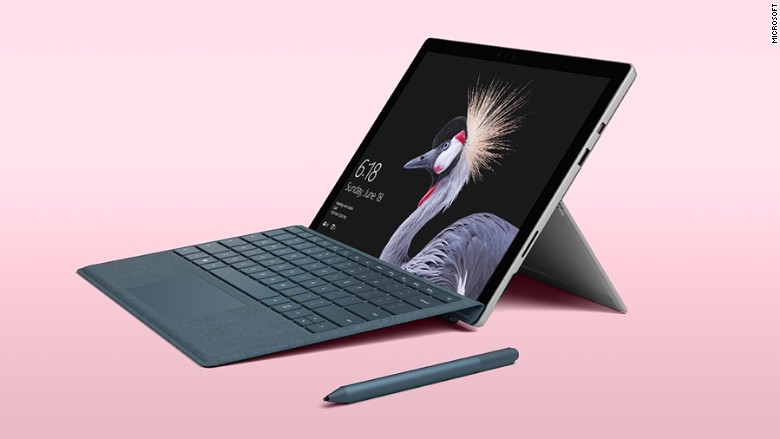 Like Apple did with the most recent iPad, Microsoft is focusing on simplicity instead of flash with this update. They're both dropping numbered names and returning to their original nomenclature.
This 2-in-1 format is for people like doctors, pilots and students who need tablets for note-taking or reading, but a laptop for full productivity, said Mehdi. He calls it Microsoft's "most versatile laptop."
Microsoft picked China for the big reveal as a signal of the company's desire to expand in that region. It marks the first time the company launched a major hardware product outside the U.S., and China is one of its three largest markets.
Microsoft could use a hardware hit. Surface sales have been struggling, and the company's revenue from the line fell 26% in the most recent quarter. The dip could be customers waiting for the next generation. The Surface Pro 4 was released in 2015, and it has faced stiff competition from newer 2-in-1 devices from Samsung (SSNLF), HP (HPCQ) and Dell (DVMT).