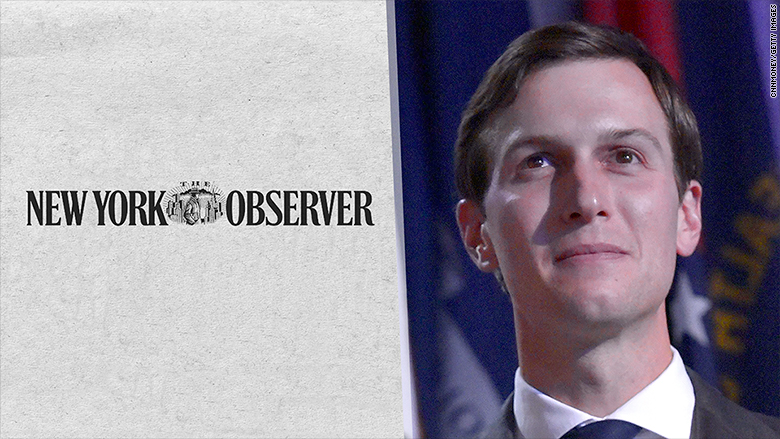 Ken Kurson, the editor-in-chief of Jared Kushner's family-owned New York Observer, has resigned and will take on a new job at in strategic communications.
Kurson will join the powerful C-suite advisory firm TENEO as a senior managing director.
In a memo to staff, Kurson said Kushner had "never received the credit he deserves for supporting independent journalism and contributing to the cultural fabric of our city."
Defending Kushner against the "snark" and "unfair criticism" of his detractors, Kurson said the Observer "wouldn't exist were it not for the willingness... of the Kushner family to cut those checks. They didn't have to do that."
Kushner bought the Observer in 2006 in what was widely seen as an attempt to gain influence in Manhattan's elite social circles. He was also criticized for sacrificing the paper's commitment to serious journalism.
During the 2016 campaign, the Observer gained attention for its favorable coverage of Kushner's father-in-law, Donald Trump. At least one reporter resigned citing his concerns with the paper's coverage.
Kushner sold his stake in the company to a family trust in January to accept a senior adviser role in Trump's administration. His brother-in-law Joseph Meyer, a CEO of Observer Media Group, took over as publisher.
In a statement, Observer Media said Kurson "played a pivotal part in our transformation from a local print publication to a national brand. We -- and our readers -- benefited from his unremitting passion for Observer, and we know the same intellect, conviction and insight he brought to the editorial team will serve him well in his future endeavors."
The Observer said it is currently searching for Kurson's replacement.