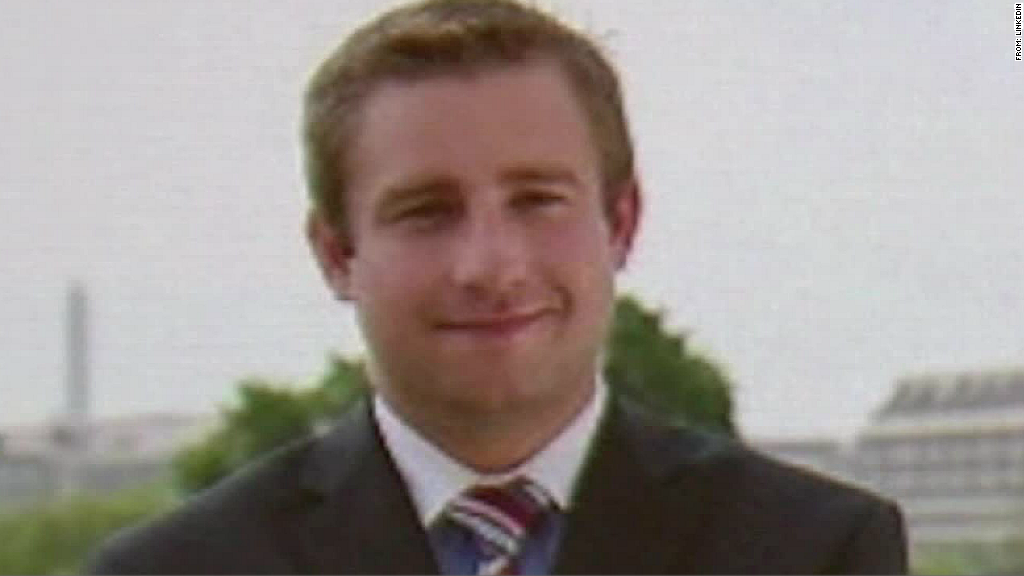 Matt Boyle, the Washington editor of the far-right website Breitbart, thought Fox News had wimped out.
Minutes after Fox News retracted its inaccurate story peddling a conspiracy theory about the fatal shooting of Democratic National Committee staffer Seth Rich, Boyle sprang into Breitbart's Slack channel.
"I'm hearing house and senate may soon announce investigation into Seth Rich death," Boyle wrote, according to a screen shot of the conversation obtained by CNN. "We need to go huge w Kim dot com statement."
Kim Dotcom, the Megaupload founder currently in New Zealand fighting extradition to the U.S., had claimed in a vague statement on Tuesday that Rich was the person who leaked internal DNC documents to Wikileaks. Dotcom provided no evidence to support his claim, but that didn't seem to matter to Boyle.
"Lead lead lead," Boyle demanded.
"If they announce investigation why are Fox retracting?" asked Ben Kew, a Breitbart reporter.
"Fox is weak," Boyle answered. "Internal weakness at Fox."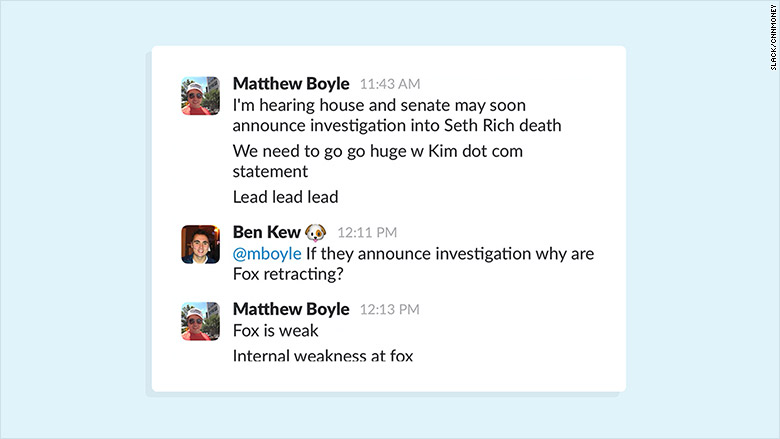 Soon after, Breitbart published a story on Dotcom's baseless claims: "Megaupload founder Kim Dotcom claims Seth Rich was DNC leaker, offers to work with Mueller," the headline read.
The episode was representative of how many on the the far-right reacted to Fox News' decision to retract its story. Over the previous week, Fox had stirred up an online riot, with the story that it dragged its feet retracting for days after it was debunked, and with the behavior of its star host Sean Hannity, who had promoted the conspiracy theory repeatedly on his show. By the time it removed that inaccurate story, six days after it was published, the riot had grown out of Fox's control. Commentators and online publications had seized on the conspiracy theory and they were not going to stop. These online right-wing detectives wanted "answers" and vowed to find them, regardless of what the self-styled "most powerful name in news" had chosen to do.
Related: Fox News removes false story on Seth Rich's murder -- six days after it was debunked
On Tuesday, following the Fox News retraction, other outlets continued to advance the conspiracy theory. The Drudge Report ran with it. As did InfoWars. As did the Gateway Pundit.
Jim Hoft, publisher of the Gateway Pundit, told CNN he would not back down from the story.
"Why would you stop covering it now?" he asked. "Obviously there's more to cover there."
Asked about Fox News' retraction, Hoft said it was "pretty obvious" the outlet had been pressured by liberal media outlets and advocacy organizations into removing the story from its website.
"I think they were pressured, obviously," he told CNN. "I think it's very strange the liberal media won't touch it."
Even further on the fringes of the right, pro-Trump online personalities riled up their audiences with outlandish claims about the unsolved murder.
"New Right" Internet personality Mike Cernovich, who has a history of circulating unproven theories, filmed a YouTube video titled, "Why I know the DNC is covering up the Seth Rich murder."
Bill Mitchell, who has been retweeted by the president, also pushed the conspiracy theory about Rich's murder on Twitter, accusing the media of having a liberal bias for not taking part in peddling the baseless claims.
Perhaps most telling was the reaction from Fox News' own primetime host, Sean Hannity, who has been one of the loudest voices over the last week promoting the conspiracy theory. While Hannity refrained on his Tuesday night television program from discussing the story, he also promised he was "not going to stop finding the truth." He has continued to tweet about Rich and maintained that he stands by his comments promoting the conspiracy theory.
Related: Seth Rich's brother pleads with Hannity to stop spreading conspiracy theory
The retraction of the Fox News story, which served as the initial launching pad for the conspiracy theory, seemed to have no impact on how the story was covered in these circles.
And while it might seem like the misleading information ricocheting in the far-right universe would have no larger impact, these websites and individuals have a large audience that comprises influential people.
Appearing on CNN Wednesday morning, Republican Rep. Blake Farenthold claimed there was evidence suggesting the "intrusion of the DNC server was an insider job." Asked for information to support his claim, Farenthold said, "There's stuff circulating on the Internet."
Farenthold wasn't the only person in the position of authority to repeat what he had heard from right-wing media.
Former House Speaker Newt Gingrich made a similar claim during a Sunday appearance on Fox News. When he was asked for evidence by The Washington Post, Gingrich said the information was from "various blog sites."
Even Donald Trump Jr., the president's son, has appeared to buy into the conspiracy theory. Last week, he favorited two tweets linking to news stories about the case.