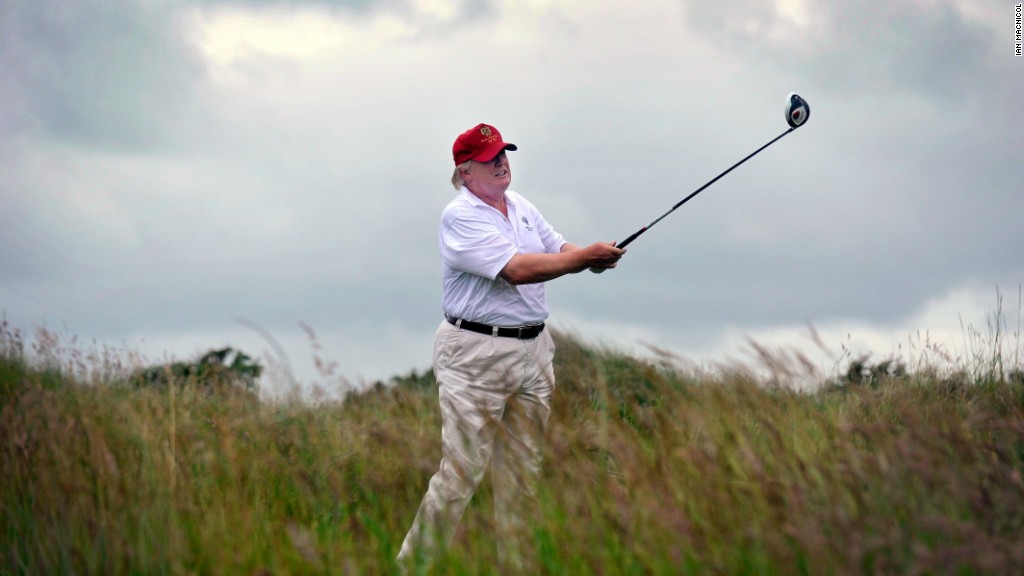 President Trump's golf club outside Washington will host the Senior PGA Championship this weekend, and the honor doesn't come cheap: The Trump Organization spent millions getting the course ready.
But the president could still come out ahead.
Hosting a marquee event like the senior championship provides a huge lift in brand exposure. Big names like Rocco Mediate and Bernhard Langer will negotiate Trump bunkers and Trump fairways. The Golf Channel and NBC will broadcast pictures of manicured Trump greens around the world.
And it's always possible that the president himself, who returns Saturday from his first overseas trip, will show up. After all, he's visited a Trump-brand property almost every weekend he's been in office. The White House did not return a request for comment.
For a private club like Trump National, hosting a major tournament adds prestige, which can be used later to justify raising greens fees and the cost of membership.
That is money that ultimately accrues to the president himself, who has turned over management of his business to his sons but refused to sell his holdings while he is in office.
"Even if he doesn't show up and doesn't tweet about it, you have this problem of the Trump brand being intermixed with him being president," said Larry Noble, general counsel for the Campaign Legal Center, a nonpartisan watchdog organization.
"He's using the White House to promote his own financial interests," Noble said. "Being president is a marketing opportunity for him."
The course didn't return requests for comment. The Washington Business Journal reported in 2015 that Trump National charged $100,000 to join, plus a monthly fee of $698.
Related: PGA chief: Trump is good for golf
Trump bought the former Lowes Island Club in 2009. The PGA awarded the tournament to Trump National in May 2014.
Since Trump took over, workers have cut down hundreds of trees to clear the way for breathtaking views of the Potomac River. (Between the 14th and 15th holes, the course also features a monument to a Civil War battle that historians say simply never happened.)
"This is a very special property," Trump said in June 2015, right after he announced for president. "I bought it six years ago, at the height of the bad market, the world was collapsing, and I saw something that was very special."
Hosting an event like the Senior PGA Championship is a big honor, but it's a big undertaking.
The PGA typically takes care of expenses like the construction of grandstands and hospitality suites for the championship. And most of the workers during the event are volunteers.
Each year about 1,700 people sign up with the PGA to help out as course marshals, coordinate transportation and take care of guests.
But the course itself must be camera ready, and the Trump Organization spent a reported $25 million on renovations.
Golfers will tee off Thursday on the Championship Course, advertised by the club as a Donald J. Trump Signature Course, "built specifically for world-class golf," with rough composed of fescue, ryegrass and bluegrass.
Eric Trump, who along with his brother has been placed in charge of their father's business interests while he serves as president, promoted the tournament this week on Twitter.
Related: President Trump, off to New Jersey, can't stop advertising his own brand
Ross Smith, general manager and director of golf at Harbor Shores, a course in Michigan that has hosted the senior championship three times, said the exposure is invaluable.
"We can't put a marketing dollar on it," he said. "Everybody that comes here says they came because they saw the Senior PGA Championship being played here."
Harbor Shores is a public golf club, but people come from as far away as Japan because they saw the tournament on TV, Smith said.
Related: The two biggest ways the Trump family could benefit from his tax plan
"We know by survey work we do that we bring golfers here by hosting the championship," said Jeff Noel, the president of Harbor Shores. "They see that it's aesthetically pleasing, they see the waterfront on TV coverage. It renews interest in our course, and people will visit and spend money."
The club pockets a share of ticket sales and hospitality suite rentals, according to Noel, but he stressed that's nothing compared with what a course has to invest to host a big event.
"It's not a boon to the golf course or the Trump name. It's not a financial windfall," Noel said. "There's risk. The Trump Organization cannot afford to host this tournament without investing resources to make it prestigious and have it be to a certain standard. The hosting course spends more than it gets back."