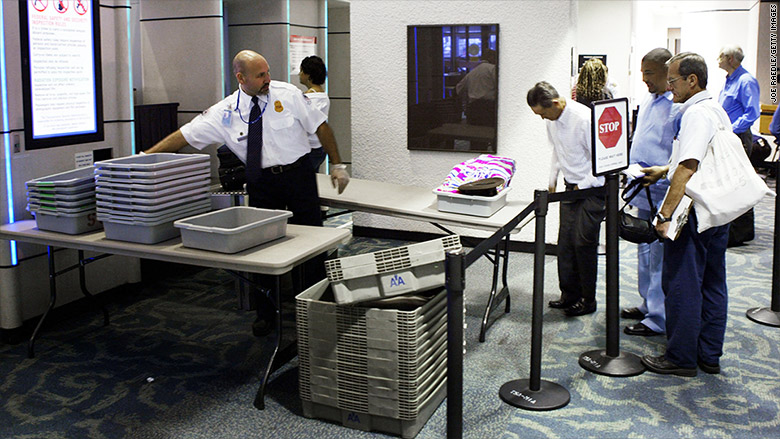 Ten U.S. airports are testing enhanced security screening that requires passengers to send any electronics bigger than a cellphone through the X-ray machine in a separate bin.
The testing eliminates a small perk of traveling with devices like iPads and e-readers: At most airports, fliers don't have to fish them out of carry-on bags, like they do for laptops.
A TSA official said the testing was being conducted to stay ahead of evolving threats, and stressed that there are no changes to what's allowed in carry-on bags.
Darby LaJoye, the TSA's assistant administrator for security operations, said the restriction would make it easier for TSA officers to see the X-ray picture clearly. He said the testing could expand to other airports.
Related: Laptop ban in Europe could cost airline passengers $1 billion
A U.S. official told CNN that the testing, which started at four airports a year and a half ago, was a response to the high failure rate when TSA secretly tested airport screening in 2015. Teams were able to get banned items through security in 67 out of 70 tests.
"Electronics are difficult to see through," the official said. "If you have four laptops on top of each other, you're only going to see one of them."
The official denied that the testing was the beginning of a laptop ban on domestic flights.
In March, the Trump administration ordered nine foreign airlines to stop passengers from bringing laptops and some other devices into the cabin for U.S.-bound flights.
And last week, a congressional aide who was in the room when Homeland Security Secretary John Kelly briefed lawmakers told CNN the ban could expand not just to Europe but to outbound flights leaving the United States.
Related: TSA found a record number of guns in carry-ons last year
The enhanced screening is taking place in some security lanes, not all, at the 10 airports. They are:
Boise Airport (BOI) in Idaho
Colorado Springs Airport (COS)
Detroit Metropolitan Airport (DTW)
Fort Lauderdale-Hollywood International Airport (FLL) in Florida
Logan International Airport (BOS) in Boston
Los Angeles International Airport (LAX)
Lubbock Preston Smith International Airport (LBB) in Texas
Luis Muñoz Marín International Airport (SJU) in San Juan, Puerto Rico
McCarran International Airport (LAS) in Las Vegas
Phoenix Sky Harbor International Airport (PHX)