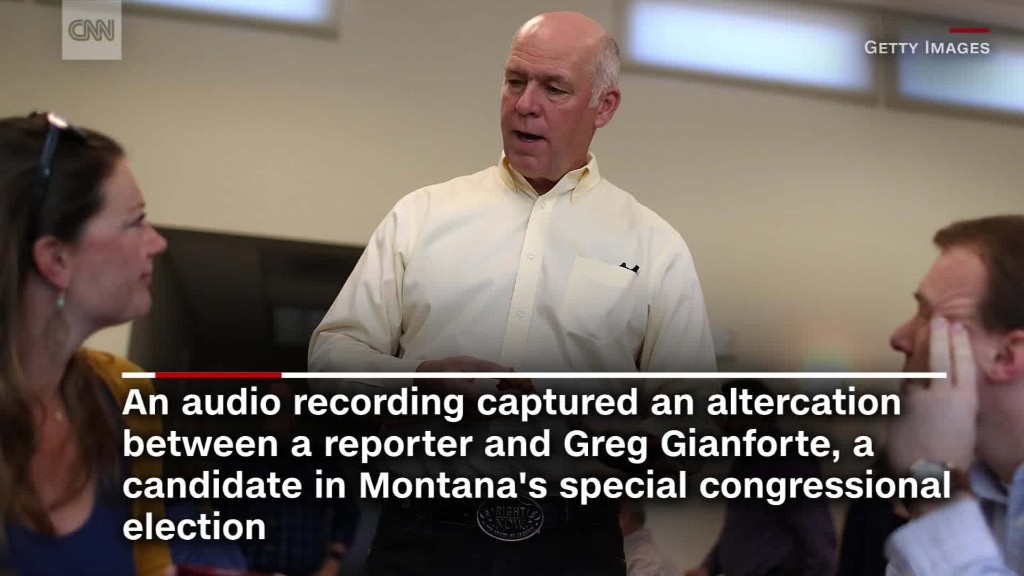 Three Montana newspapers have abruptly yanked their support for Republican congressional candidate Greg Gianforte over allegations he assaulted a reporter.
Gianforte is facing a misdemeanor assault charge after he allegedly body slammed a reporter for the Guardian on Wednesday night. Montana's special House election takes place Thursday.
During the day on Wednesday, Gianforte took to Twitter to celebrate his endorsements from the Missoulian, the Billings Gazette, and the Independent Record; all three papers are CNN affiliates.
But by early Thursday, the papers had all switched to a very different message: Gianforte is not the person they want representing Montana in Congress.
Missoulian: 'He lacks the experience, brains and abilities'
Less than two weeks ago, Montana's Missoulian newspaper endorsed Gianforte, saying he "has the education, experience, brains and abilities to be successful in Congress."
But the paper did a 180 after his altercation with Jacobs.
Related: GOP candidate charged after allegedly 'body slamming' reporter
"He showed Wednesday night that he lacks the experience, brains and abilities to effectively represent Montana in any elected office," the paper said in an editorial.
"There is no doubt that Gianforte committed an act of terrible judgment that, if it doesn't land him in jail, also shouldn't land him in the U.S. House of Representatives," it said.
Billings Gazette: 'We simply cannot trust him'
The editorial board of the Billings Gazette had some doubts but decided to support Gianforte just days before the election.
"While we have serious concerns about many of Gianforte's positions on important topics like healthcare, education, and guns, we believe he is the best candidate in the race to represent Montana's interests in Congress," it said.
Related: Twitter erupts over GOP candidate's alleged attack on reporter
That changed Wednesday night.
"We're at a loss for words," the Gazette said in an editorial condemning the candidate's actions.
"We believe that you cannot love America, love the Constitution, talk about the importance of a free press and then pummel a reporter," the editorial board said.
Independent Record: 'We cannot condone that kind of violence'
The Independent Record endorsed Gianforte earlier this month, saying he was the "best" of the candidates under consideration "even though we are not 100 percent supportive of his views."
"We believe Gianforte's ideology most closely matches the views of the majority of Montanans," it said.
But the newspaper withdrew its cautious support for him on Wednesday night, replacing it with sharp criticism.
"Democracy cannot exist without a free press, and both concepts are under attack" by Gianforte, the paper warned.
Related: Who is Greg Gianforte?
"We are also sick and tired -- of Gianforte's incessant attacks on the free press," it continued. "In the past, he has encouraged his supporters to boycott certain newspapers, singled out a reporter in a room to point out that he was outnumbered, and even made a joke out of the notion of choking a news writer, and these are not things we can continue to brush off."
CNN has reached to Gianforte's campaign for comment on the newspapers' latest comments about him.
As of early Thursday morning, the endorsements from the three papers were still posted on his campaign's website.