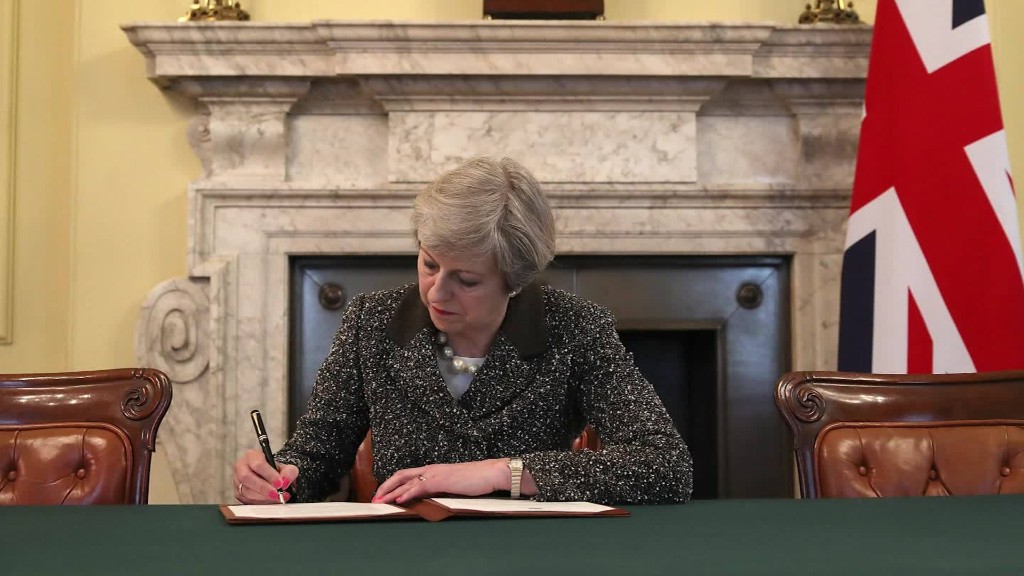 More Europeans are bailing on Britain.
New government data show that 117,000 citizens of other European Union countries left Britain in 2016, an increase of 36% over the previous year.
The departures -- the most since the global financial crisis -- coincided with Britain's vote to leave the EU, an event that has thrown the legal status of resident Europeans into doubt.
Britain is a powerful draw, but one that may be losing its appeal: Net migration from the EU fell to 133,000 last year from 184,000 in 2015.
Many Europeans who chose to leave were from the newest EU member states in central and eastern Europe -- their departures jumped 67% in 2016 to reach 57,000.
EU migrants are leaving Britain because of uncertainty over Brexit, slower economic growth and higher prices.
The slump in the value of the pound -- down 14% since the referendum -- and stagnating real wages have made salaries earned in the U.K. worth less when transferred abroad.
There has also been an increase in the number of racist attacks on immigrants in the aftermath of the referendum.
"The slowdown reflects uncertainty about both the current and future position of migrants," said Douglas McWilliams, president of the Centre for Economics and Business Research.
"The effect will be slower [economic] growth," he added.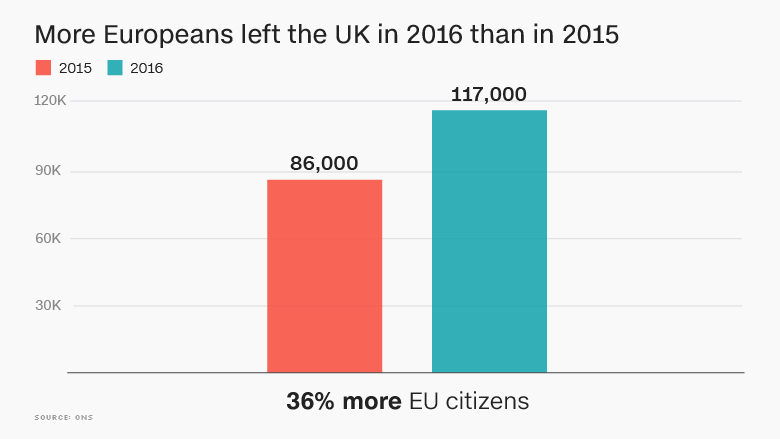 Related: Americans are going to find it much harder to get a job in Britain
Roughly 3 million people from other EU states live in the U.K. Some work on farms and as construction workers, while others are employed as university researchers, doctors and nurses.
Under EU laws, they enjoy the same rights as U.K. workers when it comes to jobs, pensions and health insurance.
However, that might change after the U.K. leaves the EU in less than two years. So far, the EU migrants have have been left in limbo about their legal status after Brexit.
EU negotiators have said securing rights for EU citizens in the U.K. will be one of their top priorities during upcoming Brexit negotiations.
Brexit Britain is still creating jobs. How long can that last?
The U.K. government has pledged to bring net migration down to "tens of thousands" of people in the wake of Brexit.
Net migration -- the number of people coming to the U.K. less the number of those who've left -- has slumped by roughly 25% to 248,000 in 2016.
But businesses and experts have warned that the U.K. economy depends on the steady stream of immigrants and will be hurt if they stop coming.
U.K. unemployment is at its lowest level in more than 40 years, and many sectors including hospitality, healthcare, tech and construction, are struggling to find staff.