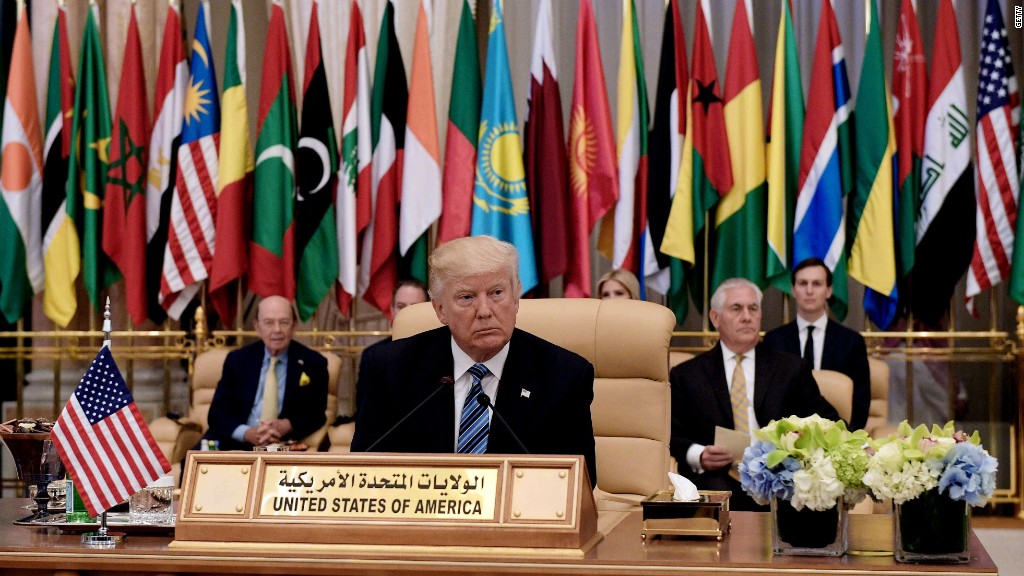 Nine days. Zero news conferences.
There's one thing clear about President Trump's first trip abroad: He kept the press at arm's length.
"It is unheard of to go overseas for nine days with the President of the United States and have the press corps there ... and not take formal questions," said April Ryan, a CNN political analyst and the White House correspondent for American Urban Radio Networks, on CNN's "Reliable Sources" on Sunday.
Related: Trump, feted and chided abroad, returns to uncertainty at home
Reporters were able to lob only five questions at the president in hallways or meeting rooms on the trip. Trump only responded to two of those questions, according to notes taken by CNN White House producer Allison Malloy.
Trump spent a total of 29 seconds answering those questions.
The president's Secretary of State, Rex Tillerson, did attend a press briefing while the Trump cohort was in Saudi Arabia last Sunday. But no journalists from the U.S. were invited.
Related: Tillerson holds briefing in Saudi Arabia without US press
Politico reporter Tara Palmeri, also speaking on "Reliable," said the press was repeatedly told to wait for briefings when they attempted to ask questions.
"We were trying to get more information, but we had very few opportunities," she said.
Palmeri added that it appeared Trump kept his own press team in the dark. The president's spokespeople were absent from important meetings, meaning she and other reporters would sometimes learn key details from foreign media.
Michael Oreskes, head of news at NPR, called the president's relationship with the press a "profound and fundamental break" with past practice.
"Presidents of both parties agreed on two things," Oreskes said. "One is that a free and independent press is a royal pain, and the other is that it's an absolute necessity for a free and independent country."