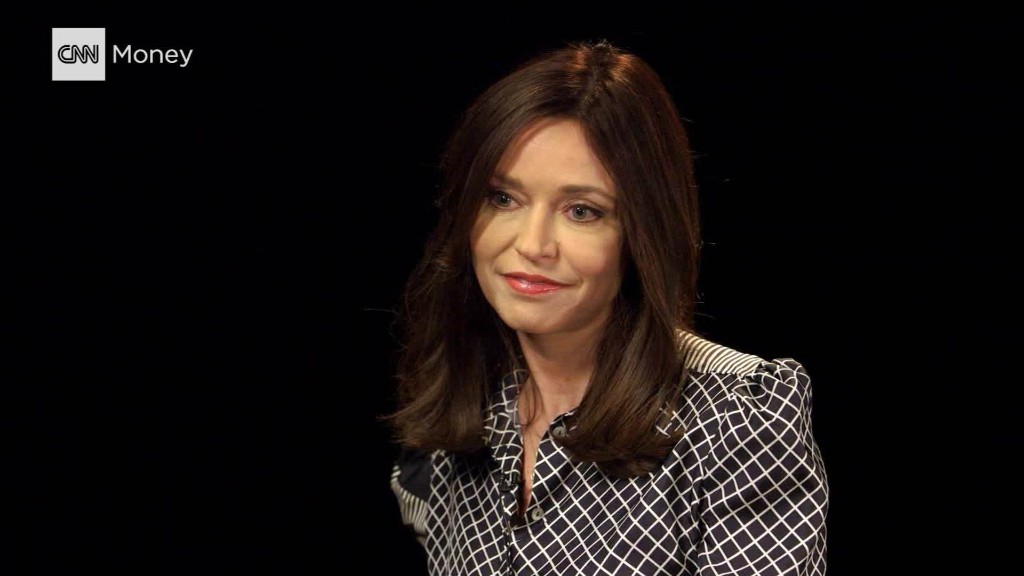 In the male-dominated world of venture capital, Kirsten Green is blazing a trail. Not only is she a leading investor in the retail space, but she also supports a large number of women-led businesses.
"We need to have more women founders stepping up to kind of own their own story and ask for what they want, and tell success stories and start really building confidence that these stories are out there," Green says in a new episode of CNN's Boss Files with Poppy Harlow podcast.
The founder of San Francisco-based venture capital firm Forerunner Ventures, Green and her team have had far more hits than misses -- propelling her to number 12 on CB Insights' list of the top 50 venture capitalists in the world.
Some of Forerunner's biggest successes: eyewear maker Warby Parker, beauty subscription company Birchbox, Dollar Shave Club (which was recently bought by Unilever (UL) for $1 billion) and online retailer Jet.com (recently acquired by Wal-Mart (WMT) for more than $3 billion). The firm says it now invests in 48 companies across three portfolios and has about $240 million in assets under management.
Listen: Download Boss Files on iTunes
Time magazine recently took notice, naming Green to this year's list of the 100 most influential people. "Silicon Valley needs more venture capitalists like Kirsten, who not only hires women... but also seeks out women-led businesses to invest in," Time wrote.
About 40% of Green's portfolio is invested in women-run companies, but she is adamant that isn't her sole focus. "We never invest in a male, we never invest in a female, we just invest in the right entrepreneur," Green says.
Green swears by "original thinking," which she calls "paramount as an investor seeking outsized investment returns" and ascribes to what she calls "the power of focus" in a single sector.
For Green and Forerunner -- that is retail.
Her path has been unconventional. She didn't go to business school, and she never worked at a VC firm before founding her own. But she did spend more than a decade as a retail analyst on Wall Street, giving her a lens into the dramatically shifting retail landscape that few others in her sector have right now.
One of her earliest individual investments was menswear company Bonobos. When the company approached Green for funding, she recalls her conversation with the founder. "I said, I don't have money to lose right now... but I do have money to learn, and what I want more than anything out of this small personal investment is to learn with you."
Walmart is reportedly in advanced talks to buy Bonobos. Green declined comment on those reports.
Related: Millennial fashion designer Rebecca Minkoff: 'Our consumer chose us'
Like all investors, Green has had her share of misses. One of her biggest self-proclaimed flops was a hybrid online/brick and mortar apparel brand met with fanfare at the outset, only to fizzle shortly after takeoff.
"It was a big idea," Green noted. "It was bold. I had been looking for somebody that was looking to do something truly different in retail... The product was revolutionary."
But it wasn't -- largely because Green said the company wasn't nimble. When the 2008 downturn hit, the company floundered and went bankrupt. Along with that bankruptcy filing came the reporter phone calls and negative headlines.
Today, Green sees with clear eyes a consumer she calls "more empowered" than ever before and "increasingly savvy."
Despite her success, Green is a rarity in the VC world. A 2016 TechCrunch study found 7% of partners at the leading 100 American VC firms are women.
Couple that with the growing disparity in VC funding of female-founded companies versus male-founded companies. Venture capital database PitchBook found that women got just 2% of all venture funding in 2016, with $58.2 billion in funding going to all-male founders and just $1.46 billion to women.
"There's really no good excuse for that kind of disparity," Green says.
She sees herself with an increasing responsibility to help close the gap.
Green says 70% of Forerunner's staff is female and 30% are minorities. "It's not about having one partner, one female representative partner," she said, "It's really about elevating and opening up that voice."
Silicon Valley is also grappling with sexism that is real and pronounced in some cases. Green acknowledges she has experienced that sexism on her rise up.
Related: YouTube CEO Susan Wojcicki: Don't interrupt me
"Very candidly, I haven't spent a lot of time thinking about it. Yes, there is a part of me that feels I have to show up and be better and smarter, all those things. And that's not fair," says Green.
With her growing visibility, she's increasingly speaking out against sexism. But perhaps her most personal fight is one she's more engaged in now than ever before -- equality for other women trying to accomplish what she has managed to.
"People need role models, and they need to feel that there's this opportunity to learn," Green says. "They need to have people that will stick up for them. I want to be a part of that."
Green is firing on all cylinders -- at work and at home (she's the mom of two young kids) -- and her prescient calls are now being lauded by those who keep score.
So does she think she's "made it"?
"Oh, there is so much more," she exclaimed! "There's so much more to do on all fronts."