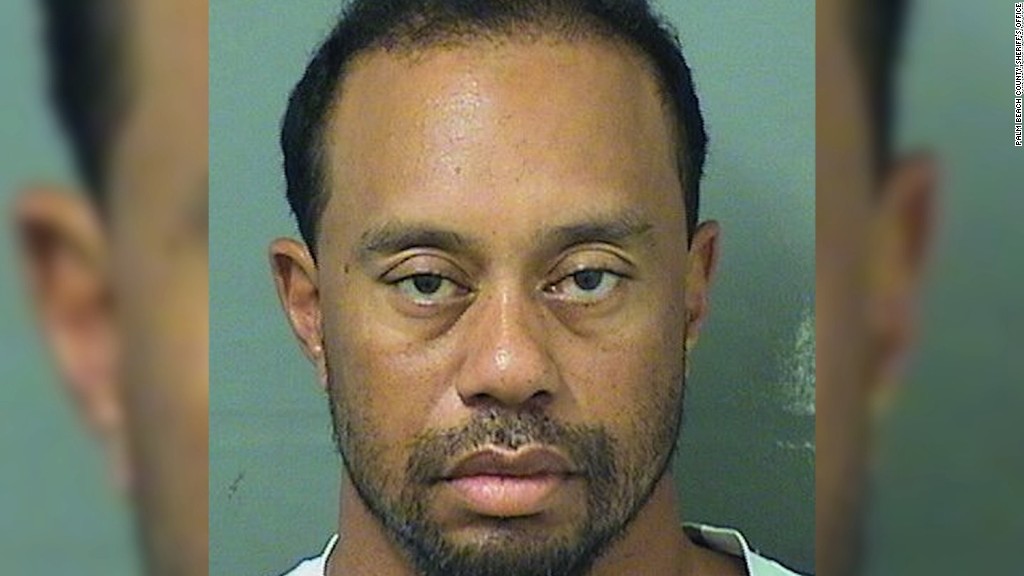 Good news for Nike: One of its most famous endorsers, LeBron James, is about to appear in his seventh straight NBA Finals. His Cleveland Cavaliers will attempt to repeat as champs -- and are taking on the Golden State Warriors once again.
Bad news for Nike: An arguably better-known spokesman, Tiger Woods, was arrested on suspicion of DUI in Florida on Memorial Day. Woods has said he had a reaction to prescription medication and was not drinking.
It's the latest headache for Woods, who has struggled on the course for years and hasn't won a major tournament since 2008.
The arrest may also raise questions about whether Nike (NKE) should finally cut ties with him. He signed a new endorsement contract with Nike in 2013, but a lot has changed since then.
Nike no longer makes golf equipment. It got out of the club game in 2016. Woods still wears Nike golf apparel, though.
The negative publicity surrounding Woods threatens to overshadow the fact that LeBron James and several other players in the NBA Finals will be showcasing the Swoosh on their feet.
LeBron's teammate Kyrie Irving wears Nike sneakers. So do two of Golden State's biggest stars, Kevin Durant and Draymond Green. But Golden State's top player, Stephen Curry, is the most famous endorser for Nike rival Under Armour.
Related: Don't just do it? Nike tanks on poor sales
Nike needs to get back on track after a tough 2016. The stock fell 19%, the worst performer in the Dow. Shares are up 4% this year, but Nike is lagging the broader market. The Dow is up 6.5%, and the S&P 500 has gained 8%.
Sales in the United States have been weak for Nike lately. Part of that is because of a resurgence in the popularity of the Adidas (ADDYY) brand. Its sales have been booming, and its stock is up nearly 25% this year.
Adidas has several big American sports stars as endorsers, too, such as James Harden of the NBA's Houston Rockets, Green Bay Packers quarterback Aaron Rodgers and National League MVP Kris Bryant of the World Series champion Chicago Cubs.
The problems plaguing many big American retailers, which have been closing stores and laying off workers because of tough online competition from Amazon (AMZN) and Walmart (WMT), aren't helping Nike, either.
During a conference call with analysts after Nike's latest earnings report, in March, CEO Mark Parker said that the shift to digital commerce is affecting Nike's sales.
Parker said "the economics of brick-and-mortar retail" are one reason stores and apparel companies have been forced to cut prices to remain competitive.
Foot Locker (FL) and Finish Line (FINL) have struggled lately. Sales growth has even started to slow at industry leader Dick's Sporting Goods (DKS). The Sports Authority went bankrupt and shut down last year.
But Nike is still growing rapidly in China and emerging markets, so that's a plus.
Related: Under Armour has a Trump problem
Sure, the stock has been the equivalent of an airball or golf shot into the rough over the past year, but things aren't as bad for Nike as for Under Armour. Shares of Under Armour (UAA) have plunged more than 30% this year.
And that follows a more than 30% drop in 2016. So even if Steph Curry and the Warriors wind up reclaiming the NBA title from LeBron and the Cavs, Nike is still leading Under Armour on Wall Street's scoreboard.