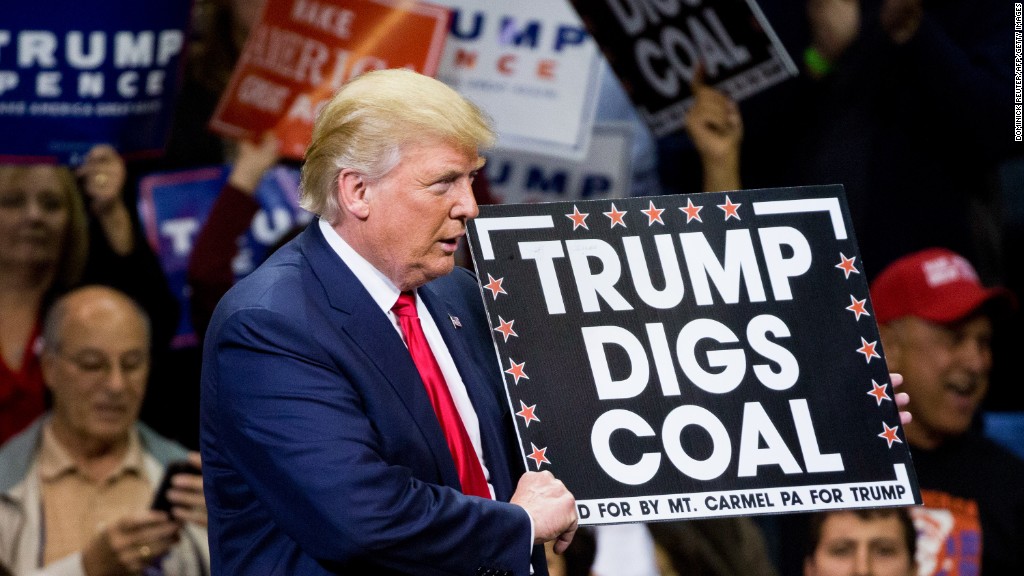 President Trump declared the "mines are starting to open up" across America's beleaguered coal country.
While blasting the Paris climate accord as unfair to coal miners, Trump pointed to the "opening of a brand-new mine." It opens soon and he's been invited to attend when it does, the president added.
Trump didn't name the facility, but the Acosta Coal Mine in western Pennsylvania is set to open on June 8.
The mine will produce coal used for steelmaking and is expected to create 70 to 100 full-time jobs, according to owner Corsa Coal.
Corsa Coal confirmed to CNNMoney that Trump has been invited to attend the ceremony, though the company said it hasn't received a response from the administration yet.
"I was elected to represent the citizens of Pittsburgh, not Paris," Trump said Thursday.
Trump said that mine openings are rare these days. He's right about that, though there was at least one other one recently: Ramaco Resources started operating the Elk Creek Mine in West Virginia late last year and it plans to open a few more.
Related: There is no coal jobs boom
So coal is roaring back? Not quite.
A Columbia University study estimates the coal industry lost roughly 60,000 jobs since the end of 2011 and hundreds of thousands since the 1920s. That's because more and more of the world's energy production is coming from clean energy like solar and cleaner sources like natural gas.
The resulting job loss has caused a lot of pain in regions of the country that depend on coal. As a candidate, Trump appealed to those voters.
The Acosta Coal Mine and others set to open make what's known as metallurgical coal, which doesn't face as much competition from cheap natural gas. Half of a steel facility's energy input comes from coal, with natural gas making up just 5%, according to the World Steel Association.
Met coal prices have skyrocketed, due in part because China is producing less coal.
The other major type of coal, thermal coal, is used to produce electricity for power plants. Thermal coal continues to be in decline because of the shale revolution that has created an abundance of cheap natural gas.
The Columbia University study predicted that Trump's regulation-busting won't be enough to create a renaissance in the coal industry.
Even one of Trump's closest advisers seems to agree with that.
"Coal doesn't even make that much sense anymore as a feedstock," Gary Cohn said last week, referring to raw materials that get converted into a fuel.
Instead of talking up coal, Cohn praised natural gas as "such a cleaner fuel" and even talked up solar and wind power.
--CNNMoney's Chris Isidore contributed to this report.