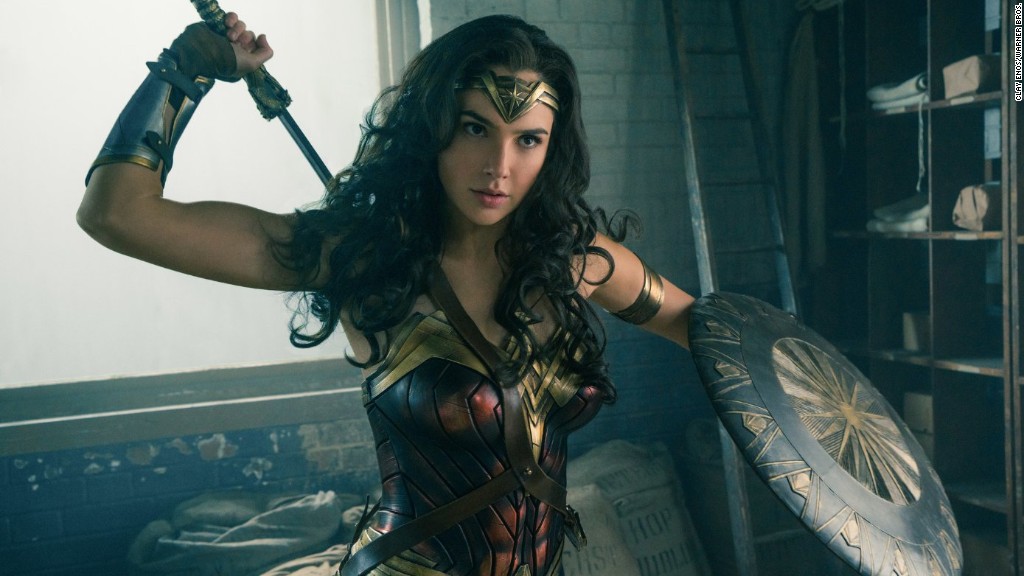 Diana, princess of the Amazons, won't have to just save the world. It looks like "Wonder Woman" -- which hits theaters Friday -- will also have to save Hollywood from what could wind up being anything but a superheroic summer.
Movie studios and big theater chains have reasons to be worried after a lousy Memorial Day weekend -- the worst box office for this key summer holiday in nearly 20 years.
The latest "Pirates of the Caribbean" sequel did debut in first place, but the franchise appears to be showing its age. It didn't do as well on its opening weekend as past installments of the movies with Johnny Depp as Captain Jack Sparrow.
The "Baywatch" movie was a box office flop despite having Dwayne Johnson as a star. "Alien: Covenant" and "King Arthur: Legend of the Sword" haven't lived up to expectations either.
The one expected blockbuster that has actually been a big hit is "Guardians of the Galaxy Vol. 2." But it will take more than Chris Pratt, a green Zoe Saldana, a talking raccoon and a baby tree (I am Groot!) to salvage the entire summer for the movie biz.
CNN's 'Wonder Woman' review: Movie lifts DC universe to new heights
Wall Street seems worried too.
Shares of the major media companies that own the big studios, such as Disney (DIS), Fox (FOXA), Viacom (VIAB) and CNN owner Time Warner (TWX), have lagged the broader market this year. Time Warner is in the process of being bought by telecom giant AT&T (T).
But these companies are much more than movie makers of course. They all own TV and cable networks too. So their stocks aren't tied solely to box office trends.
However, there are also several publicly traded movie theater owners. And they are all down in the past month, some of them sharply.
Related: 'Wonder Woman' banned in Lebanon
Shares of Regal (RGC) have fallen 4%. Cinemark (CNK) has dropped nearly 7%. Big screen owner IMAX (IMAX) has plunged 17% and AMC (AMC) has lost almost a quarter of its value in the past few weeks.
Enter "Wonder Woman."
A strong showing this weekend could alleviate concerns that the whole summer will be underwhelming. (Disclosure: "Wonder Woman" is a DC Comics character. The movie is being released by Warner Bros. Both are owned by Time Warner.)
More potential hits are due out in the next few weeks, too, such as the Tom Cruise reboot of "The Mummy," the third films in the animated "Cars" and "Despicable Me" franchises, sequels to "Transformers" and "Planet of the Apes" and a new "Spider-Man."
If none of these are big hits though, then the movie theater stocks could slump even further. And investors will have to wait for two more sci-fi sequels in the fall to try and reignite the box office.
Harrison Ford will replicate his role as Rick Deckard in the eagerly awaited "Blade Runner 2049" in October.
There's also a little movie called "Star Wars: The Last Jedi" that hits theaters in December. You don't need to be one with the Force to figure out that it will mint money for Lucasfilm owner Disney and the companies that own all the multiplexes.