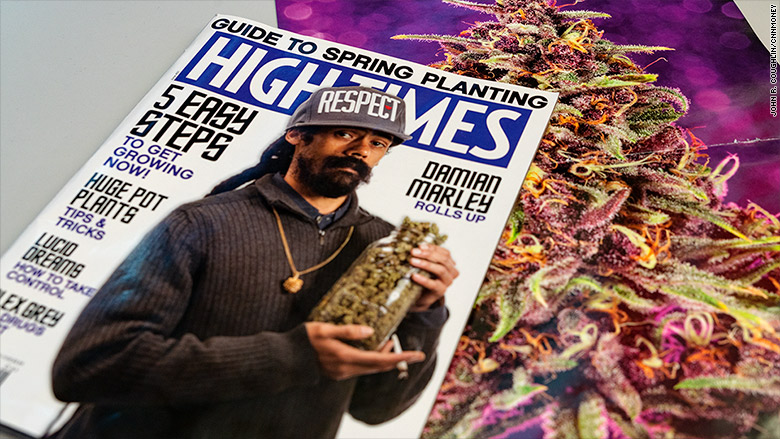 Investors including Bob Marley's son have bought a majority stake in High Times.
The deal values the marijuana magazine at $70 million -- a price that might seem high until you consider how quickly pot is expanding into mainstream society.
Recreational marijuana is now legal in eight states and the District of Columbia, and the overall market for legal pot could grow to $21 billion by 2020.
"Riding this huge new wave of normalization in society, the new owners see huge opportunities to expand the High Times brand into new frontiers," High Times said in a statement.
The deal was first reported by Business Insider.
The investors include not only Damian Marley, a cannabis entrepreneur who is converting a former prison in California into a marijuana farm, but Ean Seeb, founding partner of Denver Relief Counseling, a consortium of cannabis businesses and investors.
Related: 10 things to know about legal pot
Adam Levin, founder of the Los Angeles investment firm Oreva Capital, will be the chief executive of High Times Holding Company, or HTHC. THC is the active component in marijuana.
Levin said the investors were eager to capitalize on High Times' legacy as "the authority in the counterculture movement" by expanding it to "a modern media enterprise."
The company is also behind the Cannabis Cup, a roving marijuana trade show that takes place several times a year. The company said it plans to expand Cannabis Cup to take advantage of growing legalization.
Related: These startups are racing to develop a marijuana Breathalyzer
High Times was founded in New York in 1974 as a sort of pot-themed parody of Playboy, down to its centerfold of an extra-impressive marijuana plant.
The magazine has ads for marijuana growing lights and smoking devices. The cover often features pot-friendly celebrities like Snoop Dogg and Willie Nelson.
Marley is pictured on the cover of the current issue, in which he is interviewed about the irony of "a prison that used to house people for herb, and now here we are, growing it in the prison."