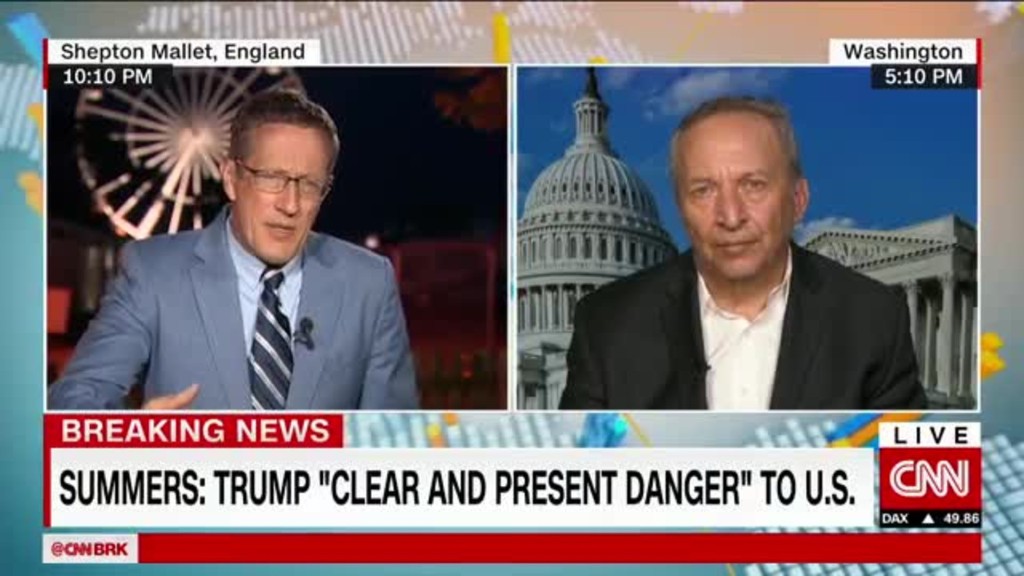 "This is the biggest U.S. foreign policy error since entering the Iraq War."
Those are the harsh words of former U.S. Treasury Secretary Larry Summers after President Trump withdrew from the Paris Climate Deal.
"Unlike the Iraq War, [the decision] will be felt a century from now," Summers told CNN's Richard Quest on "Quest Means Business." The interview aired shortly after Trump made the formal announcement to pull out.
Summers is a Democrat who served in top economic posts under both President Clinton and President Obama.
"I never thought I would say these words, but the president of the United States is a clear and present danger to an orderly global system," he said.
Business leaders have slammed Trump for the decision. Tesla CEO Elon Musk was so upset that he resigned from Trump's business advisory council. Even big energy companies like Exxon Mobil were urging the president to stay in the Paris deal.
Related: Top CEOs tell CEO president: You're wrong on Paris
Trump says the deal is a jobs killer, but many CEOs and economists argue that's not true. They point out that America already has a lot more solar jobs (374,000) than coal jobs (160,000). Solar jobs are growing 17 times faster than the U.S. economy, according to a recent International Renewable Energy Agency report.
"We're going to be poorer because we took this step," Summers said. He worries the green energy jobs and technologies of the future will be created in other countries now.
Trump's decision to exit the Paris deal is both an economic and political mistake, according to Summers. He said today will be remembered as "the day when the United States did a lot to forfeit its claim to be a leader among nations."
Only three nations on the planet that are not part of the deal: The United States, Syria and Nicaragua.
Summers noted that he never thought he would see the day when Exxon was more progressive than the White House on climate change.
But Wall Street shrugged off the news. The Dow closed at an all-time high shortly after Trump's announcement.