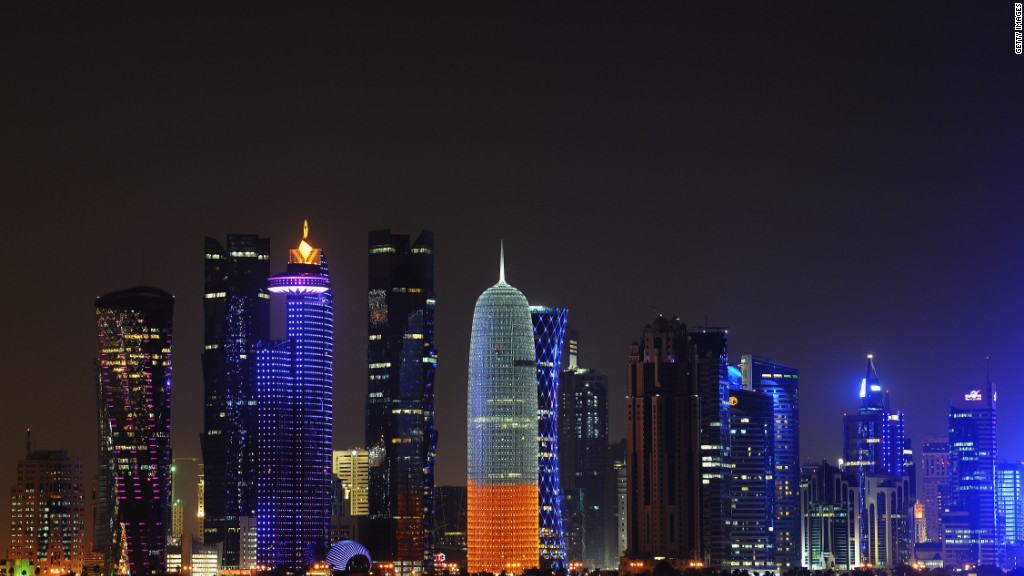 Qatar is a small country with a big war chest.
The Gulf nation has landed at the center of a major diplomatic crisis after Saudi Arabia, Bahrain, Egypt, Yemen and the United Arab Emirates broke off diplomatic relations on Monday.
Stocks dropped over 7% in Doha on Monday as investors fretted over the spat. But Qatar itself is backed by a portfolio that spans everything from stakes in Volkswagen (VLKAF) to Tiffany & Co (TIF).
The country's $335 billion sovereign wealth fund has invested more than $30 billion in stocks and billions more in other assets. The fund, called The Qatar Investment Authority, was founded in 2005 to grow the money made off the OPEC nation's natural resources.
Here's a look at what the major gas producer owns:
Real estate
In August, the sovereign wealth fund put $622 million toward a stake in Empire State Realty Trust (ESRT), which owns and operates the Empire State Building and other prime New York properties.
The fund is also a major investor in Brookfield Property Partners, which has prime real estate holdings across the world.
The country and its royal family own a string of trophy assets in London, including the Harrods department store, the Olympic Village and the Shard -- western Europe's tallest building. It also owns parts of the city's financial district.
Energy
Qatar's sovereign wealth fund was part of a group of investors that bought a 61% stake in the U.K.'s gas pipe network from National Grid.
In December, Qatar teamed up with commodities group Glencore (GLCNF) to buy a 19.5% stake in Russian oil giant Rosneft.
It also owns a 0.9% stake in Royal Dutch Shell (RDSA), according to FactSet data.
Related: Qatari stocks plunge 7% after Arab states cut ties
Best of the rest
Qatar's state fund is the third biggest investor in Volkswagen (VLKAF) after the Porsche family and the German state of Lower Saxony. It owns $9 billion stake in the automaker.
The fund holds a 13% stake in Tiffany Co (TIF) that is valued at $1.4 billion. It also owns 9% of Glencore and almost 3.3% of Siemens (SIEGY).
Qatar was rewarded with a 6% stake in Barclays (BCS) after coming to its rescue during the global financial crisis. It owns just over 5% of Credit Suisse (CS).
-- Correction: An earlier version of this story misstated the size of Qatar's holdings in Siemens, Credit Suisse, Royal Dutch Shell and Brookfield Property.