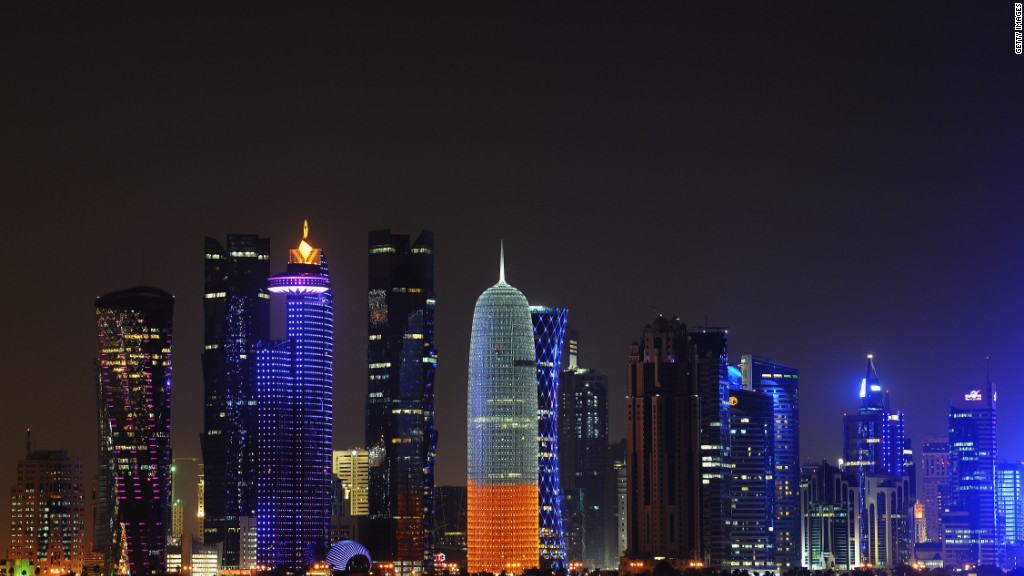 Stocks in Qatar slumped to their lowest level in more than a year Monday after five countries severed relations with the Gulf state.
Saudi Arabia, Bahrain, the United Arab Emirates, Yemen and Egypt have broken off diplomatic relations with Qatar over what they claim is its support for terrorism. Qatar said move was "unjustified."
Qatar's benchmark stock exchange plunged as much as 8% before closing 7.3% down on the day.
Energy stocks were particularly hard hit, with Qatar Gas Transport Company and Qatar Fuel Company Q.S.C. both dropping more than 10%.
Qatar is the world's largest liquefied natural gas exporter, according to the International Energy Agency. It supplies natural gas to many countries in the region, through a pipeline that runs from Qatar to the UAE and Oman.
Related: UAE-Qatar flights halted as Gulf crisis escalates
Qatar is also a member of OPEC, the oil cartel led by Saudi Arabia. U.S. crude futures dropped 0.9% during the day to trade just below $48 per barrel.
The economic fallout was immediate: Some of the Middle East's biggest airlines announced they were suspending flights to Qatar. Saudi Arabia said it was closing all land, air and sea ports. And Qatari nationals have been given two weeks notice to leave the UAE.
Qatar has a massive overseas investment portfolio that includes real estate and listed companies such as Volkswagen (VLKAF), Barclays (BCS) and Credit Suisse (CS).