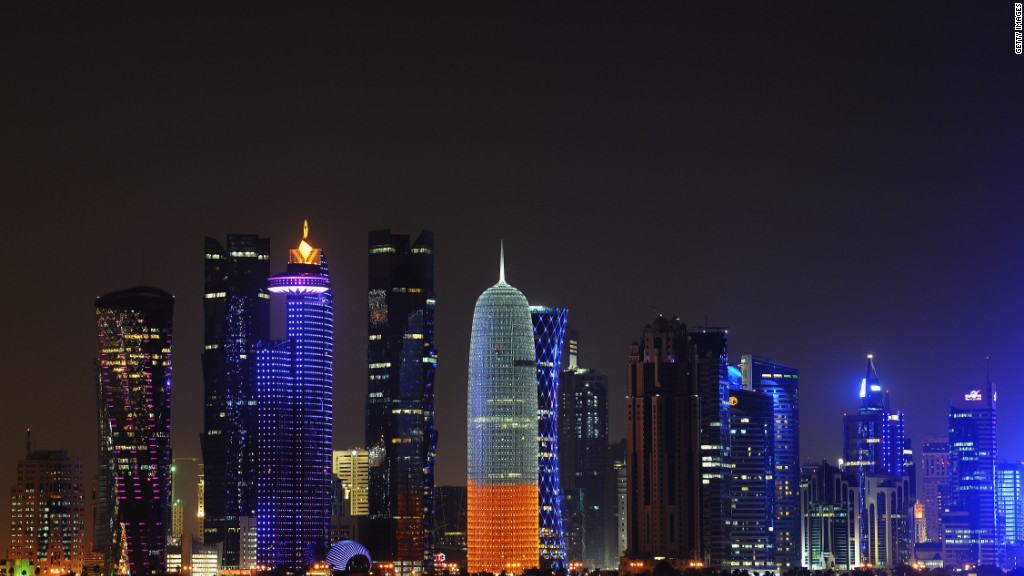 Residents of Qatar stocked up on food on Monday, worried that a diplomatic spat with its powerful neighbors could turn into an economic blockade and lead to shortages.
Six countries, including Saudi Arabia, the United Arab Emirates and Bahrain severed relations with Qatar after accusing the tiny gas-rich state of supporting terrorism and destabilizing the region. Qatar says the claims are "unjustified" and "baseless."
Qatar is one of the wealthiest countries in the world but the desert state relies heavily on imported food. World Bank data showed it imported about $1 billion worth of foodstuffs in 2015, with about a third of that coming from Saudi Arabia and the UAE.
Saudi Arabia has severed all land, sea and air links with Qatar, and the UAE has closed its airports and harbors to Qatari flights and shipping.
"Food security is a big issue here in Qatar," said Adel Abdel Ghafar, visiting fellow at the Brookings Doha Center. "So the closing of air and land crossing has implications for the food supply chain."
He said his local supermarket was busier than usual on Monday, and some shelves were left empty, including the milk and poultry sections.
Some people posted pictures of crowded stores on social media.
"Stores are busy enough in #Doha, #Qatar during Ramadan. But #Saudi border closures and looming food shortages are an even crazier scene," tweeted Doha resident, Allison Furlong.
Related: Qatari stocks plunge 7% after Arab states cut ties
If supplies from its two biggest sources dry up, Qatar will have to look elsewhere.
"This [the diplomatic crisis] has prompted a bit of run on the supermarkets, the government hasn't yet responded but I think it will respond quickly and get milk, poultry and other supplies from other countries," said Abdel Ghafar.
Iran offers food
Fars, a semi official Iranian news agency, said Iran is prepared to ship food to Qatar through its three ports in the south of the country within 12 hours.
Qatar's willingness to work with Iran is one of the sources of tension with its Arab neighbors. Iran and Qatar share the largest gas field in the world -- South Pars.
Its 1,800 trillion cubic feet of reserves have turned Qatar into the world's leading exporters of liquified natural gas, and driven an economic boom.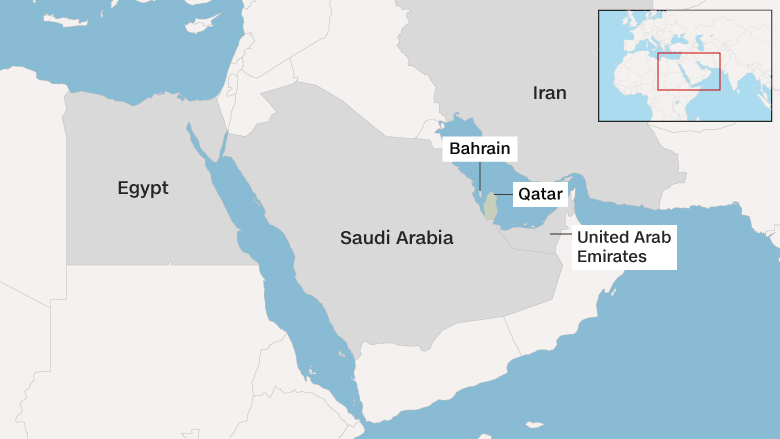 Despite its massive gas wealth, an Arab embargo of Qatar would hurt. Qatari diplomats have been given 48 hours and Qatari citizens 14 days to leave Saudi Arabia, the UAE and Bahrain.
Flights suspended until further notice
National carriers in those countries will stop flying to Qatar from Tuesday until further notice, creating a major headache for business in the region.
Qatar estimates trade with the UAE alone was worth $7 billion in 2015, with more than 4,000 Qatar companies operating in the UAE.
The Qatari embassy in the UAE advised its citizens to travel via Kuwait or Oman if they are unable to fly direct. It also offered to pay for their tickets if they don't have the means to purchase them.
Some expats in the Gulf were also scrambling to find other ways of getting to, and from, Doha. Many families live in Dubai and commute to Doha -- normally just a 45 minute flight away.
Related: Mideast airlines halt Qatar flights as Gulf crisis escalates
Gulf economic forum split
The diplomatic spat has created a huge rift in the Gulf Cooperation Council, a regional alliance made up of Saudi Arabia, the UAE, Bahrain, Oman, Kuwait and Qatar.
Established in 1981, the GCC acts as a forum for coordinating political and economic policy. For example, GCC citizens are supposed to be able to travel and work freely in any member state.
Members have also worked together on tackling the slump in oil revenues, agreeing plans to introduce sales taxes across the region.
Tensions escalated last week after the official Qatar News Agency ran a report quoting the Emir of Qatar making favorable comments about Iran and criticizing President Trump's hardline policy towards Tehran. Qatar said the news agency had been hacked, and that the report quoting the emir was "fake news."