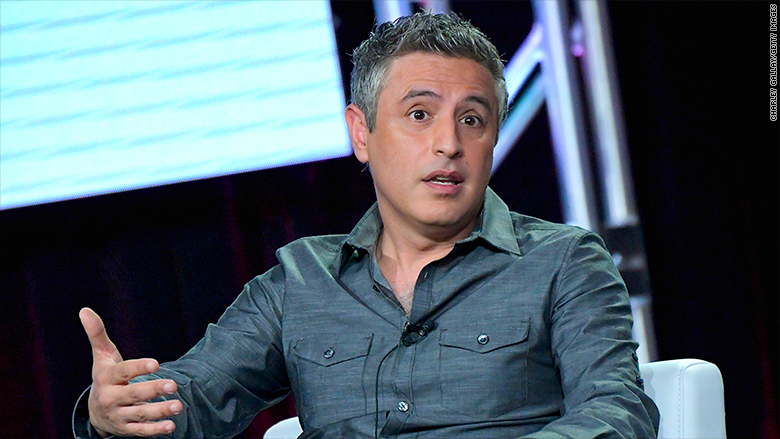 CNN has parted ways with Reza Aslan, the host of a documentary series on the network, whose profane anti-Trump tweets were widely criticized earlier this week.
The network said Friday that it has "decided to not move forward with production" on Aslan's "Believer" series.
Season one of "Believer" premiered in March. Season two was announced at an event for advertisers in mid-May. Aslan's production company had already started working on the new episodes.
But the network decided to break off the production relationship after Aslan called President Trump a piece of excrement, using an expletive, last Saturday.
CNN's decision came about a week after it split with Kathy Griffin, the comedian who has co-hosted the network's New Year's Eve show for the past decade. Griffin was shown in photos holding up a bloodied head depicting the president. First she defended it as artistic, then she issued an apology. CNN fired her the next day.
Aslan has been a virulent critic of Trump for some time, but this particular tweet crossed a line in the minds of some media critics. Prominent conservatives weighed in and said they wanted Aslan to be fired.
Aslan posted the tweet in reaction to Trump's promotion of a "travel ban" in the immediate aftermath of a terror attack in London.
"I lost my cool and responded to him in a derogatory fashion. That's not like me," Aslan said in a statement the next day. "I should have used better language to express my shock and frustration at the president's lack of decorum and sympathy for the victims of London. I apologize for my choice of words."
CNN responded in a statement: "We are pleased that he has apologized for his tweets. That kind of discourse is never appropriate."
The network's statement also pointed out that Aslan is not a CNN employee. Unwinding the contractual relationship with Aslan's production company apparently took several days.
CNN's Friday statement about the cancellation of "Believer" said, "We wish Reza and his production team all the best."
Aslan responded to the cancellation in a statement. He said he recognized that CNN "needs to protect its brand."
"Obviously I am very disappointed in this decision. Believer means a great deal to me and to the countless viewers it's reached," Aslan said. "Its message of religious tolerance and exploration is extremely important right now. I am deeply grateful to CNN for giving me the opportunity to launch the show and to amplify my voice on their network. I am especially grateful to the legion of people within the Turner organization who worked so hard to make the show a hit series. However, in these politically charged times, the tenor of our nation's discourse has become complicated, and I recognize that CNN needs to protect its brand as an unbiased news outlet. Similarly, I need to honor my voice. I am not a journalist. I am a social commentator and scholar. And so I agree with CNN that it is best that we part ways. I look forward to partnering with another platform in the future to continue to spread my message. I wish CNN all the best."