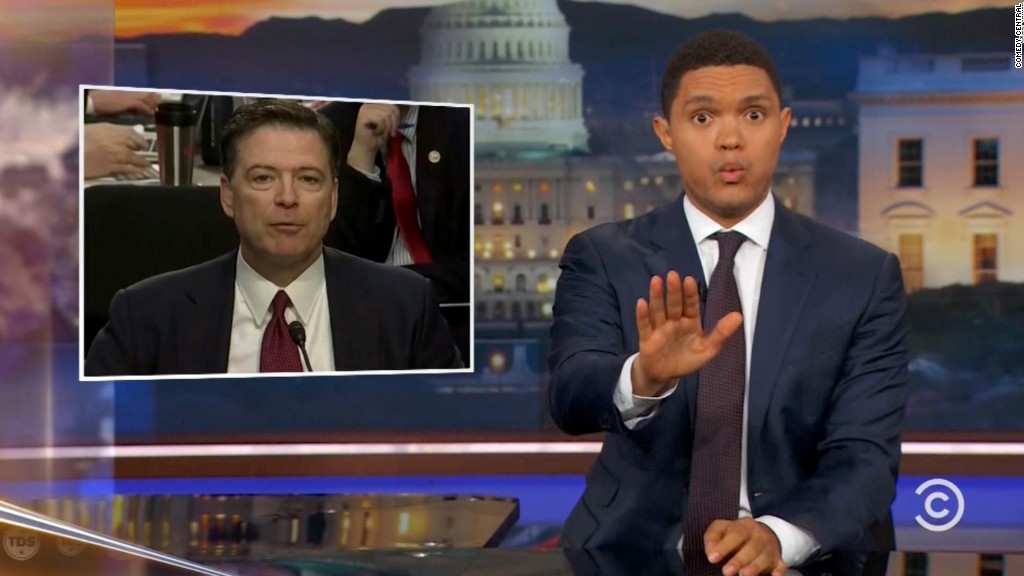 Late night celebrated "Comey Day" with jokes.
Stephen Colbert kicked off Thursday night's broadcast of CBS' "The Late Show" by wishing everyone a "Happy St. Comey's Day" following former FBI chief James Comey's anticipated testimony to Congress regarding his interactions with President Donald Trump.
"Everybody was looking forward to the former FBI director testifying about all the juicy details of his meetings with Donald Trump," Colbert said. "Remember, Comey wrote everything down and all his memos are going to be collected in his new children's book, 'James and the Guilty Orange.'"
During his opening monologue, Colbert also made light of many parts of the hearing, from Comey's height to the former FBI director saying Trump's comments about him and the FBI were "lies, plain and simple."
"That would be a good name for a Trump family law firm," Colbert joked. "'Lies, plain and simple.'"
The CBS host wasn't the only late night comedian to touch on the big news of the day. Seth Meyers of NBC's "Late Night" devoted more than 12 minutes to the testimony in his "Closer Look" segment.
That included making fun of the comments of Speaker of the House, Paul Ryan, who said that Trump was new at the job and did not understand protocols during his meetings with Comey.
Related: 10 things we learned from the James Comey hearing
"So, wait, the president is just learning on the job?" Meyers said. "Even at Chipotle, you have to shadow someone for a week."
Jimmy Fallon opened NBC's "Tonight Show" joking about Comey's use of the expression "Lordy" when talking about if Trump has tapes of their conversations.
"When Comey said 'Lordy,' [Vice President] Mike Pence was like, 'Language! Watch it! Earmuffs!" the host said.
Fallon also spliced in dramatic scenes from soap operas. Comey's testimony took the place of regular daytime programming Thursday.
Comedy Central's Trevor Noah also had his fun with Comey's testimony, which even had the "Daily Show" host lampooning those who went out to bars to watch it early in the morning.
"This moment today is what I love about America," Noah said. "During a great moment of consequence for your democracy everyone is like, 'Let's make zany cocktails! Can I get a Comeypolitan?!'"
Noah was a bit disappointed, though, that a lot of big details of the testimony were left for a closed session away from the public.
"Today's hearing was cool and everything," Noah said. "But basically it was like listening to a clean version of a hip hop song."