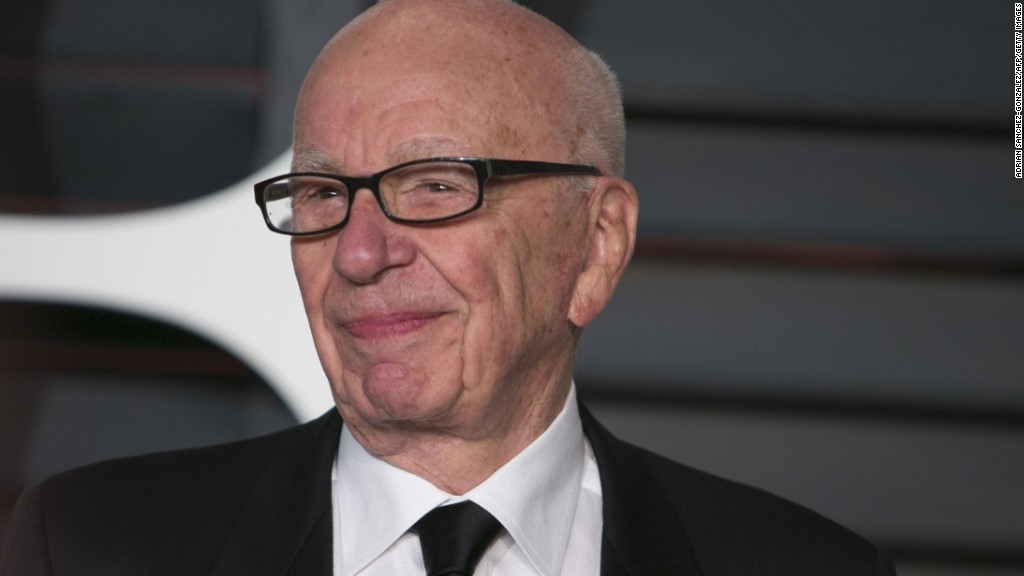 The shock U.K. election result has increased the risk that 21st Century Fox's planned takeover of broadcaster Sky could be scuppered by political opposition.
Shares in Sky fell as much as 4% on Friday as investors worried that the strong performance by the left-wing Labour Party could slow -- or even block -- the £18.5 billion ($23 billion) deal championed by Rupert Murdoch.
Labour, which has opposed the massive media takeover, gained seats in parliament following Thursday's election. Prime Minister Theresa May's Conservative Party saw its majority wiped out. May is now trying to form a minority government.
Broadcasting regulator Ofcom is currently reviewing whether or not to approve Fox's purchase of Sky (SKYAY), in which it already holds a 39% stake. It is due to complete its review by June 20.
"Had the Conservatives won a large majority, we think it would have been more straightforward to approve the deal relatively quickly," said Polo Tang, head of European telecom research at UBS. "We still see scope for the deal to be approved but the risks around an extended review have increased," he added.
Sky shares later regained some poise -- closing down just 0.7%, but that fall came against gains for the broader U.K. stock market in the aftermath of the election.
At £9.80 per share, the stock is trading about 10% below 21st Century Fox's offer price, suggesting investors still see considerable risk that the deal won't close.
Ofcom could kill the deal if it decides that 21st Century Fox (FOX) -- controlled by Rupert Murdoch and his sons Lachlan and James -- would not be a "fit and proper" owner. The regulator will consider "any relevant misconduct" in making its decision.
Accusations of sexual harassment against former Fox News boss Roger Ailes and former star host Bill O'Reilly have turned the spotlight on the Murdochs' planned acquisition.
Both Ailes and O'Reilly left the network in recent months after receiving hefty payouts. Both denied all the allegations against them. Then Ailes passed away last month.
Additionally, Ofcom must ensure this acquisition doesn't give Murdoch too much power over the U.K. media. Murdoch already owns three of Britain's biggest newspapers: The Sun, The Times and The Sunday Times.
Related: Fox wants to be the next big player in gaming
Analysts still expect the deal will eventually be signed off by Ofcom regulators, though they may ask for some concessions to ensure the Murdochs don't have editorial sway over Sky News.
But the takeover could then face another review by the U.K. Competition and Markets Authority. Referring the deal to the CMA would be a decision for the government's media minister -- and it's unclear at this stage whether May will want to replace this official.
A CMA review would be another six month process, said Alice Enders, director of research at the media research firm Enders Analysis.
"People see this [election result] as the cause of more delays and unknowns," she said.
Related: Election shock won't halt Brexit
Sky has 22 million customers in five European markets: Italy, Germany, Austria, the U.K. and Ireland. It is the largest pay TV provider in Britain.