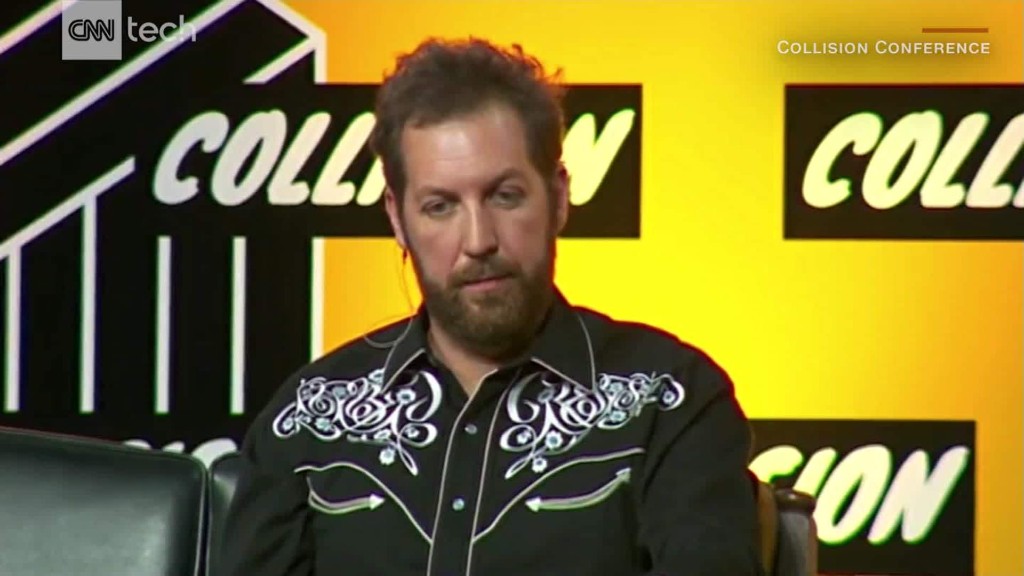 Uber CEO Travis Kalanick built up the company into a household name valued at $68 billion. Now he may be Uber's biggest headache.
Uber has been under fire for months in the press, but this week, the drumbeat of negative headlines focused more squarely on Kalanick's controversial actions.
On Wednesday, multiple news outlets reported Uber executive Eric Alexander obtained the medical records of a woman who had been raped by an Uber driver in New Delhi. The documents were reportedly shared with other executives, including Kalanick and SVP Emil Michael.
A source familiar with the matter told CNN Tech that Kalanick doubted the woman's account. Kalanick and other execs reportedly suspected the incident was a sabotage attempt orchestrated by a rival.
On Thursday, Re/code reported that Kalanick had sent a salacious email to Uber employees in 2013 ahead of a company outing. Among other things, he advised staff about best practices for having sex with coworkers and said he would have to be "celibate" on the trip.
The latest unsavory allegations come at a difficult time for Uber and its 40-year-old CEO.
"If [Kalanick] really wants to save the company, he has to get himself out," says Paul Argenti, a professor of corporate communication at the Tuck School of Business at Dartmouth. "It's a fantastic organization with a tremendous idea and bad leadership."
Inside Uber, some doubt the company's ability to change with Kalanick and Michael, his right-hand man, in charge, according to one former employee.
Michael visited an escort bar in South Korea with Kalanick and other employees in 2014. He also suggested digging up dirt on journalists who were particularly tough on the company in 2014. Kalanick has remained loyal to him.
Related: Uber rival slams its handling of 2014 rape case
"What I've heard from people is that there's a real desire [and] hunger for change inside the company, but it's of course going to take time to see if the changes being made will actually help reform the broken culture, especially with Travis and Emil staying on top," the former employee said.
Uber did not immediately respond to request for comment.
Uber said this week it had fired of 20 employees after an investigation into reports of sexual harassment. Kalanick was not present for the announcement, a source confirmed, because he is grieving the sudden loss of his mother.
On Tuesday, Uber will announce recommendations from a parallel review overseen by former U.S. Attorney General Eric Holder.
At the same time, Uber is facing a criminal probe over a tool it built to dodge law enforcement in certain cities. And it's fighting a court case with Google Waymo over self-driving car technology allegedly stolen by an Uber executive who Kalanick described as his "brother from another mother."
Even if there is a desire among some of Uber's rank and file for leadership change, it's unlikely Kalanick would vacate the CEO role unless he wants to. Kalanick and allies from Uber's early days are said to dominate the board's voting power.
Uber's board includes Kalanick, his cofounder Garrett Camp, Uber's first CEO Ryan Graves, longtime Uber investor Bill Gurley and Arianna Huffington, among others.
Related: Uber and its CEO try to grow up
CNN Tech reached out to more than a dozen Uber investors to ask if they believed Kalanick will weather the storm as CEO. Nearly all either declined to comment on the record or had not responded to a request for comment.
"My first boss out of college told me that he wanted people who would tell him no, even if it'd cost them their jobs. Travis needs people like that around him," says Bradley Tusk, a political consultant and investor in Uber.
A source at Uber previously told CNN Tech that there is an effort to fill out top leadership positions around Kalanick with seasoned executives.
Uber recently hired Frances Frei, a Harvard Business School professor considered to be a thought leader on organizational change, to take over as its SVP of leadership and strategy. It also poached Apple's star executive Bozoma Saint John to take over as its first chief brand officer.
Kalanick has previously said he plans to hire a COO to "partner with me to write the next chapter in our journey."
If things keep going poorly, the search for a COO could end up being a search for a CEO.