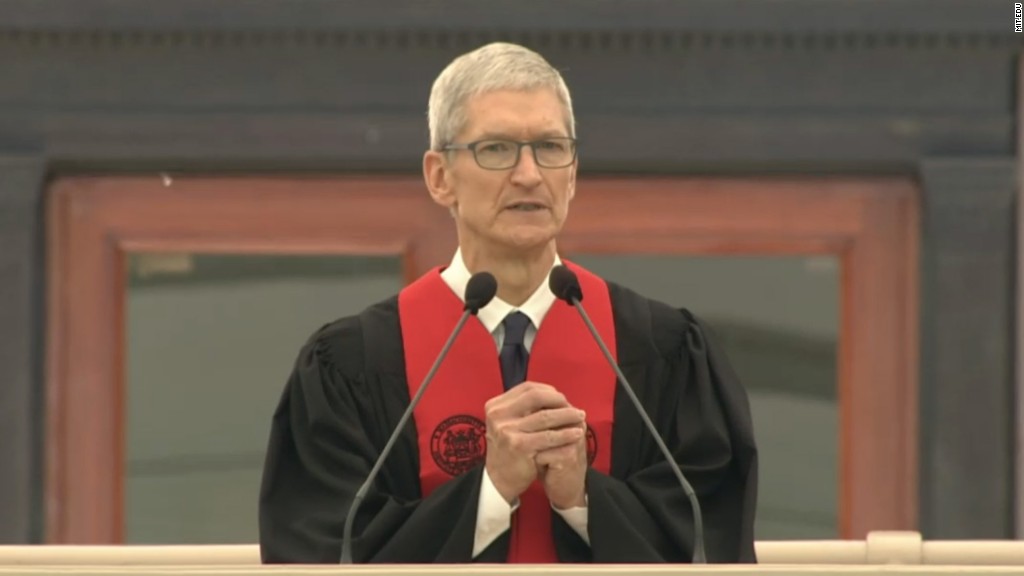 "I'm not worried about artificial intelligence giving computers the ability to think like humans; I'm more concerned about people thinking like computers -- without values or compassion," Apple CEO Tim Cook told MIT grads Friday.
As the head of the world's largest publicly traded company, Cook is arguably the most important person in the tech industry.
But Cook's message to new graduates wasn't about how to strong arm your way to the top of a highly competitive business. Rather, he spoke of values and ethics and urged the grads to "embrace the mission" of serving humanity.
"Technology is capable of doing great things, but it doesn't want to do great things. It doesn't want to do anything. That part takes all of us," he said. He added that what the tech sector needs is "a belief that all of our fates are interconnected."
Cook also warned about the pitfalls of social media platforms.
"Sometimes the very technology that's meant to connect us, divides us," he said, adding: "Don't listen to trolls, and for God's sake, don't become one."
Related: Tim Cook says Apple is creating $1B fund for manufacturing jobs
Cook also shared a telling anecdote about his leadership style.
Apple has set the ambitious goal to use only renewable energy throughout its supply chain, and it's poured money into that effort.
When pressed by an investor about those moves, Cook recalled saying, "We do these things because they're the right thing to do...If you can't accept our position, then you shouldn't own Apple stock."
Then he advised the graduates, "When you're convinced your cause is right, take a stand."
Cook joined Apple (AAPL) in 1998 and took over as CEO after Steve Jobs passed away in 2011. Prior to joining Apple, he was a vice president at Compaq, a now-defunct computer services company.
Unlike Jobs, who famously dropped out of college, Cook earned a bachelor's degree in industrial engineering from Auburn University in 1982. He went on to obtain his MBA from Duke University in 1988.