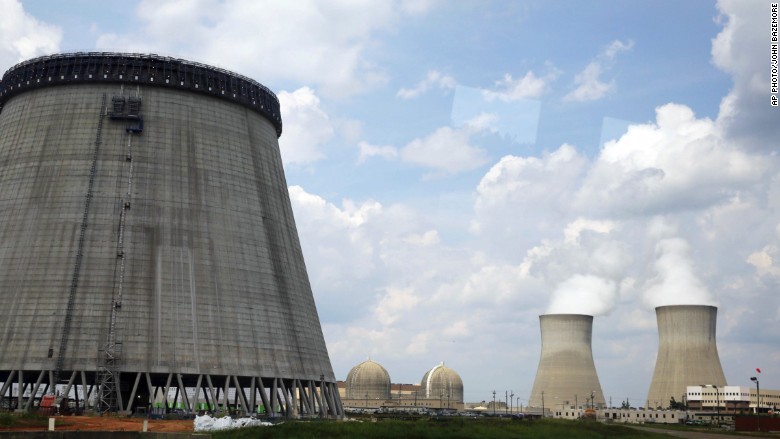 Toshiba's bankrupt nuclear unit left an uncertain future for two half-finished nuclear reactors in Georgia -- but the company promised Saturday it will pour up to $3.68 billion into the project to finish it.
The Tokyo-based company will pay out the billions to Georgia Power, a subsidiary of Southern Company, in installments between this coming October and January 2021.
Southern Company said the deal will hand over management of the project from Toshiba's (TOSYY) nuclear unit, Westinghouse, to Southern Company. Westinghouse filed for bankruptcy in March.
For months, the future of the two nuclear reactors -- which are under construction at Georgia's Vogtle nuclear plant, where two other reactors are up and running -- was unclear. And even before Westinghouse went bankrupt, the project was plagued by delays and unexpected costs.
But Southern Company says this deal marks a step in the right direction.
Related: Toshiba's woes deepen as U.S. firm tries to block key part of survival plan
"We are happy to have Toshiba's cooperation in connection with this agreement which provides a strong foundation for the future of these nuclear power plants," Thomas Fanning, CEO of Southern Company, said in a statement Friday.
The deal marks a victory for Fanning, who pushed hard for Toshiba's funding. In a Bloomberg TV interview in March, Fanning said he took a flight to Tokyo so he could "look the CEO of Toshiba in the eye" and convince him Toshiba has a "moral commitment" to help finish the nuclear project.
Toshiba's Westinghouse will still be involved with the project by way of lending engineering, licensing support, and the intellectual property rights needed for the project to Southern Company, the company said in a statement.
Toshiba's nuclear construction efforts are at the heart of its current financial woes. Westinghouse was crippled by massive losses because the costs of its nuclear projects in the U.S. winded up "far surpassing estimates."
Related: Is Toshiba too big to fail?
Though Toshiba is known for making a vast array of product -- from IT equipment to TVs and laptops -- the nuclear program has dented profits so badly that the company said in April it has "substantial doubt" about its ability to stay in business.
Toshiba's Westinghouse is also midway building two nuclear reactors in South Carolina, and the fate of that project still hangs in the balance. Toshiba said Saturday it's "still in negotiations" with the project's owners.
According to the World Nuclear Association, the U.S. is the world's largest producer of nuclear power and currently has 99 nuclear power reactors operating across 30 states.
Nuclear power is a controversial form of energy production. Though some environmentalists hail its ability to produce relatively clean power compared to fossil fuels, the process can be dangerous and it's not emissions-free. It also produces extremely dangerous radioactive byproducts, which was at the core of the nuclear power disasters in Fukushima in 2011 and Chernobyl in 1986.