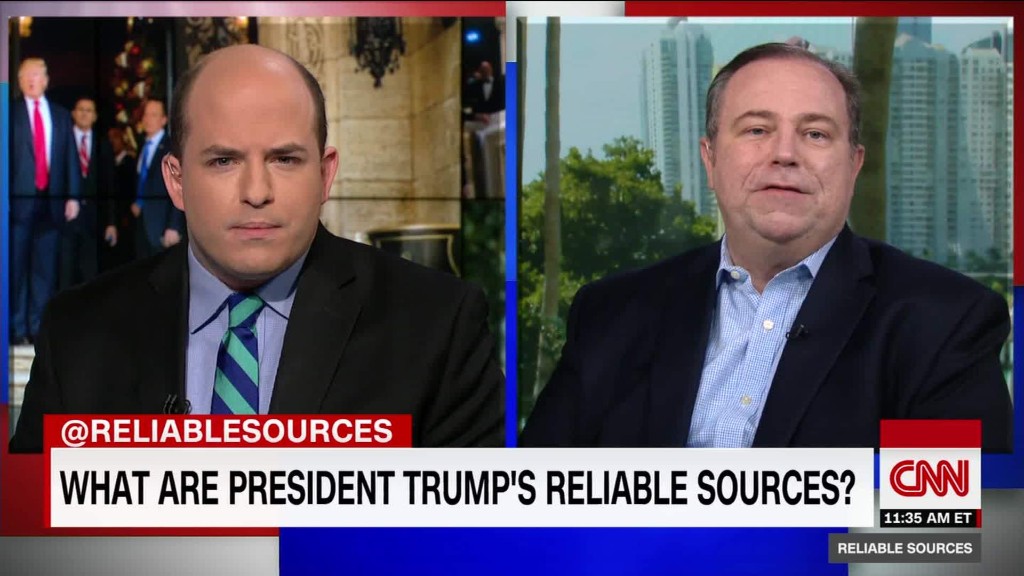 Chris Ruddy has been the CEO of Newsmax for many years, but now he wears a second hat. He's very much in demand as a Donald Trump commentator.
Ruddy's cell phone rings off the hook after a TV appearance. Occasionally it's the president himself calling to thank him for the support. Other calls are from reporters trying to take advantage of Ruddy's unique perch. He's an outsider who has insider access and, more importantly, is willing to share it.
ABC recently signed up Ruddy to be a paid contributor to "This Week," the network's Sunday morning public affairs program.
But he's free to appear on other shows on other days of the week, and that's what he did on Monday, dropping a bombshell on PBS' "NewsHour."
One hour after he was seen leaving the West Wing, Ruddy said on air that Trump is "considering perhaps terminating the special counsel" Robert Mueller. He said he thought it would be a mistake to do so.
Was he trying to communicate with Trump through the TV? If so, it wouldn't be the first time.
Trump "acts on the information he's hearing in the media and he adjusts course from time to time," Ruddy said in an interview back in February.
But at the same time, careful not to give himself any credit, Ruddy praised Trump: "This is a guy who makes up his own mind, nobody tells him what to do." 
Ruddy's company is poised to benefit from his Trump relationship -- and vice versa. Newsmax is a profitable conservative media brand with web sites, newsletters and a cable TV channel. The site leans right but Ruddy stresses that it is fair to all sides.
The cable channel, Newsmax TV, needs help. Ruddy has been trying to build it up as a rival to Fox News for several years, but it has been slow going. Independently owned channels typically struggle to win carriage from cable distributors.
In an interview on my program "Reliable Sources" last December, Ruddy said Trump's election was a "tremendous opportunity" for Newsmax "because Donald is raising questions about the mainstream media."
Recently, Ruddy has publicly embraced the possibility that fired Fox News host Bill O'Reilly could come work for Newsmax. O'Reilly appeared as a guest on the channel last week.
Related: What will Bill O'Reilly do now?
Ruddy and O'Reilly are both products of the conservative media eruption of the 1990s. Ruddy pursued President Bill Clinton's scandals while at the New York Post and the Pittsburgh Tribune-Review. One of his books, "The Strange Death of Vincent Foster," propped up conspiracy theories about the suicide of a Clinton White House official.
"Ruddy played a key role in the conservative media's war against the Clinton administration," The Atlantic's Rosie Gray wrote earlier this year.
Years after Clinton left office, however, Clinton and Ruddy struck up a curious friendship. Ruddy even donated $1 million to the Clinton Foundation.
His friendship with Trump is just as intriguing. The two men have known each other for about twenty years, and Ruddy has been a member of Trump's Mar-a-Lago club for about ten years.
That meant Ruddy spoke with Trump repeatedly during the presidential transition last winter, establishing him as a so-called "Friend of Trump" in the press.
After that segment on "Reliable Sources" in December, Trump called and "thanked Ruddy for defending him," according to an account in Page Six.
In his next appearance on the show, in mid-February, Ruddy rebuked Trump's embattled chief of staff Reince Priebus, saying, "there's a lot of weakness coming out of chief of staff."
The comments raised eyebrows because Trump and Ruddy had spent time together at Mar-a-Lago earlier in the weekend.
Was Ruddy relaying a presidential message to Priebus? Or was he freelancing? Some White House aides anonymously downplayed Ruddy's influence, implying he rarely speaks with the president.
Ruddy disputed that in a followup interview with me the next day, saying "I've spoken to him about two dozen times since he was elected."
Either way, Priebus seemed to take it seriously -- he texted and talked with Ruddy after the CNN appearance, according to Ruddy.
Perhaps Ruddy tries to have it both ways -- he trades on his access to Trump but emphasizes that "I am not speaking for the president."
"I am speaking for Chris Ruddy as I always have and will continue to do so," he said in February.
The Mueller flap caused White House press secretary Sean Spicer to issue a statement specifying that Ruddy did not meet with Trump on Monday. The question of who Ruddy did meet with was left unanswered.
Ruddy shot back at Spicer in a Tuesday morning statement that said "Memo to Sean: focus your efforts on exposing the flim-flam Russian allegations against POTUS and highlighting his remarkable achievements! Don't waste time trying to undermine one of your few allies."
Then Ruddy went on C-SPAN for a previously scheduled interview and stood by his original claim about Trump contemplating firing Mueller.
"I have some good sources in the administration," Ruddy said.