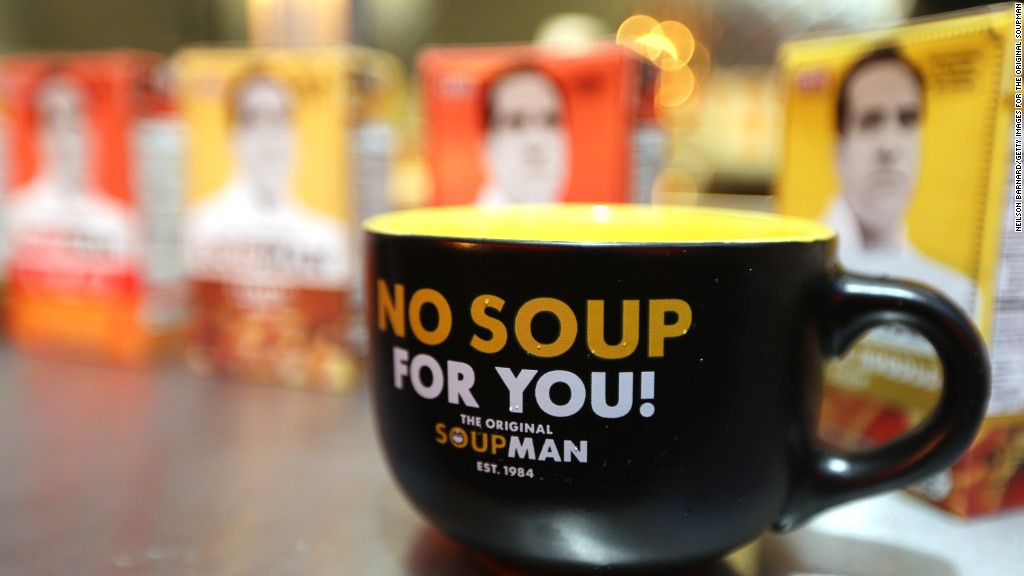 Not even the Soup Nazi can escape the tax man.
Soupman, made famous by a beloved Seinfeld episode, filed for bankruptcy this week.
The Chapter 11 filing comes less than a month after Soupman's chief financial officer was arrested and charged with tax evasion.
The bankruptcy was caused by a "combination of legal liabilities and recent company developments," Soupman CEO Jamie Karson said in a statement.
Soupman's soups are made from the recipes of Al Yeganeh, a chef who inspired the angry Seinfeld character known to bark: "No soup for you!" to customers who didn't know what to order when it was their turn at the counter.
But customers don't need to worry about going soup-less. Soupman said its soups will remain on grocery store shelves because the company secured $2 million in financing to keep it afloat during the bankruptcy process.
"We anticipate that there will be no disruption in the quality of our product or service," Karson said.
Related: Seinfeld's "Comedians in Cars Getting Coffee" is heading to Netflix
Staten Island-based Soupman owes up to 100 creditors between $10 million and $50 million, according to the bankruptcy filing in Delaware. The company listed $1 million to $10 million of assets.
Last month, Robert Bertrand, Soupman's chief financial officer, was arrested for allegedly failing to pay nearly $600,000 worth of Medicare, Social Security and federal income taxes.
Bertrand, who denied wrongdoing and pled not guilty, also paid workers unreported cash and stock awards worth $2.8 million between 2010 and 2014, according to the indictment.
While the Soup Nazi was made famous by the 1995 Seinfeld episode, Yeganeh opened his first Manhattan store nearly a decade earlier in 1984. Today, the company sells soup to grocery chains and also at its New York-area restaurants under the brand name "Original Soupman."