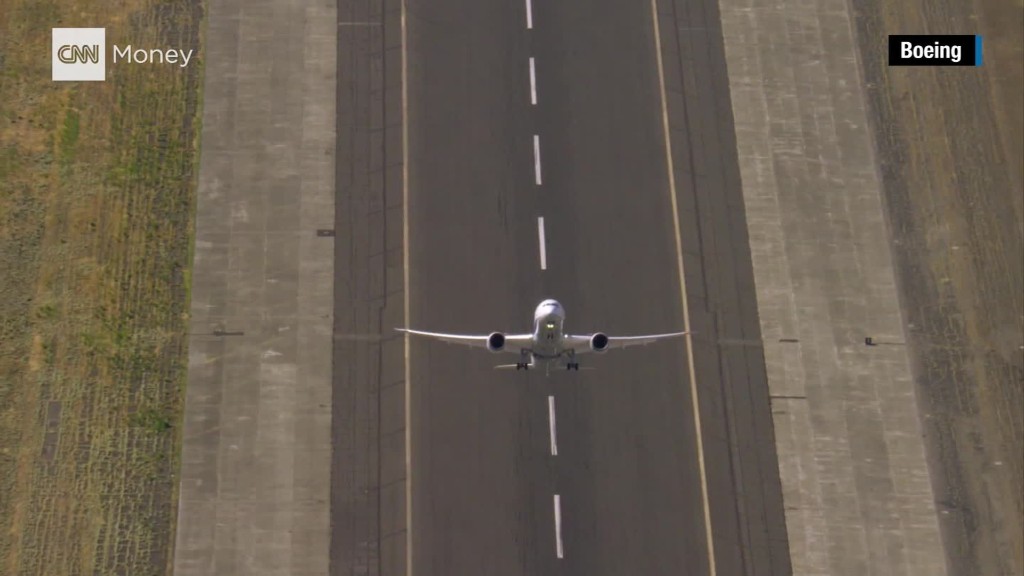 The flying circus is back.
Every two years the aerospace world descends on Paris-Le Bourget Airport to display its technological prowess, industrial might and even political savvy. The 52nd Paris Air Show kicks off Sunday.
Heads of state, military brass, politicians and executives will mingle. Meetings will be held underneath the roar of jet noise overhead. More than 350,000 people visited the show in 2015 and 91 countries were represented.
The gathering is taking place at a time of global uncertainty. In the Trump era, trade is out and populism is in. A Middle Eastern blockade of Qatar has disrupted airspace. And Brexit looms over the future of the European Union.
Security at the event is expected to be tighter than ever. Throngs of attendees will peruse the expansive display of jetliners, fighter jets, rockets and helicopters, while VIPs will eat canapés and sip espresso in temporary buildings known as 'chalets'.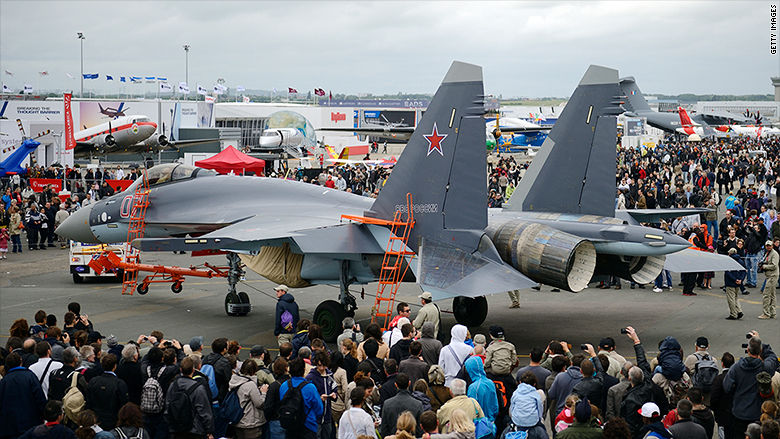 Then, in years to come, the line up of planes put on display in this Paris suburb will come to an airport near you.
Japan's new jet takes the stage
The gathering will put a spotlight on a new plane that will take the international stage for the first time: Japan's Mitsubishi Regional Jet, or MRJ for short. The next generation 92-seat jet offers increased comfort for short regional flying and a 20% boost in efficiency for airlines.
It's the first new Japanese commercial aircraft since 1962. The MRJ marks the ascent of Japan as a full-fledged airplane maker. But the project has been beset by challenges. The MRJ is slated to fly commercially in 2020.
Airbus and Boeing battle again
One of the industry's biggest rivalries will be front and center: Europe's Airbus vs. America's Boeing.
Wall Street expects Boeing (BA) to announce its first deals for the 737 Max 10, the newest member of its single-aisle 737 Max family. United Airlines (UAL) may be first in line, say analysts and industry executives. Boeing is trying to blunt the success of Airbus rival A321neo, which is making its own debut at the show.
Related: Boeing chases airlines for stretch 737
The new long-range twin-aisle Airbus (EADSF) A350-1000 and Boeing's 787-10 Dreamliner will also be on display for the first time.
Boeing will also reveal the first major details of its hotly anticipated all-new airliner, expected to become the 797. It isn't expected to be ready until the middle of next decade.
Ascending newcomers from Russia and China will also be on hand to tout progress on new airliners that will challenge Boeing and Airbus.
Brazil's Embraer (ERJ) is bringing its largest commercial airliner yet, the 140-seat E195-E2, to Paris for the first time and Canada's Bombardier (BDRAF) is looking to show off its C Series airliner, which is in a brewing trade spat with Boeing.
Related: China and Russia are coming for Boeing and Airbus
Joint Strike Fighter Flying Display
Lockheed Martin's F-35A Joint Strike Fighter will be on display at an international air show for the first time. The stealthy fighter jet, the Pentagon's most expensive program, looks to woo more international buyers with a new flying routine over the show's crowds.
While Lockheed is known for its fighter jets, the show also marks the return of the defense company as a commercial manufacturer. Its venerable C-130J military transport is now being sold for commercial cargo hauling. Lockheed is pushing its propeller-driven LM-100J as a rugged transport that can land and take off on remote, unpaved runways that are unsuitable for jets.
Across the globe, more people are flying than ever because of lower oil prices and cheap fares. And plane makers and suppliers are in the middle of the most ambitious peacetime industrial ramp up since World War II, bringing jobs, but also new automation to manufacturing.
That's reason for industry optimism. But after a record order binge for new airplanes, Paris dealmaking is expected be more subdued.
Still, don't expect that to stop companies from duking it out for bragging rights to the one that ends the week with the most deals.