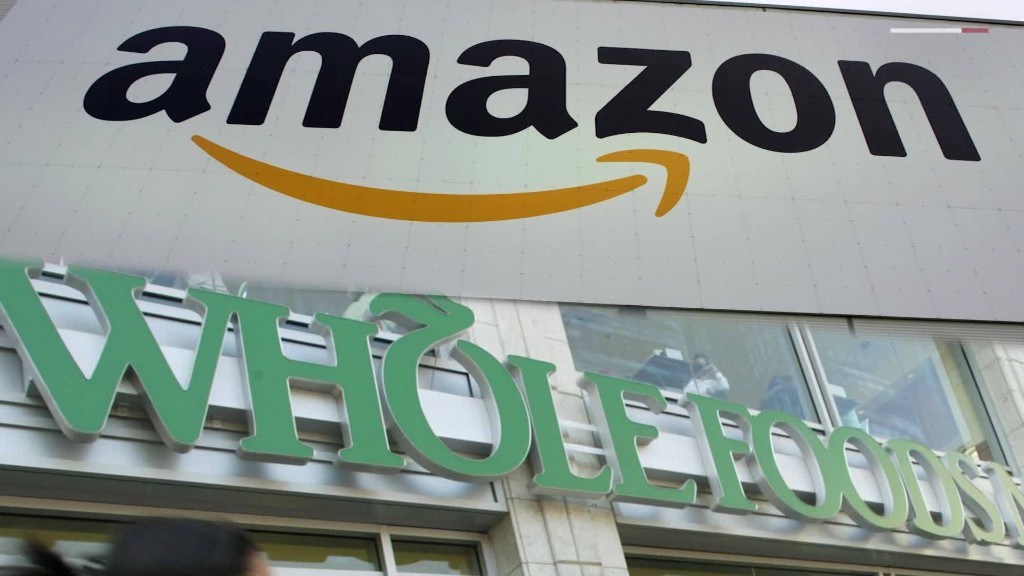 Amazon's $13.7 billion purchase of Whole Foods has ramifications for both your pantry and your pocketbook.
CEO Jeff Bezos built Amazon (AMZN) from an online bookstore into a retail powerhouse by reimagining the shopping experience and prioritizing rapid delivery. Now he has his eye on the grocery business -- and the way you get your produce may never be the same.
Here's what the Amazon-Whole Foods mega-merger could mean for you.
Will my neighborhood Whole Foods disappear?
No. Amazon says Whole Foods stores will keep their name and be run as a separate unit of the company.
Whole Foods, which has more than 460 stores in the United States, Britain and Canada, has a lot of brand power. At least in the near future, Amazon probably won't want to touch that, said Mark Cohen, a professor at Columbia Business School who studies retail.
But down the line, Amazon may decide to wrap Whole Foods into AmazonFresh, its existing grocery delivery service for Prime customers, Cohen said. Whole Foods could also become "Whole Foods by Amazon," or some other derivative.
Related: Amazon is buying Whole Foods for $13.7 billion
What does this mean for Whole Foods prices?
They're coming down, analysts say.
Amazon claim to fame is that it makes shopping more efficient and slashes costs. The company will apply that model to the Whole Foods system, said Cooper Smith, head of Amazon research at L2, a consulting company.
"If Amazon can instill more efficiency in the Whole Foods supply chain, it will mean lower prices for Whole Foods customers," Smith said. Cohen said prices will probably come down in light of the "competitive battleground" the grocery industry has become.
So your quinoa and goat cheese might get a little cheaper. Perhaps one day Whole Foods will even shed its derisive nickname: Whole Paycheck.
Related: Grocery stocks are getting clobbered after Amazon-Whole Foods deal
Will this change how I buy my groceries?
Getting your groceries is going to get easier -- both in stores and online.
In December, Amazon opened a grocery store in Seattle with no checkout line. Customers check in at the store's entrance with an app called Amazon Go, collect their groceries and walk out.
That model could expand, Cohen said. The deal also puts pressure on Amazon to keep developing a smart shopping cart that can charge you automatically for whatever you drop in.
Delivery and pickup are also systems ripe for disruption.
AmazonFresh is already experimenting with a "click and collect" system: Shoppers buy groceries online, then pick them up in person.
Expect that program to expand, especially in areas with a strong Whole Foods presence, Piper Jaffray analysts Michael Olson and Samual Kemp said in a note on Friday.
One- or two-hour grocery delivery may also become the norm, Smith said. And Alexa, the Amazon voice assistant program, will certainly be involved somehow.
"This is going to have a profound effect on how convenient it will be for consumers to buy groceries," Smith said.
But if you rely on the startup Instacart for Whole Foods delivery, some changes may be on the way.
Smith expects Amazon to gut the Instacart-Whole Foods partnership.
"The first thing Amazon is going to do in this acquisition is to remove all those third-party vendor services," he said.