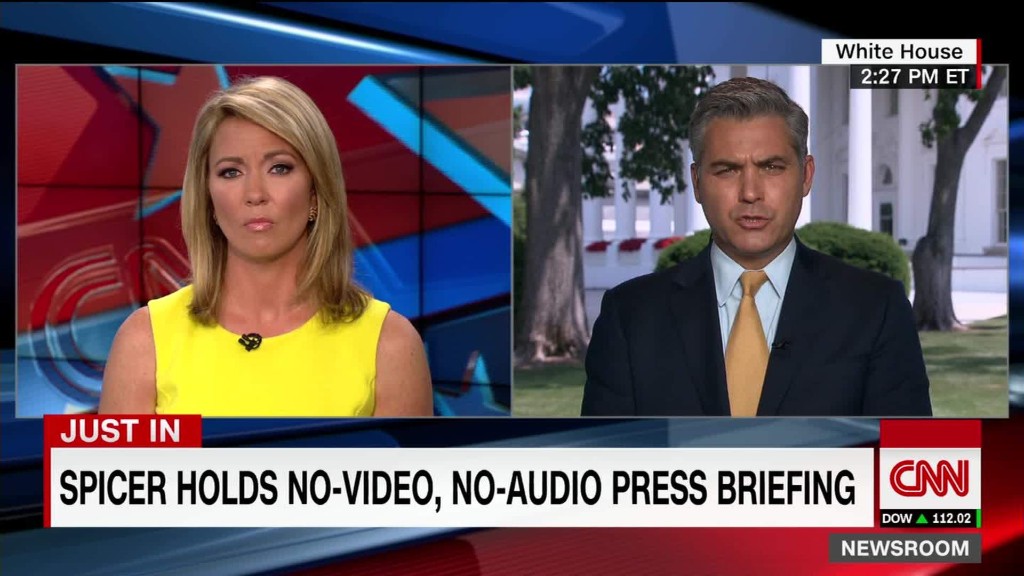 After yet another day when the White House refused to conduct its briefing on camera, or even allow audio of the briefing to be broadcast, CNN's Jim Acosta let it be known that he'd had enough.
"When Sean Spicer...comes in, and just says, you can't record the video or audio from these briefings...that wouldn't be tolerated at city council meetings," Acosta told Brooke Baldwin during "CNN Newsroom" Monday afternoon.
Acosta's comments came just after he attended the administration's daily press briefing, an event that's typically broadcast live on TV, but lately has often been conducted without video cameras allowed -- and now, after some networks began broadcasting audio of the briefing, with that prohibited as well.
Acosta said that the White House's actions felt like stonewalling.
Visibly irked, and likening the day's events to "covering bad reality television," Acosta noted that serious, important questions were asked during Monday's briefing, including inquiries about President Trump's position on climate change, as well as the whereabouts of tapes of Trump's conversations with Comey that Trump has suggested could exist.
Related: Off-camera, no audio broadcast: White House keeps undermining press briefing
But the American public didn't get to see how Spicer, the White House press secretary, dealt with those questions on Monday, and Acosta has his thoughts as to why.
"My guess is," he began, "they [the Trump administration] want their evasive answers not saved for posterity."
Spicer offered a different explanation during the briefing.
"I've said this since the beginning. The president spoke today, he was on-camera," Spicer said. "He will make another comment today at the technology summit. And there are days that I'll decide that the president's voice should be the one that speaks and iterate his priorities."
Acosta also had some sharp words for Spicer.
"The White House Press Secretary is getting to a point, Brooke, where's he's just kind of useless," he concluded. "If he can't come out and answer the questions, and they're just not going to do this on-camera, or [with] audio, why are we even having these briefings or these gaggles in the first place?"
Towards the conclusion of Acosta's live interview with Baldwin, his frustration appeared to build.
"That's the White House, behind me," he said, turning part of his back to the camera, and gesturing towards the building. "The White House! It's bizarre... I don't know what world we're living in... where we're standing at the White House, and they bring us into the briefing room -- here at the White House -- and they won't answer these questions on camera, or let us record the audio."
Then Acosta admitted to simply being at a loss.
"I don't know why everybody is going along with this," he admitted. "It just doesn't make any sense to me."