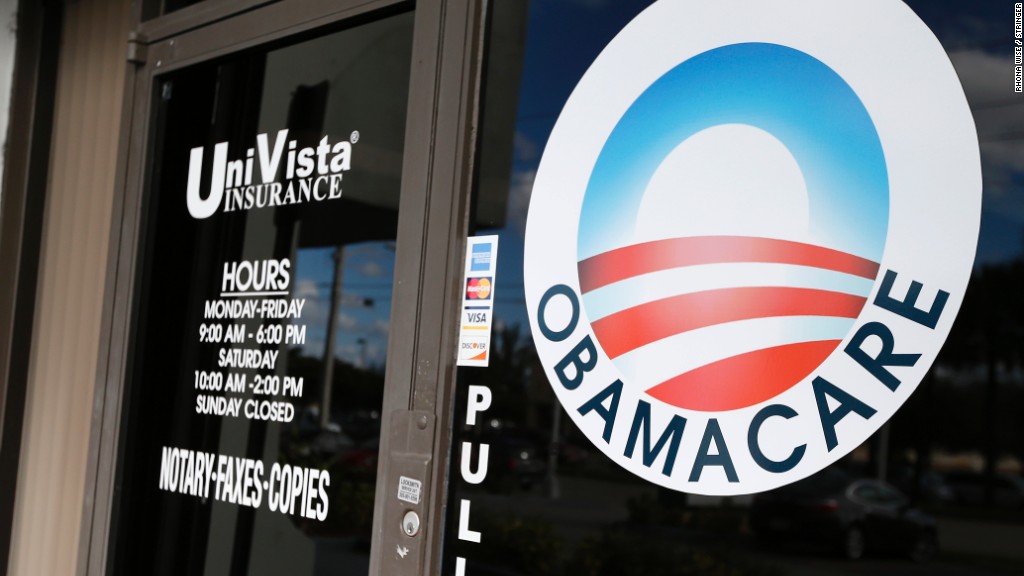 Newsflash: Obamacare will be around in 2018. But its health will vary widely by state -- and even by county.
Many insurers are asking for another round of steep rate increases. Others aren't even willing to return to the exchanges at all.
But some companies say the market is stabilizing, so they plan to stay in the game and charge only a little bit more next year.
The Affordable Care Act was troubled even before President Trump took office, but the Republicans' quest to dismantle it has made things worse. Trump has caused confusion about whether he'll continue key components of the law. The two at the top of the list: the mandate that everyone have insurance and the cost-sharing subsidies for lower-income Americans.
At the same time, Senate Republicans are struggling to craft their version of the American Health Care Act, the GOP bill to repeal and replace Obamacare that got one vote more than it needed to pass.
All this means that insurers don't know what the rules of the road will be for next year and beyond. For many of them, that makes it very tough to commit to participating on the exchanges.
Many have already made their decisions, letting state insurance regulators know whether they'll participate and what rates they want to charge. Others don't have much more time to decide -- the deadline for many is Wednesday.
Here's where things stand on the Obamacare exchanges for 2018.
We're outta here
The list of insurers pulling out of Obamacare grows longer by the week. Humana (HUM), Aetna, Wellmark Blue Cross Blue Shield, Anthem, Blue Cross Blue Shield of Kansas City.
Some are withdrawing from certain states, while others are exiting completely. These departures will leave tens of thousands of Americans in 47 counties around the nation without a choice of insurer on their exchange next year, unless another carrier steps in.
The reasons behind the exits vary. Some insurers say they've lost millions of dollars on policies and don't want to lose anymore.
Related: Aetna reverses course, files to offer Obamacare policies in Nevada
Aetna (AET), for instance, had been scaling back its participation, pulling out of 11 states for this year and the remaining four for 2018. It said last month that it expects to lose more than $200 million in its individual business line this year, on top of nearly $700 million in losses between 2014 and 2016. Its CEO, Mark Bertolini, said in February that Obamacare is in a "death spiral." (The insurer tentatively agreed to participate in the Nevada exchange next year to help it win a contract to offer Medicaid policies in the state.)
Others say they just can't handle the lack of clarity.
In deciding to exit the Ohio market earlier this month, Anthem (ANTX) ticked off a list of concerns, including "continual changes in federal operations, rules and guidance" and "an increasing lack of overall predictability."
"A stable insurance market is dependent on products that create value for consumers through the broad spreading of risk and a known set of conditions upon which rates can be developed," the company said in a statement.
Even if they filed to be on an exchange, insurers won't be locked into participating next year until September.
We'll stay, but you're going to pay
Some insurers say they'll offer Obamacare policies next year, but they have requested hefty rate hikes.
CareFirst BlueCross BlueShield is looking for an average rate increase of 52% for its individual market plans in Maryland. Cigna wants to raise premiums by 32%, on average, in North Carolina. And Blue Cross Blue Shield of Michigan is looking for an average 27% increase.
Again, insurers cite different reasons for the rate hikes. Some say they are still losing money because their policyholders are sicker than they expected, and premiums don't cover the cost of their care. Others blame skyrocketing prescription drug prices.
But many also say they must factor in the uncertainty in Washington when setting prices. If the individual mandate disappears, insurers fear they'll be left with even costlier customers who use a lot of health services. And some are planning for the possibility that Trump will stop paying the cost-sharing subsidies, which reduce the deductibles and co-pays of lower-income Americans.
Related: Insurer spells out how much Trump-fueled uncertainty hikes premiums
Blue Cross and Blue Shield of North Carolina spelled out just how much ending the subsidies could cost consumers. The insurer is requesting a rate hike of nearly 23% for next year. But it said it would have only asked for an 8.8% bump if Trump agreed to fund the payments through 2018.
The uncertainty surrounding the mandate and the subsidies is responsible for up to two-thirds of the 2018 rate hikes, according to consulting firm Oliver Wyman.
Overall, 43% of insurers the firm surveyed plan to raise rates an average of 20% or more, while another 36% want to boost premiums by 10% to 20%. About one-fifth of carriers are looking for increases of up to 10%.
Things are looking up
Obamacare is much more stable in other states. Multiple insurers have agreed to participate on the exchanges and their rate requests are rather modest.
In Pennsylvania, for instance, the five insurers on the exchange are asking for an 8.8% increase, on average.
"Absent anything bad happening on the AHCA [American Health Care Act] front or the cost-sharing subsidies, they feel like this market is really on the path to stability," said Insurance Commissioner Teresa Miller.
Related: Nebraska residents will be able to buy Obamacare next year after all
Other insurers are also feeling better about Obamacare's future. Centene, for example, announced last week it would expand into Kansas, Missouri and Nevada in 2018, bringing its total footprint to nine states.
"Last year marked another year of Centene's successful operations on the exchanges," the company said in a press release, noting that it has 1.2 million Obamacare enrollees at the end of March, more than double the number at the end of 2016.