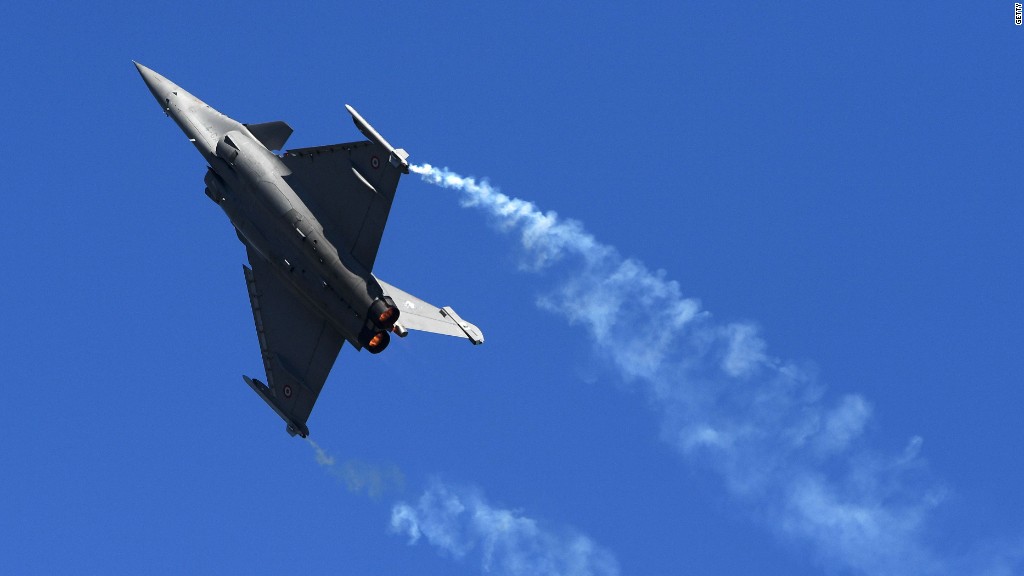 It's hard out there for a superjumbo jet salesman.
Airbus on Sunday unveiled a package of changes to its A380 superjumbo jet that it hopes will end a frustrating drought of orders for the world biggest passenger plane.
It's called the A380plus, a slate of proposed upgrades that will slash the cost to fly each passenger on the double-deck A380 by as much as 13%.
As part of the efficiency upgrades, its sweeping grand staircase is out and new fuel-saving wingtip fittings are in. Changes across the cabin will add seats for as many as 80 more passengers. The new winglets will cut fuel use by 4%.
Airbus chief executive Fabrice Bregier said the plane maker is in talks with several customers about selling the new set of improvements.
It's been a while since Airbus signed up new customers for the the A380. In 2016, Japan's All Nippon Airways bought three and Emirates bought two. But Air France canceled two and Iran Air reversed course on an earlier commitment to buy 12.
Akbar Al Baker, chief executive of Qatar Airways, said Monday he had no plans to buy any more A380s.
Airbus in 2018 is cutting production of its A380 from about 30 annually to just 12.
Any new deals would breathe life into anemic sales for the superjumbo jet that has been flying passengers for nearly a decade.
"We have not yet seen evidence that this variant will solve the airplane's market weakness," wrote Doug Harned, an aerospace industry analyst at Bernstein Research.
Airlines around the world have opted for bigger twin-engine, long-range airliners like Airbus's own A350 and Boeing's (BA) 777 instead of the four-engine A380 and Boeing's 747-8.
Plus-sized plans
Airbus hopes the improvements are music to the ears of airline CFOs.
The most visible change to the A380plus is a pair of enormous, dramatically up-swept winglets. One piece rises above the wing more than 15 feet and a second four-foot fin points downward.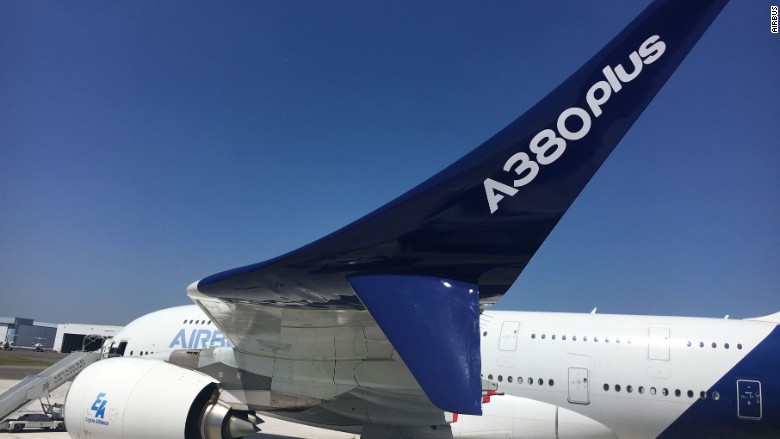 Airbus had considered putting all-new engines on the A380, but instead it opted for a less extensive package of changes.
The airplane itself isn't getting bigger, but Airbus is moving things around inside to make room for more seats. And a big way to reduce operating costs is to spread them over a larger number of passengers.
Airbus would add one more seat in each row of economy class, for a total of 11 in each row. That would add 23 seats.
Ditching the grand stair case at the front of the airliner and including a more modest set of steps, along with some changes in the back of the plane, will make way for about 34 more seats.
It's also relocating a crew rest bunk and making other changes. Across four classes, an A380plus can seat up to 575 in four classes,up from 495.
Related: Malaysia Airlines CEO attempts 'greatest comeback'
Airbus is also giving the super jumbo jet the ability to take off with around 6,600 lbs of additional weight.
Airlines could tank up with more gas for 300 nautical mile longer flights or carry more paying passengers and cargo. That means an A380 will be able to take off fully-loaded at a weight of nearly 1.3 million pounds.
Some of the changes, like the interior redesign, are available now for the A380. But fielding the fuel-saving winglets and increased weight capacity will require a new deals with airlines, said Bregier.